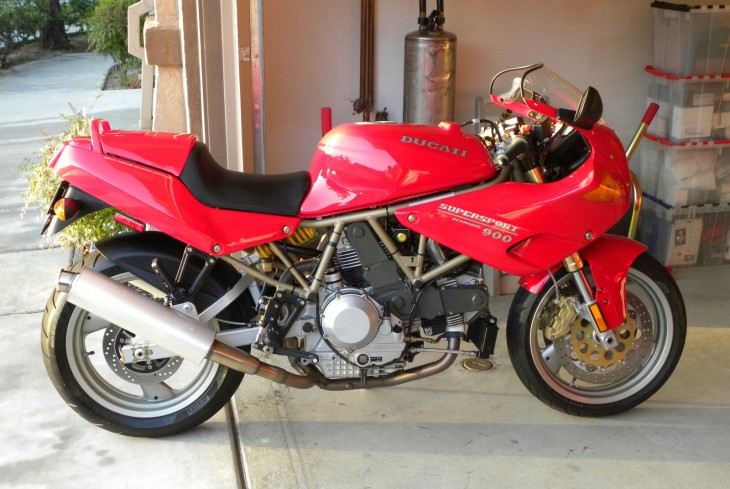 Today's collector ready Ducati is this 900 Supersport with a mere 1,325 miles. While most seek out the better spec'd SP version, anyone stocking their barn with like new originals should take note. While cosmetics look nearly perfect, the most recent owner also has thoroughly reconditioned this bike so it should be ready to ride. Opening bid is $5k reserve not met. It will be interesting to see what this mint yet lower specification model will bring.
dc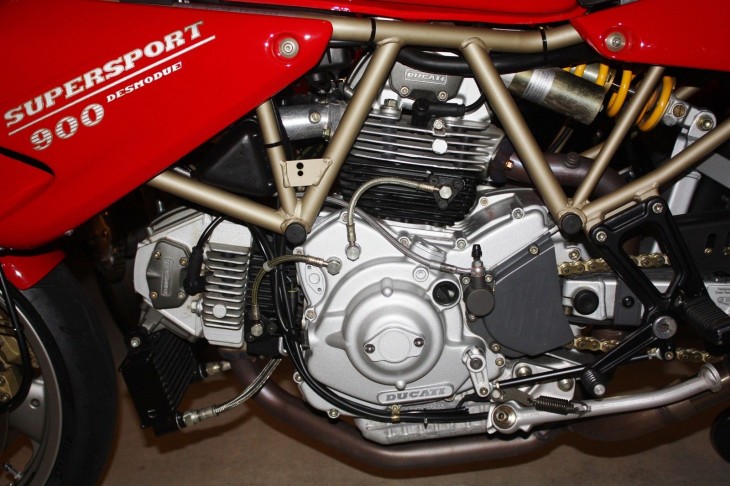 from the seller:
You are bidding on a virtually new

1996 Ducati 900SS-CR

1,325 Original Miles!

(note: had to be creative to get an old low mileage bike into California, so mileage on title is greater. please contact me with any questions)

This was an East Coast barn find, which although had only 714 miles when I acquired it, had been sitting for 17 years.

The usual story with aged fluids, so, I had to go through the entire bike.

Over 10k invested (documented) which is pretty silly when you think about it for a CR, but this bike had sentimental value so I saw it through. I am meticulous about the condition of my bikes, so my loss if definitely your gain. It's now ready to ride. Needs nothing!

Many parts were replaced to make it near perfect, and here are just a few of the more important ones:

Pirelli Diablo Roso ll Tires

Spiegler Braded Brake Lines

OEM Brembo Clutch Master Cylinder

OEM Brembo Clutch Slave

Nichols Billet Crankcase Breather

RK Gold Chain (520)

Renthal Front & Rear Sprockets

OEM Tomaselli Clip-Ons

OEM Levers

OEM Mirrors

OEM Dash Pod & Foam

K&N Air Filter

OEM Carbs

OEM Fuel Pump

OEM Internal Gas Filters (inline & teabag)

OEM Brembo Rear Brake Master Cylinder

OEM Brembo Rear Disc

OEM Brembo Rear Brake Pads

OEM Rear Shock

OEM Speedo Drive at Front Wheel

Gel Cell Battery

Also lots of aged misc. rubber parts were replaced.

Recent service by SBK Corse with new belts, valve adjustment, plugs, tank flush (no rust), Motul synthetic oil, and Dot 5.1 brake fluid. SBK took initial delivery of the bike, so they can also verify the mileage when it entered the state.

Clear title, and current registration in California.