Warning!
This post is in our archives. Links in this post have been updated to point to similar bikes available to bid on eBay.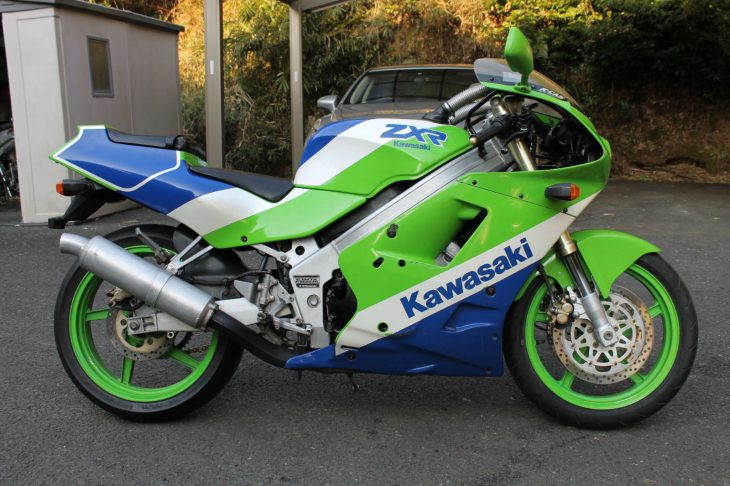 Looking like its bigger brothers of the ZX7 family, you would be forgiven to mistake the ZXR250 for a larger displacement motorcycle. But as we all know, small bikes rule in Japan, and when it comes to small sport bikes, Japan really does rule. Built to work around restrictive licensing rules in the home market – as well as conform to standards in other Asian markets such as Malaysia – the Big Four poured significant resources into the quarter-liter category. From two strokes to four, model lines for larger displacement bikes were often ported to the lower classes, resulting in families of models from 50cc up to 1100cc, depending upon the market. This ZXR250 was the result of that effort, and is available directly from Japan.
The similarity of looks between the ZXR250 and its larger siblings is not just cosmetics – Kawasaki packed this bike with some significant go-fast tech as well. The liquid-cooled inline four banger offers 45 HP and will rev up to 19,000 RPM thanks to a brace of four Keihin carbs feeding the four valve per cylinder heads via forced air induction. Power is delivered via a 6-speed tranny, and the whole package is wrapped in an aluminum perimeter box frame. Triple disks all around provide braking duties, an upside down fork holds up the front, and a Uni-Track mono shock rear end completes the picture. All in all, your standard, screaming, hyper-sensitive small bike perfect for the hooligan in you.
From the seller:
KAWASAKI ZXR250R
VIN:ZX250A-300532
Year: 1989
Mileage: 14,835km
Condition: Running very well. Very good condition. Body work has tiny scratches and repair mark for tiny crack. Front forks has No rusts on the chrome, No oil leaks. No rust inside of the gas tank.

Shipping : We'll put it into the wooden crate and ship by surface. We'll enclose Japanese original title, and also Sales Certificate and Bill of Sales issued by us in English. Shipping cost: The bid price includes shipping cost to overseas, and it's charged from our office in Japan to the nearest port to your address. We expect you'd pick it up at the port and arrange the land transport to your address by yourself.
The other cost, such as the handling cost, duty fee, tax, etc. which will be charged in your country, they're not included there.
We have seen a few other bikes being offered by this seller. They all suffer (to some degree) of life in the salty, ocean air of crowded Japan. Scuffs and minor cosmetic issues are par for the course when daily parking areas contain hundreds – if not thousands – of bikes at any given time. Some corrosion is to be expected due to the proximity of the sea. Still, for those outside of the home market, this 250 is a rare bird and a pretty neat piece of tech. Nothing in the pictures looks too terrible to me, but then the issue of registration for the road raises its ugly head. This bike will be sold with a bill of sale and importation paperwork, but it's up to you to get it registered. That may not be a problem depending upon your locale, but realize that home market bikes do not carry 17-digit VIN numbers which are often required in the US.
This is your chance to own a rare (in the US, at least), home market bike from Japan. This 250 will beat the snot out of any of the similar era 250s that meekly putted up to our shores, and is likely still competitive against the newer crop of small bike madness that is going on. The uniqueness in the US is undeniable; there is no point in having fun if you can't look cool doing it at the same time. This bike ticks a lot of boxes on the wish list, and deserves a good home in someone's garage. Check it out here, and then let us know what you think. Are you down with a 250 sport bike, and if so which is your favorite?
MI