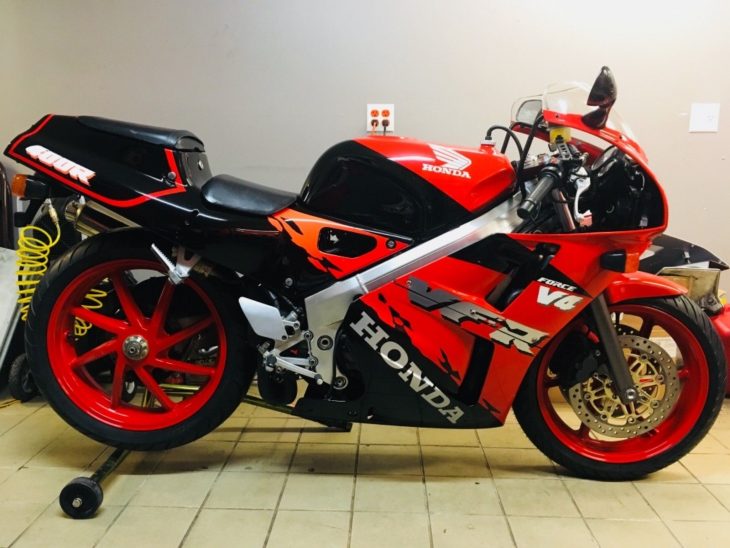 This 1992 Honda VFR400R is claimed to be road-ready, with a clean New Jersey street title, a recent carb clean and fluid refresh, refinished wheels and a fork rebuild. The seller says it is not in immaculate condition, but it's hard to tell from the pictures how bad or good the cosmetics are. It does wear the edgier black and orange paint scheme, a refreshing break from the usual red-white-blue livery many of these bikes wear.
The VFR400 was known for its agility, weight and ability to carry corner speed. With a healthy torque curve from the V4, NC30s are honeys on twisty roads, where the engine's usability gives the bike a friendlier feel than peakier inline-four 400s. This example appears to have had its 18-inch rear rim swapped for a 17-incher — the Michelin Pilot Road 4s it wears do not come in 18 inch.
From the eBay listing:
1992 Honda NC30 up for grabs! This bike has a clean New Jersey title. Currently registered and insured as well. i had the wheels powder coated color matched to the original, forks had to be refinished since it had some corrosion, new fork seals, fresh tune up (spark plugs, air filter and carb clean), new yuasa battery, new set of michelin tires, motocool coolant, motul brake fluid and motul 5100 w/ hiflo filter. please keep in mind that this bike is 25yrs old will show some type of wear. i am not claiming that its in immaculate condition. aside from the wheels and forks getting refinished overall the bike is all original. i can put aftermarket set of fairings to make it look new but i'd rather have the buyer see the bike in its current condition. please pm if you any questions. thanks for looking. Asking price is $9500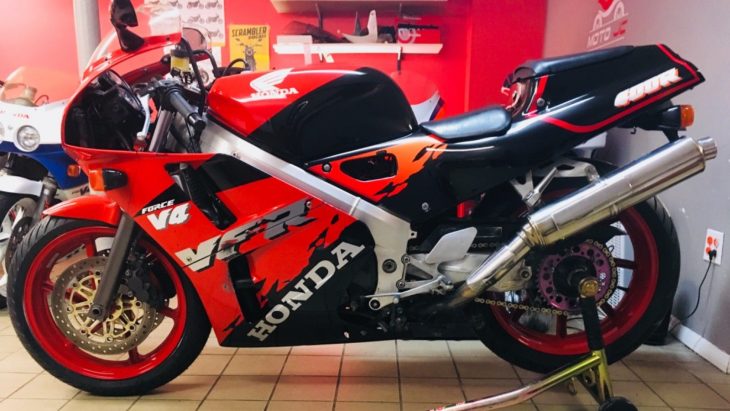 Though the little VFRs are extremely popular and relatively rare, the $9,500 ask for this one is at the top of the range. That said, it's a nice example and will be a blast come spring.