Aprilia boarded the naked train in 2002 and shortly switched tracks to a more streetfighter-ish vibe.  This 2008 model is super-clean and has some nice accessories.
Based on the Mille superbike, the Tuono ( thunder, to you ) used the investment-grade Rotax 999cc twin, somehow making 139 hp along with a good reputation for reliability.  It's dry-sumped and the ignition timing is controlled by the fuel injection computer.  Formed aluminum spars are welded to cast frame connectors, and the classic banana swingarm allows for an exhaust collector upstream of the big twin mufflers.  Showa forks and Sachs monoshock aren't quite the superbike parts, but are preload and rebound adjustable.  4-pot Brembo brakes are superbike-sized at 320mm.  No Mickey Mouse ears on the bikini fairing but there is a little praying mantis thing going on.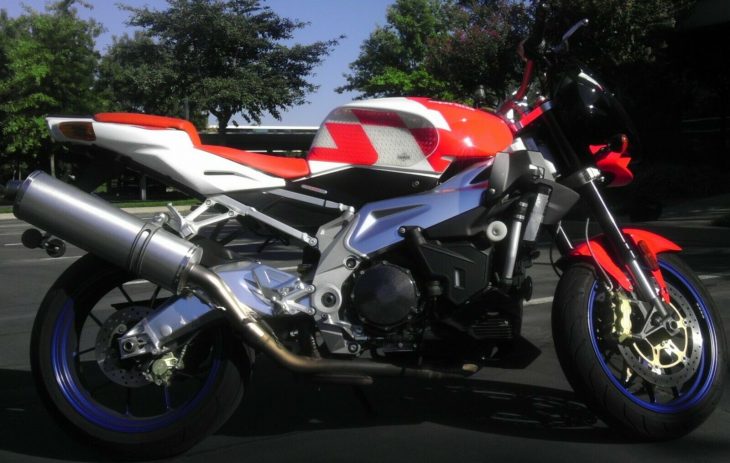 Some of us would ride right through Fresno's winter weather, but it's a good sign that this owner babied his Tuono.  Apparently mods and rides were more carefully chosen than the pictures.  From the eBay auction:
Excellent Condition, Glossy/Beautifully Preserved Fluo Red/White Paint, 100% Garage-Kept (It Shows!)

All Scheduled Maintenance, Rides Fantastically, Clean Title, No Accidents, Low, Low 11k Mileage.

Responsible Adult-owned (I purchased directly from original private owner in 2011 with 5,500 miles). Never Raced/Tracked or Adulterated. Both the 1st owner and I exclusively used MOTUL 100% Full Synthetic Motor Oil/Lubricants for: Engine, Hydraulic Clutch System, Brake Fluids, Shocks & Forks, & Motul Motocool Expert Coolants/Antifreezes. (Google Motul: Top-line, Premium Quality products–Official supplier/partner/sponsor of MotoGP & many Motorsport World Championships)

All Maintenance/Services performed by trusted, seasoned Mechanic/Builder/Restorer/Fabricator at Vintage Works Motorcycle.

My beloved Tuono has always been properly winterized and covered/stowed during winter seasons; oil changes every 6 months regardless of miles ridden.

– Leo Vince SBK Race-Tech Performance 2:2 Dual Slip-On Exhausts

– Dynojet Tuned via Power Commander III (Fuel Injection Tuning Module) – Map 923-002 (DB-Killer installed)

– ECU Tune+ Dynojet O2 Controller

– CRG Arrow Bar End Mirrors+Recesses

– Carbon Fiber Clutch Cover

– OEM Aprilia Sliders/Crash Protectors

– STOMPGRIP Volcano Tank Grips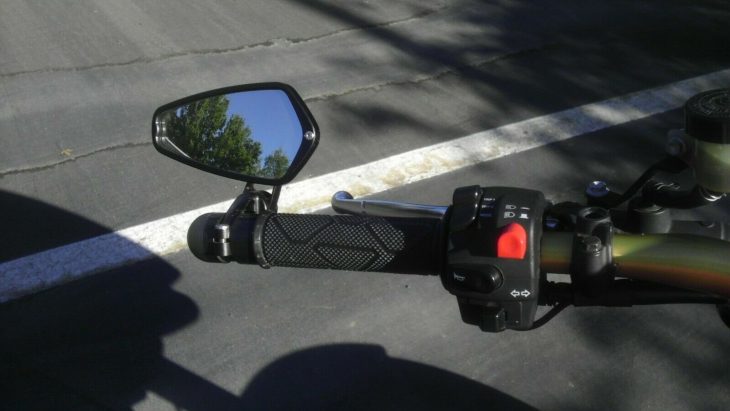 This Tuono has been re-listed a couple of times and is approaching downright bargain territory.  The front tire looks to be in better shape than the rear, but that's an occupational hazard for the liter-size streetfighter.  Aprilia's big naked is almost a middleweight at 399 lbs. dry, and this one appears to have had adult ownership and care for the long view.

-donn