Moto Guzzi's V11 Sport constituted the lion's share of their bikes from 1998-2006, and came with various names, colors, and small fairings.  Though not a special edition, today's 2003 is more designer vanilla bean than plain vanilla, and looks very good with a small wind deflector and heat wrap on the pipes.
The V11 Sport could be described as big all over, with pictures dominated by the 5.4 gallon tank and each cylinder displacing 532 cc's.  It's 91 hp is merely generous, but the 69 ft.-lbs. of torque make their case at just 6,000 rpm.  40mm of Marzocchi have a massive look, with a nifty front fender design to protect the extending USD fork legs.  Located by the cast red frame connectors, the shaft drive and monoshock try to hide behind the XL Lafranconi silencers. Even the seat looks like it could almost hold two without uncovering the pillion.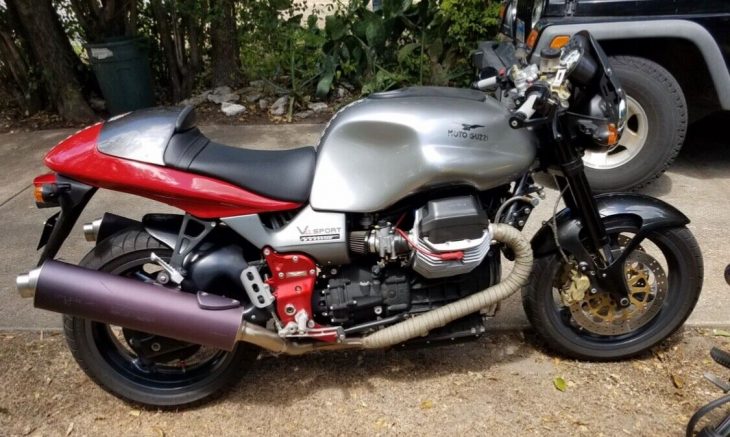 Liking the head guards and K&N filters a lot more than the wrapped headers, but it's true the wraps do contain some of the heat.  Even if there is hell to pay when they finally come off, the total polishing time will probably be about the same as if they had never been.  Otherwise it's very tidy, just moderate miles and no apparent damage.  Bar end mirrors sharpen up the looks a bit, but a new ( and matching ) front tire would really make the sale go.  Notes from the eBay auction:
Exceptionally nice condition, pre-lambda (O2 sensor) model and has one of the rarer color combos available. The bike has never been down or knocked over but do expect to see normal wear from use. The headers are lava wrapped to keep some heat off your legs. The rear tire is new but expect to replace the front in 1,000 miles or so. Grips have been upgraded along with the mirrors on the bar ends. All service is up to date and everything works on the bike from front to back so turn key and ride on!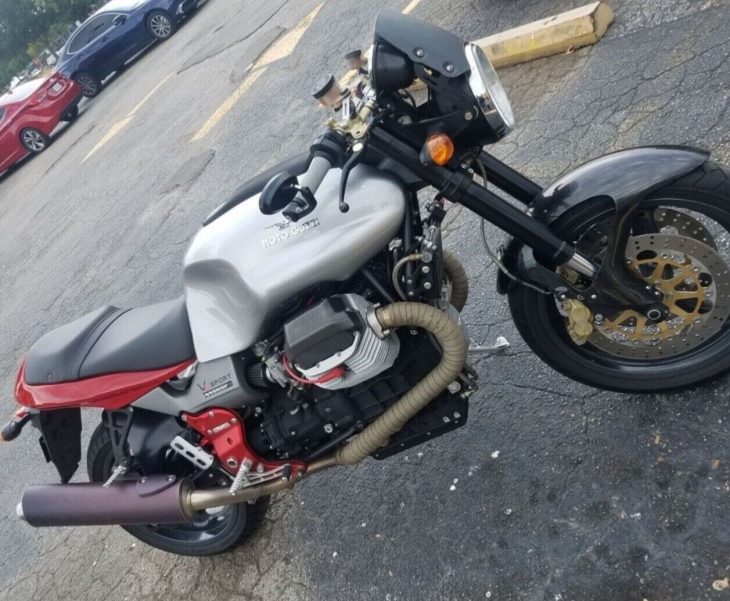 For all the current Guzzi models and branching into the cruiser segment, they're still an occasion when sighted and wear their quirks in honor.  Luckily the brand was supported and continued by the Piaggio conglomerate.  A nice round number for the buy-it-now, not overly priced these days, but the Make Offer button might get a push before that.
-donn