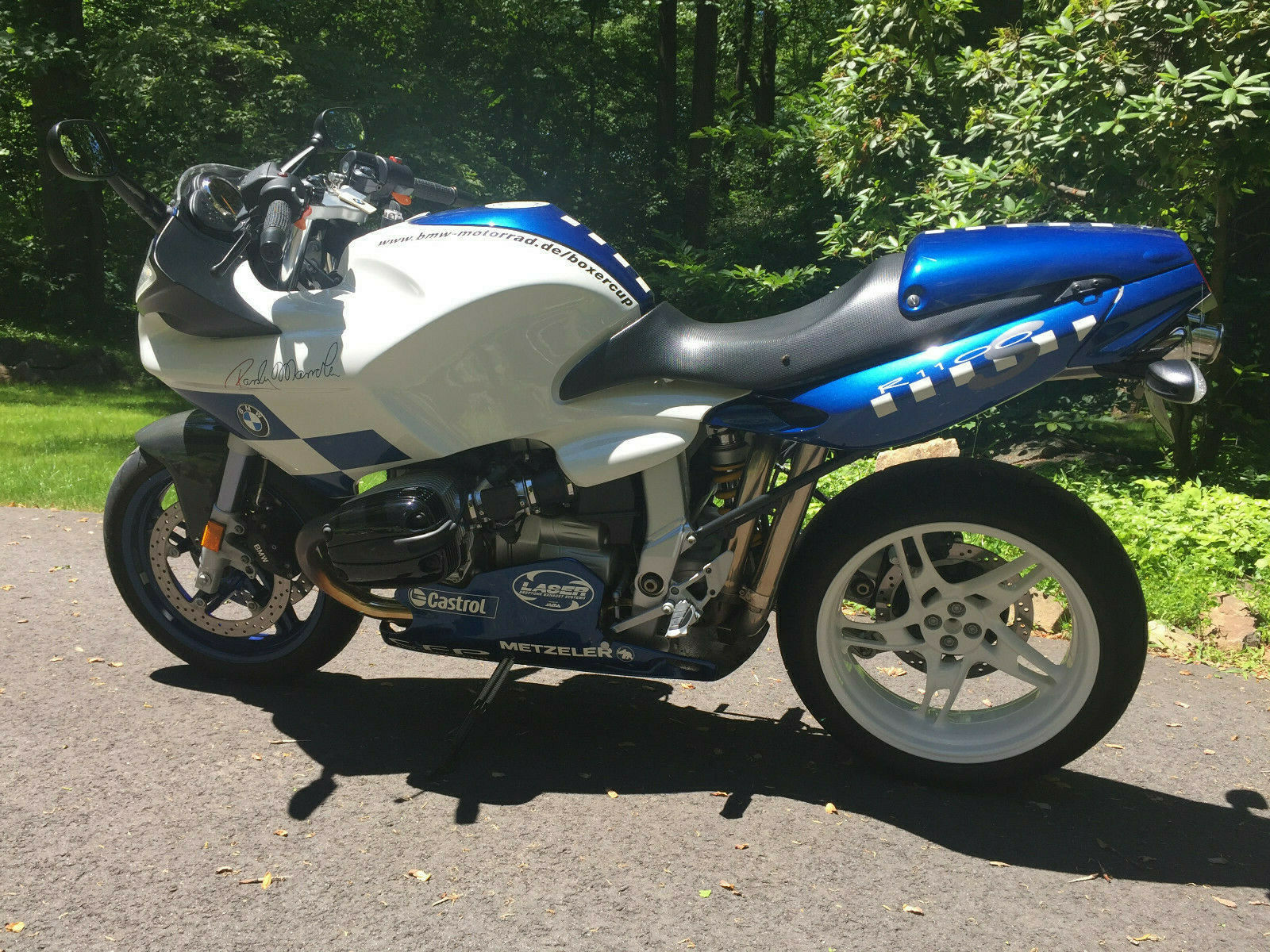 If you are a motorcycle manufacturer with a relatively "boring" reputation – known more for your gentleman's autobahn express and less for outright performance – how do you change your image to go after the more sport-oriented buying public? One glance at Detroit and the Golden Era of NASCAR tells of the secret: Win on Sunday, sell on Monday. That is all well and good, but how to ensure you actually win on Sunday? Sponsor and participate in a one-make race series, of course! Drum up publicity with star power, and hold races in conjunction with bigger motorsport events where the fans will be in attendance. And just like that the BMW Boxer Cup was born.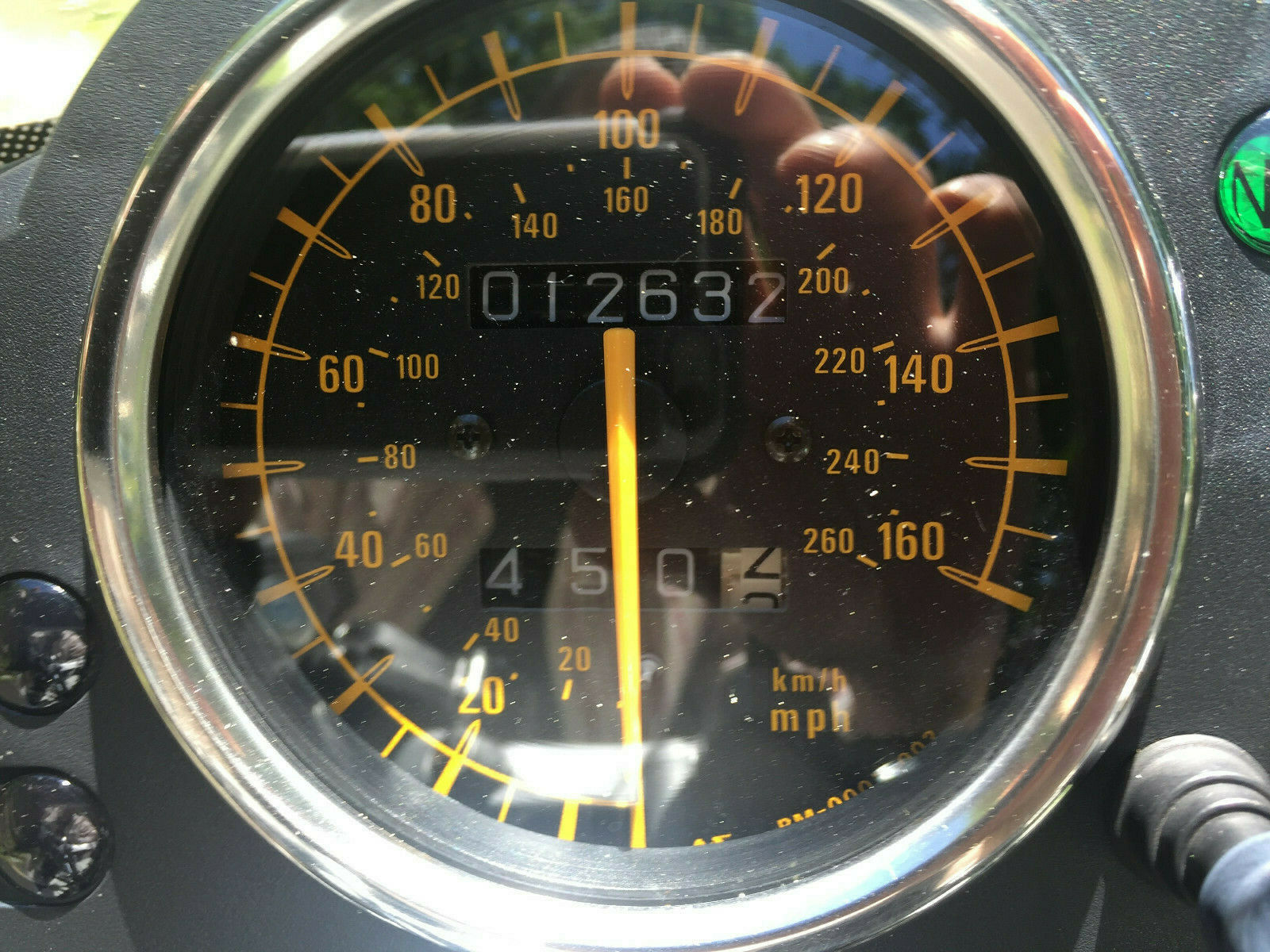 Initially pitched as a race of champions with real motorcycle racing stars, the Boxer Cup became a legitimate race series with close competition and abundant exposure for BMW. Randy Mamola, a legend in two-wheeled circles, served as BMW ambassador and spokesperson for the series. To convert the race exposure into sales, BMW created a special version of the R1100RS Sport model. Featuring a graphics package that mimicked the one-series race bike, the Boxer Cup Replika offered a unique livery, a sprinkling of carbon fiber (including unique cylinder head cover protectors), and lower engine cover with oil catcher. The under seat exhaust was a special item from Laser, and suspension was Ohlins modified from stock units. Additionally, the Replika model had slightly different geometry; the rear suspension was raised to quicken steering and provide more ground clearance for the cylinder heads. Randy Momola's signature graces the fairing – as if you needed a reminder this was a Replika. Back in 2003 these numbered and authenticated models sold for an MSRP of $13,490.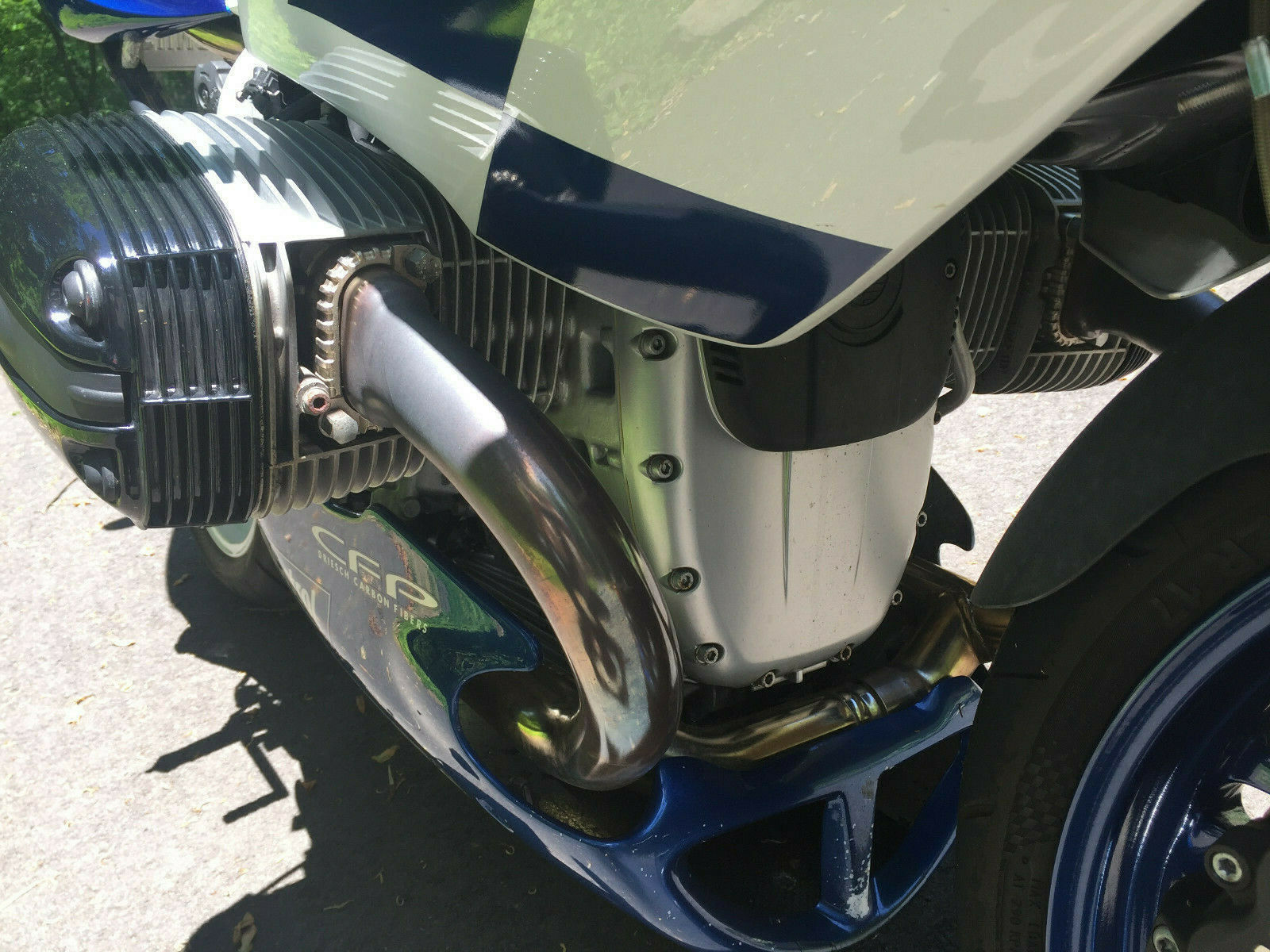 From the seller:
This is a 2003 BMW R1100S Boxer Cup Replika. This was a race replica for the BMW Boxer Cup series in the early aughts. This particular bike is #194 of only 200 made in 2003. This is a rare, pedigreed motorcycle that comes with a certificate of authenticity and a badge with the replica number.

This bike is in excellent condition! It received it's 12,000 mi service two years ago, and is perfectly tuned. I changed the oil every 2500 miles during my ownership. The bodywork looks perfect, the only flaw I can find is a mar on the cowl. Of course, the carbon fiber belly pan has the inevitable rock chips of 12,000mi on the road. The rear wheel was powdercoated white, and the valve covers black. The windshield was cut down because it was already cracked and was directing the wind right under my helmet. The original left side mirror was damaged and replaced with a salvaged one. This bike has never been dropped.

Aside from the all stainless steel Staintune exhaust, this bike is stock. No engine, drivetrain, or suspension modifications have been made.
More from the seller:
Stuff not included:
The carbon fiber valve cover protectors and steering damper are long gone.
No ABS. ABS was never included on the BCR, but I know someone's going to ask about it, so…no.

Stuff included:
This BMW comes equipped with slightly taller touring handlebars, but the original low racing handlebars are included.
The original factory exhaust and emissions stuff is included.
Rear footpegs and hardware are included.
Service manuals and related paperwork are included.
The original valve covers are included.
And yes, the Wunderlich R1100S bike stand is included too!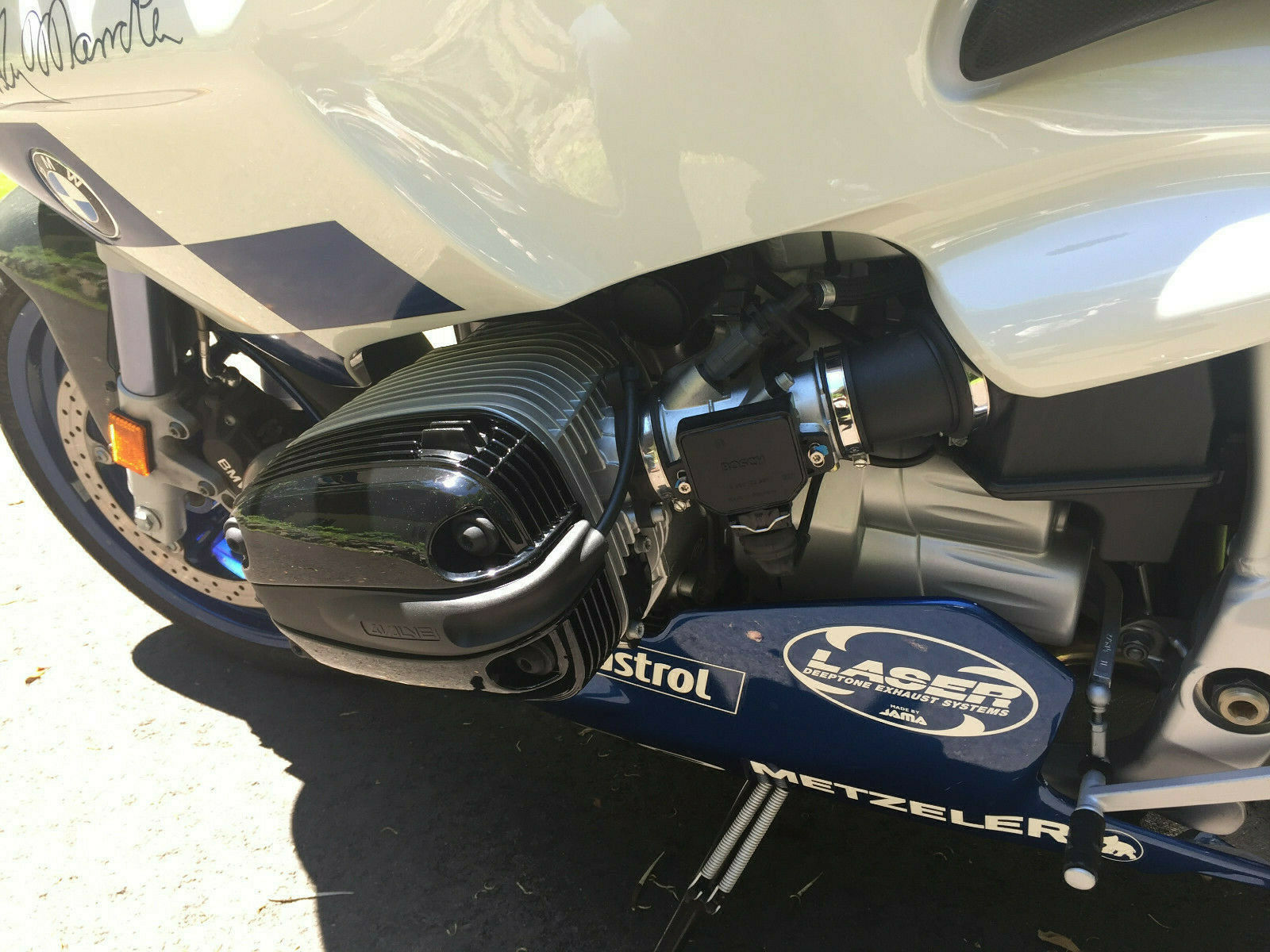 With 12k+ miles under the keel, this BMW has been used; perhaps more than a collectible bike would normally be utilized, but far, far less than the average BMW of this age. Keeping in mind that the R series BMW is legendary in terms of longevity – and that the Boxer Cup Replika claimed NO additional horsepower – this high-end R-bike should have many more miles in the bank. The bike appears to have been maintained well, although there are some notable changes from stock. At 16 years of age this bike has clearly had a previous life, with changes made by former owner(s). Some items are replaceable (cylinder head cover guards – if you can find them, windscreen), and the powder coated rear wheel doesn't look all bad in white. There are some questions as to why was the mirror replaced, why are the cylinder head covers powder coated, and why was the windscreen cracked?. These are popular items to suffer in a tip over, although the ad states no crash damage. Overall (and given the age) from the pictures at least, this bike looks to be quite presentable.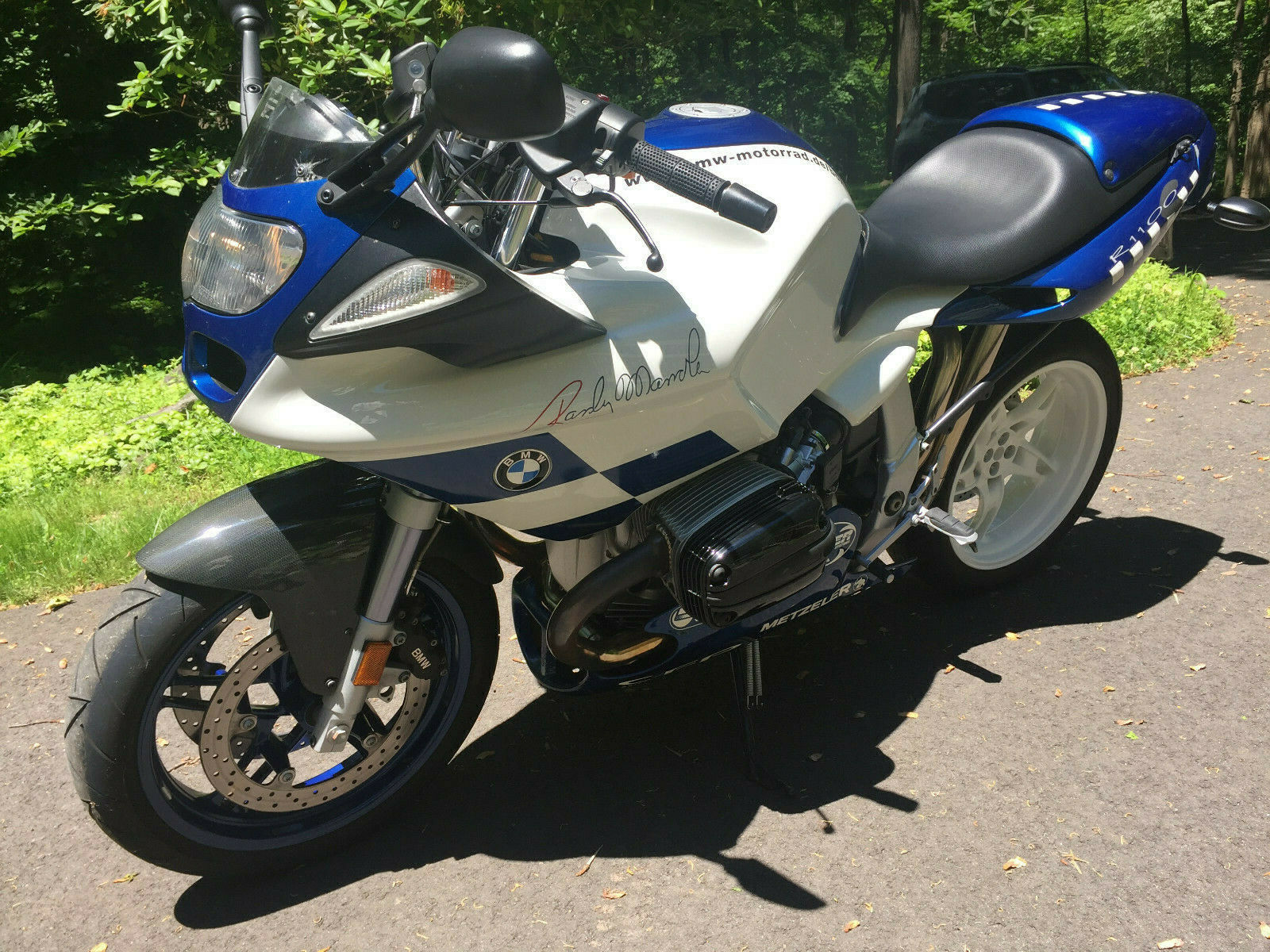 Offered for the not-so-princely sum of $5,700 USD, this New Jersey-based Replika offers a serious discount from the MSRP of many, many years ago. But it is still a BMW, it is still perched on Ohlins springy/damping bits sport suspension, and it still retains all of the qualities BMWs are famous for: usable power and torque, predictable handling, low maintenance shaft drive, and good highway speed touring manners. Price is on the lower side for the model, but representative of the miles and condition. Check it out here and Good Luck!!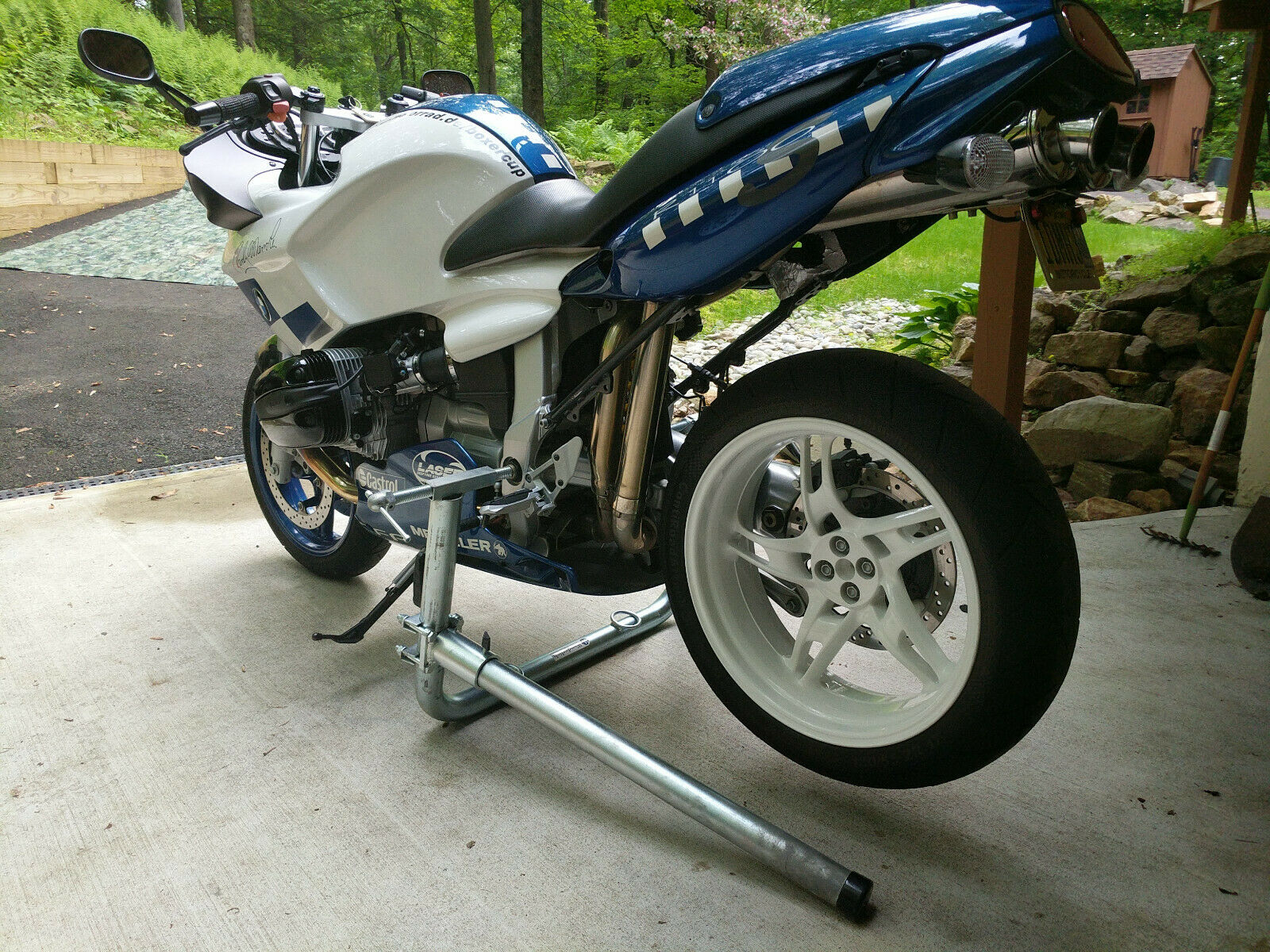 MI