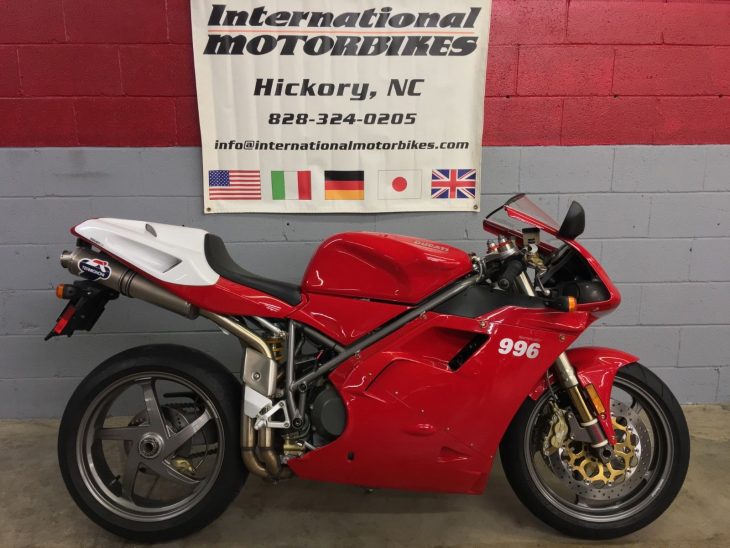 If you're looking to pick up one of Tamburini's iconic Ducati superbikes, now is the time. They appear to have hit bottom a while ago, and values are on the rise. I mean, we've seen 748s for as little as $3,000 so how much lower did you expect them to go before you were planning to buy in? But while they generally cost a bit more than a 748, a Ducati 996 falls nicely in between the bikes that bookend it: the collectible 916 and the highly-developed 998.
It's not the fastest of the breed, but it looks the part and has the series' famous handling and v-twin boom. The 996 offers a pretty great balance of power and handling, along with the iconic looks and a pretty affordable pricetag right now, if you're looking to pick up a bit of classic Italian exotica. Parking a 916, 996, and 998 right next to each other, you could be forgiven for thinking the only difference between them is the graphics change between the 916 and 996 era. But Ducati's superbikes of the period represent a constant evolution of the platform.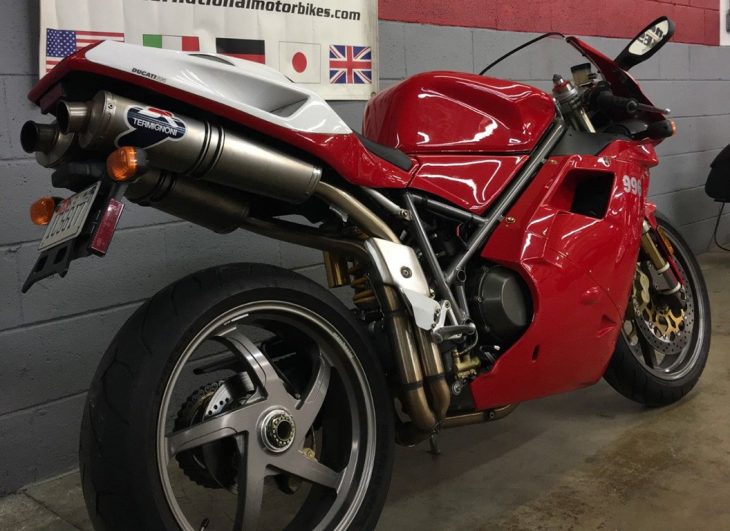 The 996 was introduced in 1999, after the 916 engine hit its practical limits: as World Superbike displacement for v-twins increased, it was discovered that the original cases effectively maxed-out at 955cc before things started to come apart at the seams. Literally. Sure, many parts can be swapped between the different generations, but the new machine was much more than a bored-out 916 and used a more road-friendly version of the heavily revised 996cc twin that debuted in the 916 SPS.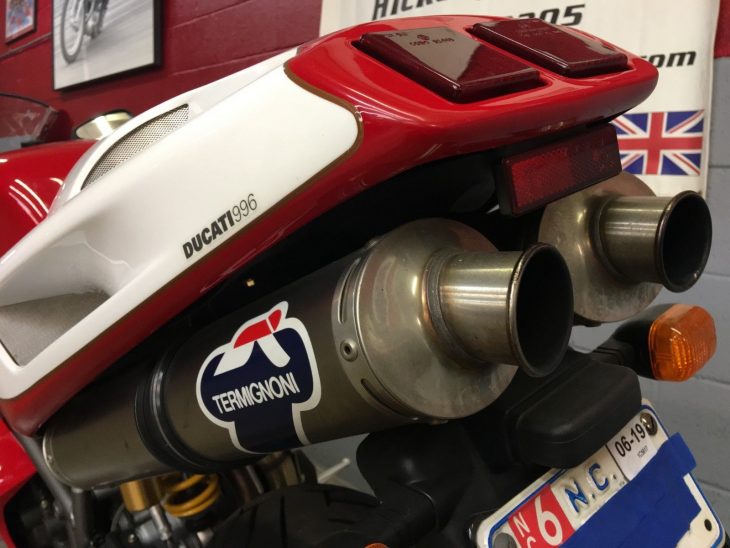 In this case, "road-friendly" means it used the older bike's camshafts for more manageable power delivery and 112 peak hp. Proper fuel metering for big twins can be tricky, and the 996 used a pair of injectors per cylinder for improved power and response, although early mapping wasn't really ideal.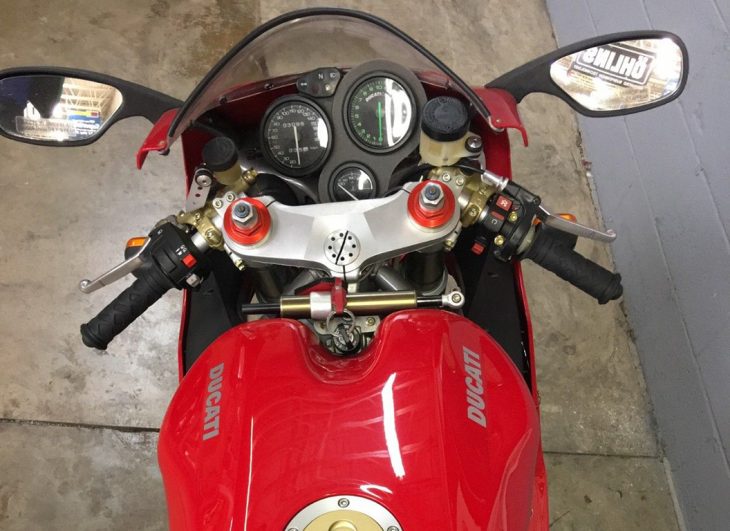 From the original eBay listing: 2000 Ducati 996 for Sale
For sale 2000 model Ducati 996 with ONLY 3099 miles

One original owner, price new was $17,333 before tax and fees

Has full service with new belts and fluids.
Termignoni Titanium exhaust; original pipes included
Öhlins shock
Brembo brakes
Pirelli Diablo Rosso tires with Marchesini wheels
Carbon Fiber 996 tank cover included, never applied
Includes rear wheel stand; Marsee magnetic tank bag 
Garage kept under cover; cover included
Both keys; original papers and owners manual, toolkit

This motorcycle looks and runs like NEW! You will not find another iconic original Ducati 996 in this excellent condition with only 3099 miles!
I'm sure other bikes with mileage this low exist out there, but there's no arguing that, if you're looking for a 996, this one is seriously worth considering. The starting bid is $7,500 which should be right on the money for a clean example, and seems like a reasonable place to expect bidding to start. The seller refers to this as a 996, but it looks like this may be the higher-spec 996S as it has the Öhlins shock, instead of a Showa unit. I'm not clear whether or not we're looking at slip-ons, a full-system or a half-system, but if you've ever priced a Termignoni exhaust, that does sweeten the deal…
-tad