I'm a big fan of "budget exotica" mainly because I'm on a budget and I like exotica. First generation Speed Triples and Daytonas, Brutales, and Monsters are all really affordable ways to get a rare performance motorcycle for very few dollars, relatively speaking, but if you want a single motorcycle that can do just about every job, Aprilia's Falco is definitely worth a look. The Falco was intended to be the more practical, sport-touring version of Aprilia's race-replica RSV Mille. But especially here in the US, where our riders are into sportbikes or cruisers, with little interest in what lies between, these are nearly impossible to find in any condition, especially with something with such low mileage. This one probably hasn't even seen its first major service yet!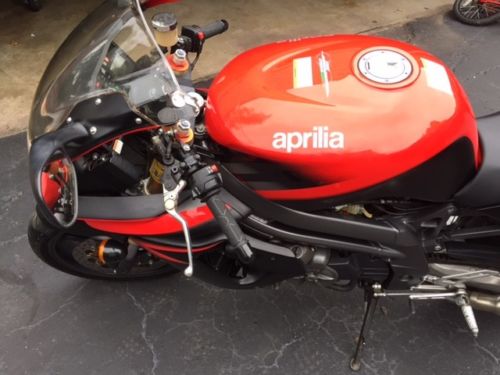 In typical Italian style, the Falco leans pretty hard to the "sport" end of the sport-touring continuum, with a half-fairing makes the bike look much leaner than the bulbous RSV superbike and suggests a sort of "futuristic 900SS," a bike that would have been a direct competitor at the time. The frame has a stylized trellis look to it, a departure from the very solid beam frame of the RSV, and the riding position is racy without being cripplingly compact. The Mille and the Falco do share a powerplant though, which is no bad thing: the liquid-cooled 998cc Rotax 60° v-twin may be "detuned" in this application, but the quoted 118hp isn't all that much down from the RSV's 128hp and the 162mph top speed isn't very far off either.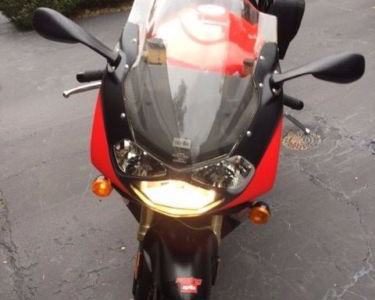 Reviews at the time were very positive, but the bike really didn't sell well. A shame since it's a very competent package, but it's great for modern buyers on a budget looking for something cool and relatively reliable. Finding a local dealer might be an issue, but the Rotax engine is considered to be very durable and much lower-maintenance than the Ducati twin of the period.
From the original eBay listing: 2003 Aprilia Falco for Sale
This may be the only 2003 Aprilia with less than 1550 miles. This bike has been garaged kept and serviced pursuant to schedule since it was built. Powered by a liquid-cooled Rotax 998 cc 60° V-twin engine, the Falco's 118 hp is powerful (top speed 162 mph). The Falco is fuel injected with dual exhaust. The Falco has a rare look with its half-fairing and twin-beam alloy frame. The gold twin Brembo 320 mm semi-floating front brake discs and oversize back tire are sharp.  I'm only selling it because I'm moving, and I no longer can ride it.  There are a few minor scratches (documented in phots), but the bike has never been dropped or put down.  The bike needs nothing and is ready to ride, as I just had a full service performed.   I've literally treated this Falco like a piece of art and have never had a problem with it. 

Buyer assumes shipping costs. You can pick up, or I will help you arrange shipping. The Falco is in St. Louis, Missouri.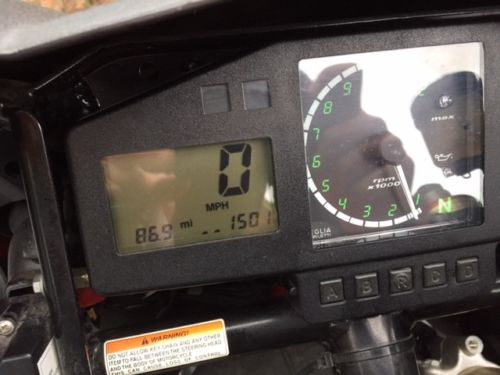 "No longer can ride it"? With just over 1,500 miles on it, it seems like the seller pretty much never had time to ride it! Well, the seller's loss is your gain, and it sounds like it's been carefully maintained ready to roll instead of just sitting, collecting dust. While a Falco isn't cutting edge now, and doesn't offer a modern bike's electronic bells and whistles, the performance-to-dollar ratio here is pretty much off the charts, offering big v-twin sound and torque, good handling, and striking, if somewhat sterile looks in a reliable package, and likely some good parts interchangeability with the hotter RSV model, all for the seller's $4,199 Buy It Now price.
-tad