Lovely as they are, and sweet to ride, the 2006-only Ducati Paul Smart commemoratives are in a funny corner - too collectible to be riders, but the urge to customize can be irresistible.  Many times they appear after a few years on the display stand, generally asking serious bucks, this one with some premium bits and neat custom work.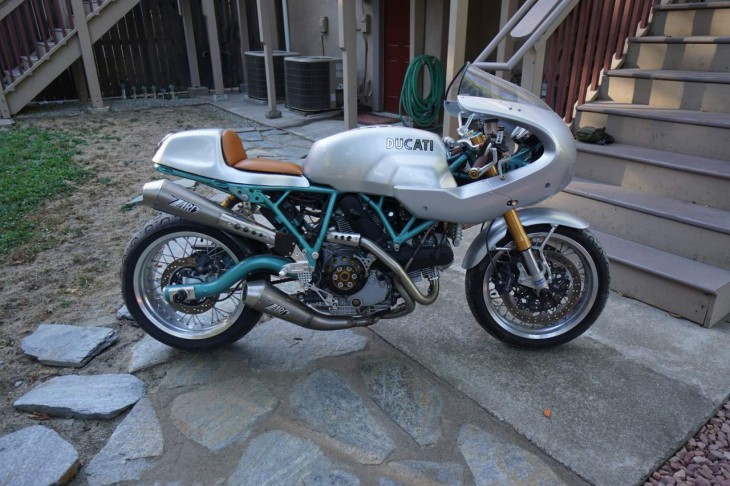 Styled by Pierre Terblanche  as part of Ducati's SportClassic retro collection, the PS1000 Limited Edition uses the 992cc 4-valve air-cooled motor generating 92 hp.  The beautiful sea green metallic trellis frame displays the dry clutch and two-into-two exhaust nicely.  Modern in the suspension department, it uses 43mm upside-down forks and rear monoshock ( on the left side of the double-sided swingarm ), both fully adjustable Ohlins.  Brakes are also worthy of the task with dual 320mm front disks and 245mm rear.  Retro spoke wheels have alloy rims.  Slim and not overweight, the long frame lends stability if not flickability to the equation, and the DS1000 injected engine makes it real-world rideable.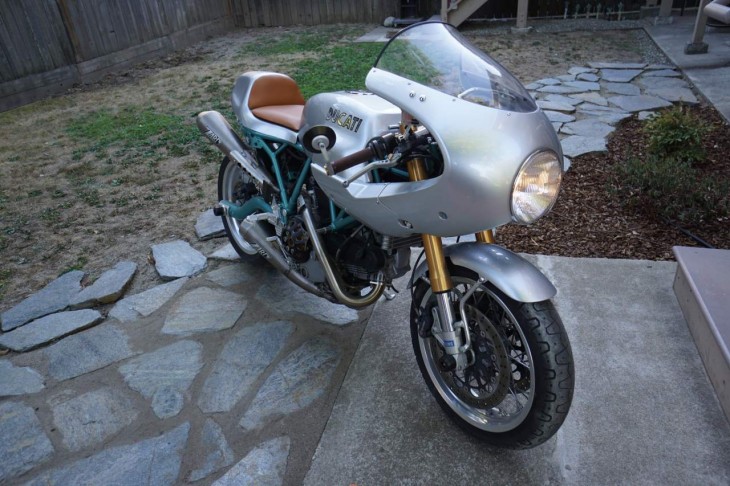 Hidden away with only 1144 miles, this PS1000LE has been treated to a beautiful titanium exhaust, adjustable lever and foot pegs, LED turn signals and bar-end mirrors.  The body was not ignored, as a neat tail fairing with a Corvette tail-light is installed.  An aluminum tank was fabricated in response to the expanding plastic tank issue Ducati had in the 2000's, and the auction says it is available, seems to be pictured on the bike though not certain.  Also available are the fairing lowers with Paul Smart's number 16.  From the eBay auction:
Features: 

Zard Italian made FULL TITANIUM exhaust (amazing sounding) - $3,200

Motor completely stock except for clutch cover (previously stated DS1100 heads was a mistake)

Eagle eye LED turn signals (stock included)

open dry clutch

Comfort windshield (stock included)

Lowering bracket for better stance (removable)

Carbon fiber chain guard (stock included)

Short "naked" fairings

GT front fender (stock included)

Speedymoto wheel sliders

Adjustable gold 

adonized hand controls (stock included)

Fully adjustable billet aluminum foot controls (extremely important, adjusts the bike to fit your height for comfort and control)

Reverse or Regular shifting

Tommaselli dark brown grips (I can throw in a set of retro light brown rubber grips as well)

All stock parts included except for rear cowl (easily found on ebay or from motowheels) and exhaust. 

Aluminum tank and seat with corvette taillight and carbon fiber full fairings are NOT included in sale, but available separately for an additional cost (see below)

Winner gets choice of titanium Zard exhaust or Termignoni dual slip-ons.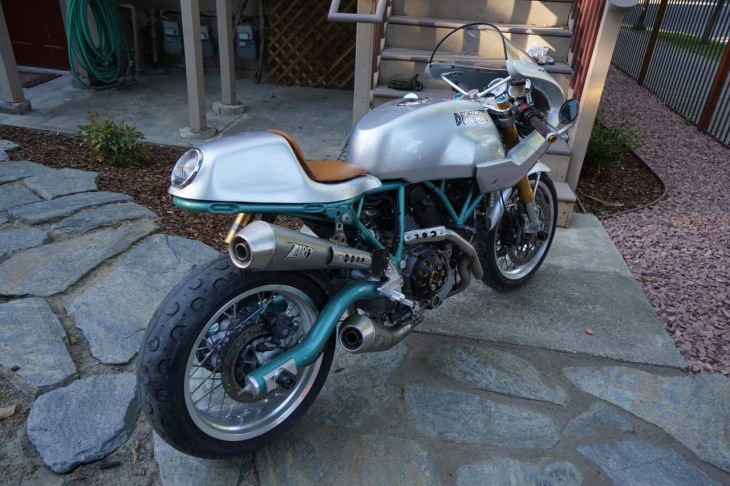 With starting bid at the low end of the usual for this model, if you're in the market a look-see at least is warranted.  A great strategy by Ducati, the SportClassics seem more popular now than when they were introduced.  One man's customization can be another's remuddling though, and most of the factory parts are included or available with this bike.  And though I can appreciate it, the idea of having a fairly current non-riding road bike doesn't really compute for me - this is a 2006 Ducati under all the retro and custom glow, it is likely a joy to take out.  Long and low bar position will make the PS1000LE a wonder out in the open but a chore around town, so the ride to the bike show must be planned accordingly.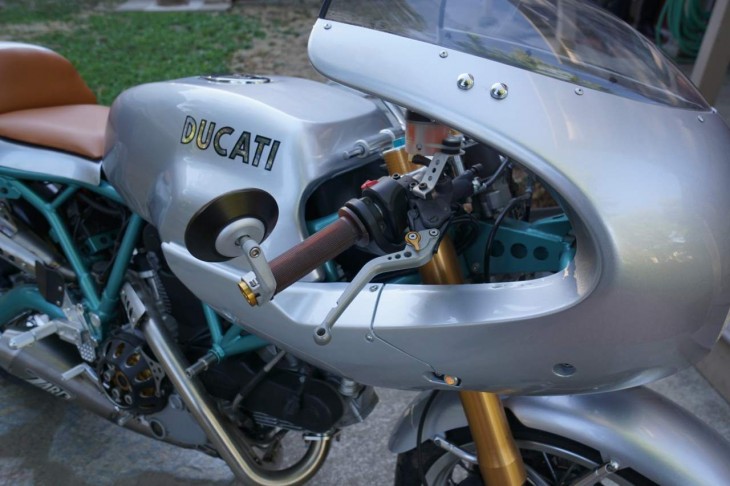 -donn