For a while RC51's were coming 2F2F, most of them must be out riding for the summer.  Today's #69 commemorative might have been used as intended, but looks good with some updates courtesy of a previous owner.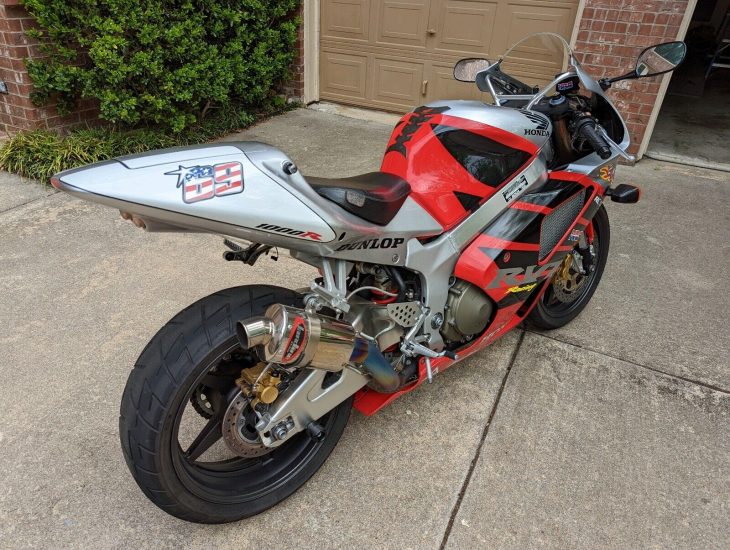 The 2004 model is an SP2, with revised frame and swingarm sharing lessons learned from racing the SP1.  Honda's take on the 90-degree V-twin uses 62mm throttle bodies and PGM fuel injection, with the 136 hp peak at 9,500 rpm.  Side-mounted radiators make for a slim package with a ram-air intake in the nose.  USD cartridge forks and a Pro-Link monoshock soak up any irregularities.  The Nicky Hayden edition was primarily graphic, though the SP2 was at a very high level right out of the crate.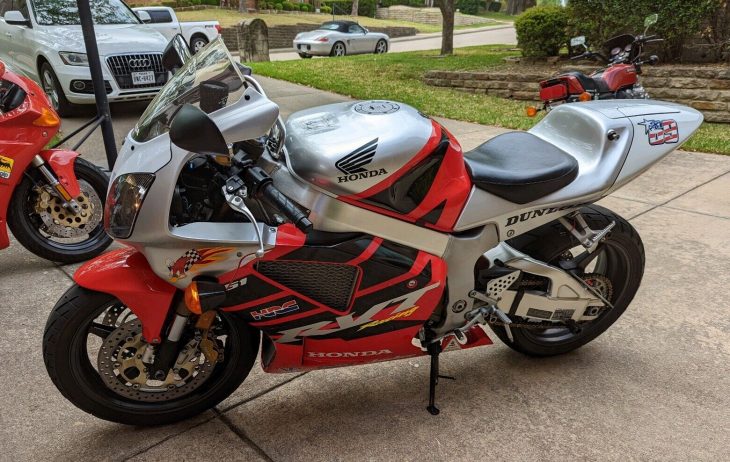 This RC51's 12K-and-change miles might not have been cruising, but it shows more easy fixes than battle damage.  A more organized tail tidy should be easy to find, and likewise some hardware to secure the lowers.  The neighbors aren't going to like the 1/4-size muffler, but that titanium looks sharp in the startup – video –.  Owner's comments from the eBay auction –
It starts immediately, runs great, and has a fabulous bark to its Jardine race pipe. A previous owner made the following mods:

– Full titanium Jardine single side exhaust

– K&N filter

– Power commander 3

– Soft rev limiter to allow for max top end power

– Ram air flapper defeat to add midrange (Fed noise limits dampened torque)

– Corbin seat

– Tail elimination kit

Since I've had it, I upgraded the brake pads and added a braided brake line in the rear. I have the lines for the front but didn't install as the bite from front is already immediate. Parts included are the front brake lines, original seats, OEM tail section (new in the box), original left side fairing (was lightly scratched so I replaced it). The bike is always garaged.

It probably is due for a front forks rebuild and a rear tire not too long down the road.
Honda celebrated Hayden's 2002 AMA Superbike championship with this model, and had more to celebrate in 2006 when he took the MotoGP crown.  His storied AMA Hall of Fame career was cut short by a bicycle accident in Italy, working to stay fit on a Wednesday during the WSBK season.  RC51's pop up in all kinds of condition, and this one looks to be a rider that could be nicer with a couple of details attended to.  Hoping the reserve isn't too optimistic !
-donn