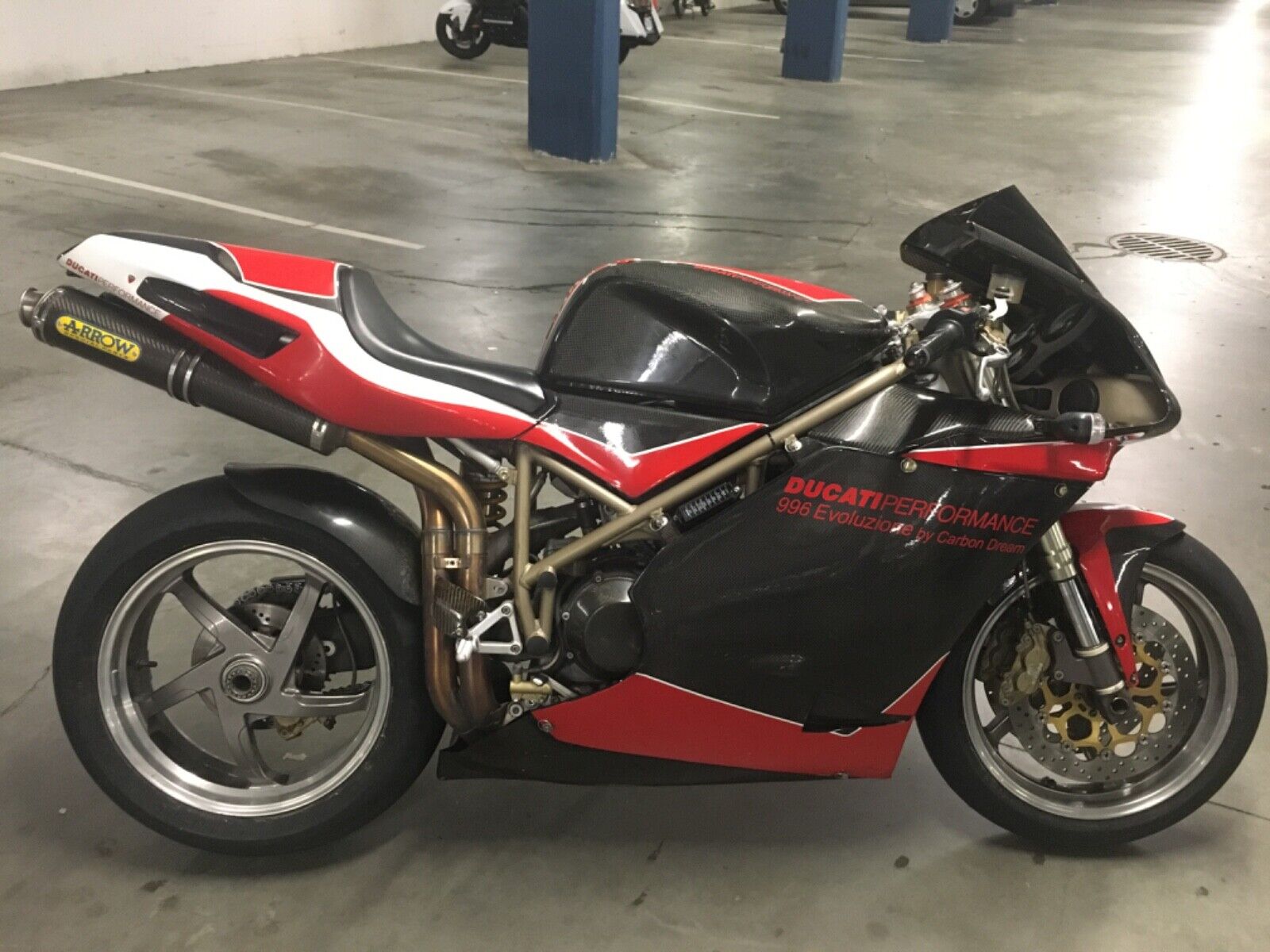 Ah, carbon fiber. Could there ever be anything so cool as carbon roving knitted into a bi-directional matrix and embedded in epoxy resin? Light weight and super strong, carbon fiber was the hot new "in" thing in the 1980s and 1990s. Originally developed in the late 60s and 1970s as aerospace and military grade material (although the concepts go as far back as the 1800s!), carbon fiber soon became more earth bound in the form of Formula 1 cars, and later as off the shelf components for the every day man. And while these used to be parts exclusively for performance, today one can purchase any number of items made from the stuff, including "carbon look" stickers that – I have on good authority – will automatically add 10 HP to whatever you stick them to. But to really get what is going on with today's 1999 Ducati 996S, you have to cast your mind back to when carbon fiber was expensive and exclusive. Wrapping an expensive and exclusive bike with that stuff was just over the top and for show. Which, apparently, this bike was.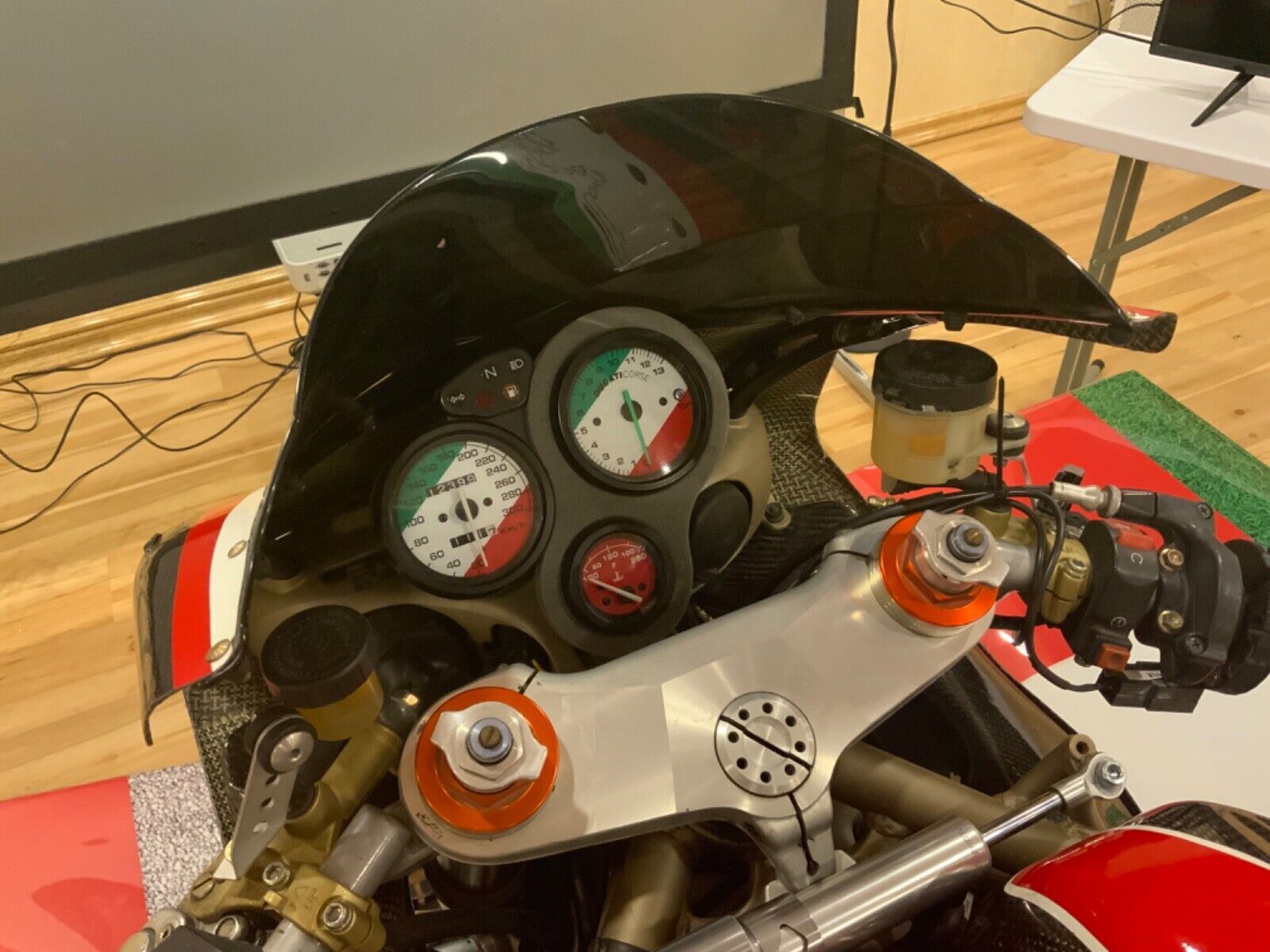 From the seller:
This is a rare bike indeed. One of 201 Ducati 996S 1999 model year. Coveted first year! This was the Ducati factory 996 Canadian launch bike in 1999 and they did it up with a full Ducati collaboration Carbon Dream factory race kit. If you don't know Carbon Dream, they make carbon fibre for Bugatti Hyper cars amongst others. This was a crazy expensive option you could choose when ordering your 996S. Obviously Ducati launch bikes were all done up for the shows. The bike has never been down and has been fully and regularly serviced by the previous owner's Ducati mechanic prior to my purchase. He was a collector and had several bikes in his stable.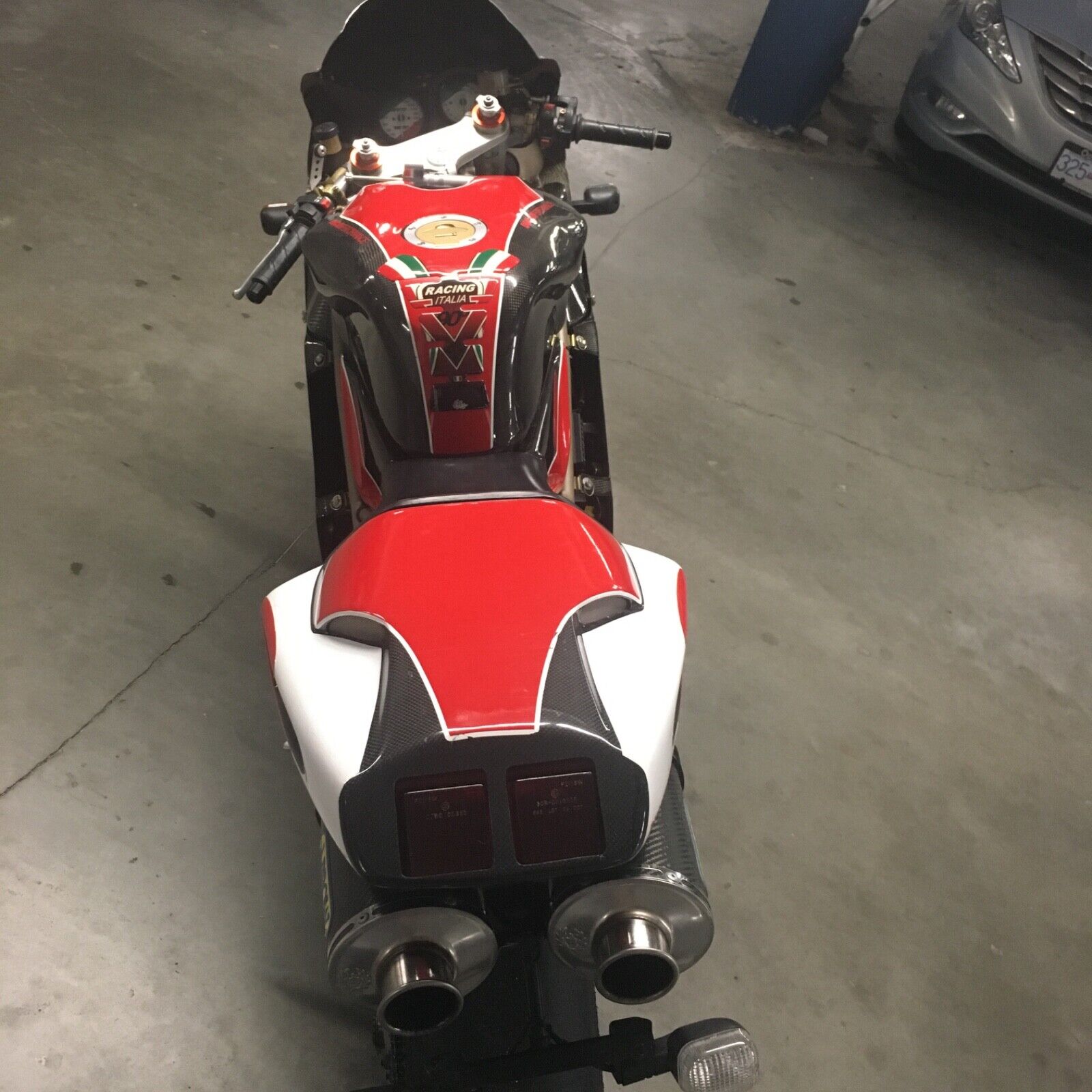 More from the seller:
I am the second owner and I bought the bike as a show piece for Biker Down Canada. We have been offered a show bike by a manufacturer so this one reluctantly has to be sold and the money will be used to support the purchase of a mobile booth. Check our Biker Down ca. The first owner got it from Ducati and was an avid collector. It has a clean car fax. Located in Vancouver Canada. I can help the buyer with shipping anywhere in the world. It qualifies as a full collector bike and collector plates in Canada and likely the USA. Yes it has a clean VIN and registration in Canada and it can easily be imported into most countries under the vintage collector bike rules. One of a kind! Look at the pics and message with questions. This bike is cross posted so get in a bid fast to make sure it sells on EBay! 12500 kilometres on clock. She is a true Italian beauty.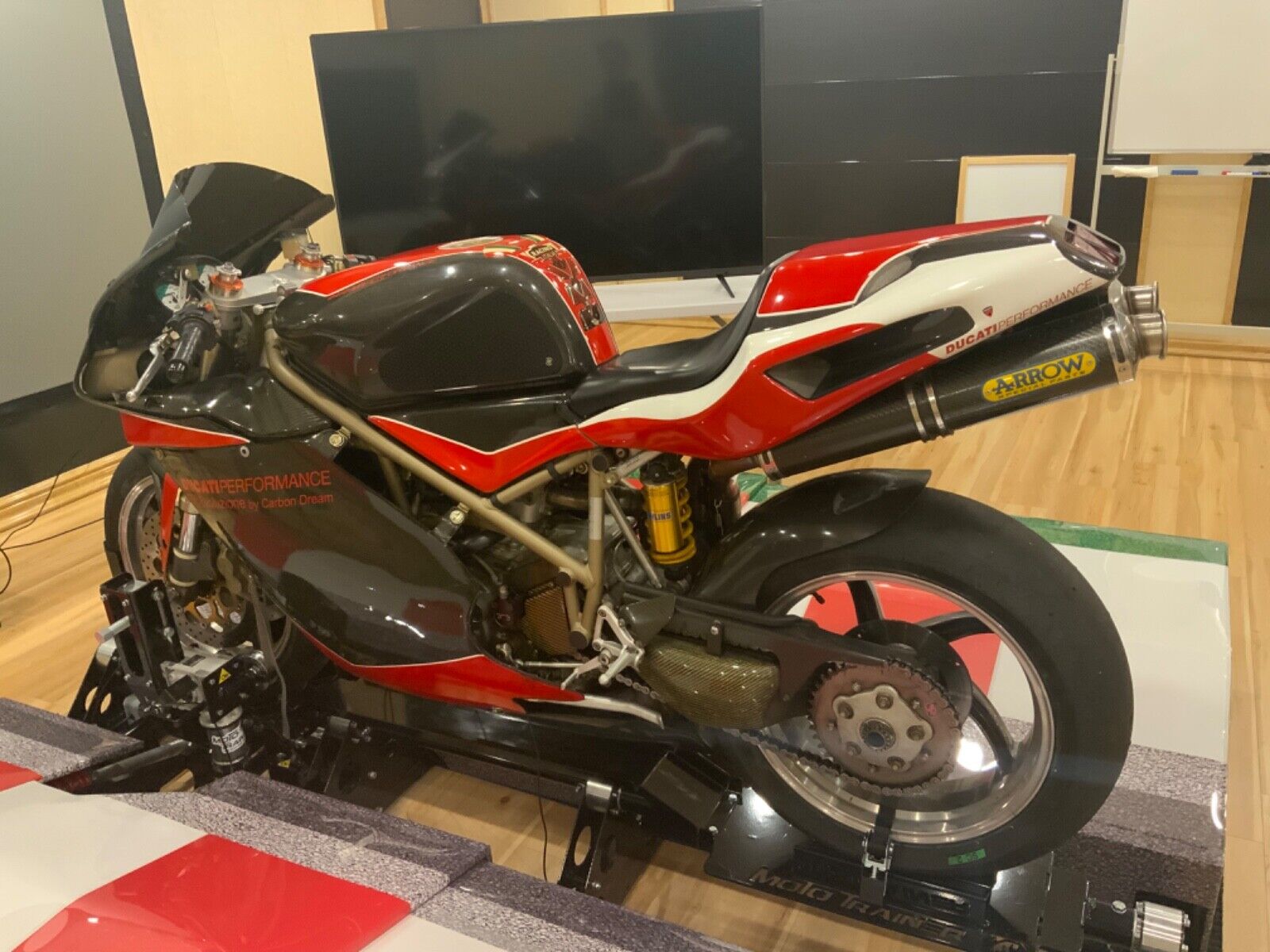 Underneath all of the super cool window dressing lies the 996. The follow on act to the mighty 916, the 996 had all the great looks of the original, but with slightly softer lines. What was not softer was the power delivery, as Ducati bumped up the displacement to keep the bike on top of the WSBK rostrum. The S model of the lineup was primarily a suspension upgrade, courtesy of Swedish brand Ohlins. The seller claims this particular bike was an official Ducati show bike for the 996S launch in Canada. I cannot confirm this (perhaps some of the RSBFS Ducati tifosi might have some knowledge on that front) but by all accounts this looks like a show bike. The carbon bits are indeed gorgeous, and the color combo is an interesting mix of old and new. With a starting bid of just under $12k, this bit of flash will be auctioned off by the end of the week. Check out all of the details here, and Good Luck!!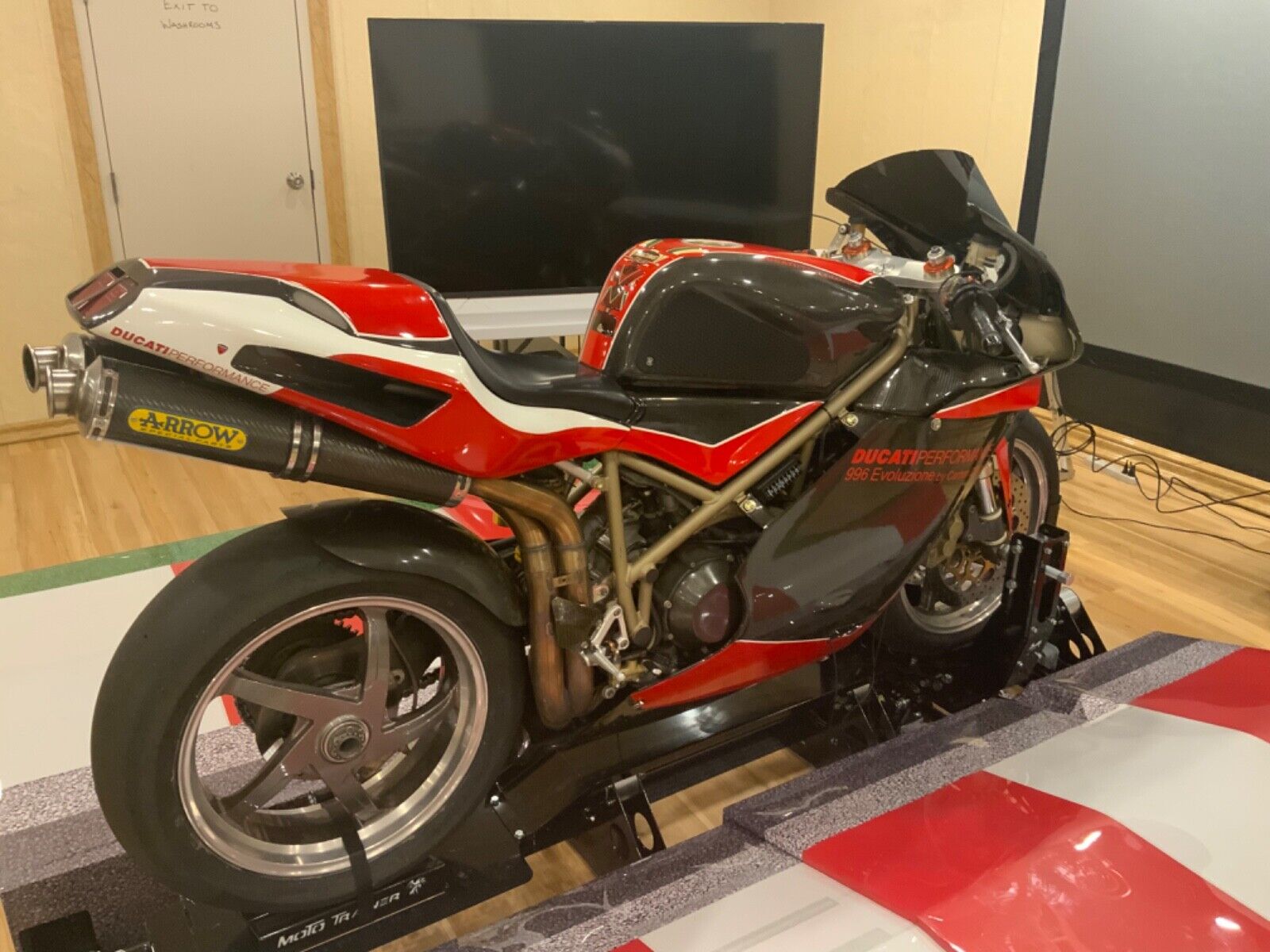 MI