Warning!
This post is in our archives. Links in this post have been updated to point to similar bikes available to bid on eBay.

In my last post I wondered aloud what the market was like for the CBR900RR, an iconic open class sportbike. After doing some real looking today, I have my answer: Act now while these are still widely available and cheap! Compared to most of the hardware I feature on this blog, there's nothing that can touch the value of this modern classic!

During my research, I quickly discovered that finding a clean Honda CBR900RR for sale wasn't as difficult as I expected. Some bikes have been more loved over the years than others though. With literally 50 or more examples available to choose from in less than an hour of shopping, I was able to narrow the field by looking for bikes under 20k miles, mostly original bodywork, no show or stunt bikes, tasteful and modest upgrade choices, and no rebuilt projects. This helped, but I still had 14 bikes that met the criteria!

The first group of 900RR's for sale are limited to the originals with dual headlamps, including model years 92-94. These were the bikes that captured my then 21 year old imagination and still look best to me. My pick of the litter is this 1993 CBR900RR on Craigslist Orange County: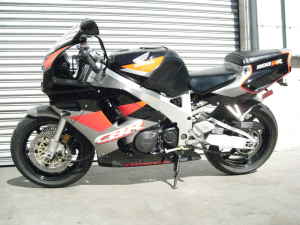 The original black color scheme fits the character of this bike perfectly. At $5200 it's the most expensive one in this group, but I'd still call that a bargain considering the performance this bike promises. Here are 5 more that look really good, especially for the money:
In this second group, models from 95-99, the bike received some minor tweaks to the exterior, most notably the front facia and headlight display. The suspension also saw some revisions and is often retrofitted to earlier bikes. The standout, to me, in this group is this 9k mile 1999 CBR900RR for sale in Washington D.C.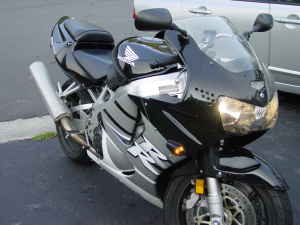 It appears to be completely stock, and with that kind of mileage, it's practically as fresh a canvas as a brand new bike!
Here are a number of other standouts for sale from around the country, all with very reasonable mileage and offerings:
I want to give a big thanks to GPRacer2500 for his great comment on my original 900RR post. He gives a lot of insight with the past ownership of two 900RR's and gives some great advice on subtle differences and suggested upgrades. I was definitely inspired to spend some time looking after that read!
Have a 900RR for sale or have a story? Please leave a comment. Thanks!
Honda CBR900RR Resources on the Web:
Wikipedia entry for the 9xxRR family
Fireblades.org – The 900RR/Fireblade enthusiast forum on the web
dc