For Sale: 1978 Kawasaki Z1R Turbo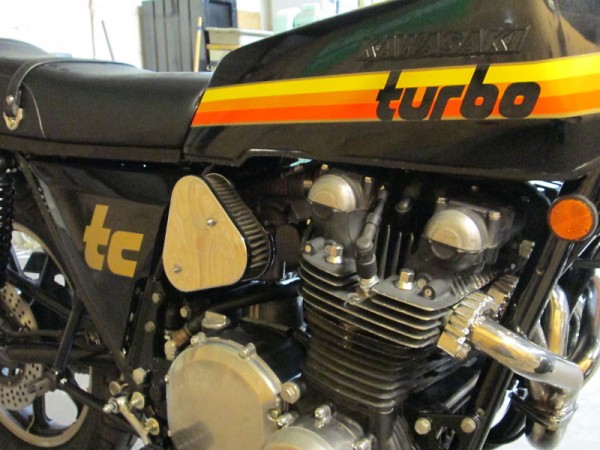 While not necessarily as hot as a WSB-spec GSXR motor, this '78 Kawasaki Z1R Turbo was pertty hot stuff before liquid cooling became a performance requirement. So hot was this particular model that it was not even a true factory Kawasaki, but rather a tuner bike sold in Kawi showrooms. Think of this as the Saleen of the motorcycle world.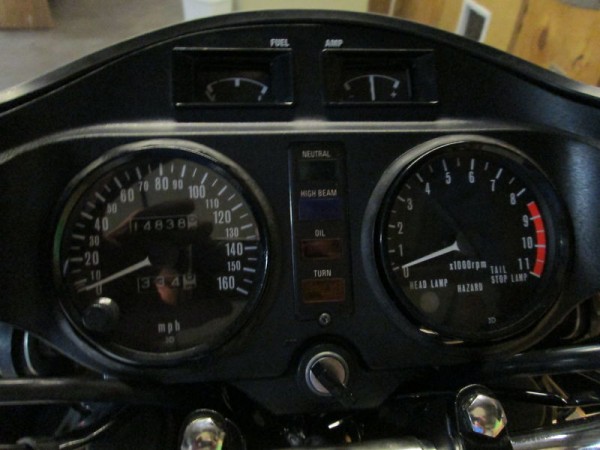 We have posted a few of these bikes both on RSBFS as well as CSBFS, and they always gather a bit of a crowd. To modern readers, this is a dinosaur; a brutal "more is always better" approach to motorcycling. Those that lived through the experimental era of the 80s see this as the grandfather of the factory turbos. Both are right – and more. These early Z1R TC bikes have become serious collectables along the way.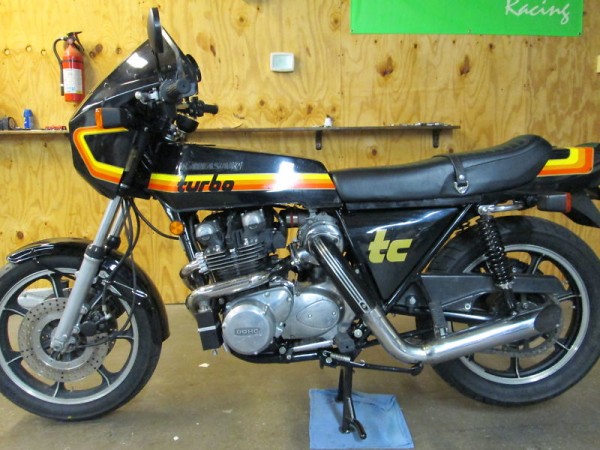 From the seller:
this a american turbo pac z1r tc.this one of the 250 built and sold through kawasaki dealer shipsthis bike has 14836 miles on her.the frame and all black parts are fresh powder coated,everything on this bike is new or rebuilt,many many $ for NOS parts.the orignal paint is ok the body does have a few scratches on it.the engine is fresh 1075 weisco.this bike comes with a spare body[fairing side panel are off of onther z1r tc,the rest is painted z1r parts],the seat is a reprodution,the extra strip set is from reprodution decals,every thing works very well.I will have a atp turbo kit for kz for sale later this week,with the spare body and turbo kit you can have an orignal and a clone,I might be able to help with delivery? meet 1/2 waywhat ever it takes.the extra chain gard shone is near mint condition,the 130/90 tire has rubbed the chain gard on bike[bikes came with a 120/80 not much tire]the last pic shows a copy of the orignal disclaimer from tcc and the date at which he bought the bike,he was 1/2 owner of the dealer ship,the other signer was the other 1/2 owner.Glenn is alive and well at 74 years of age and remebers the bike well.
There are few who would think that a normally aspirated Z1R is underpowered given the late '70s chassis and brake tech – but thankfully a few folks disagreed. Preceding the "factory" turbo bikes by a few years, the Z1RTC started life as a basic Z1R. From there, Turbo Cycle Corporation (TCC for short, founded by ex-Kawasaki Marketing Director, Alan Masek) bolted on a ATP turbo kit. These bikes were then sold through a limited number of Kawasaki dealerships sans warranty. It was an effective arrangement for Kawasaki – who recieved the press and performance accolades without incurring any of the warranty headaches.
These bikes are fast, rare (about 500 units made), and not cheap. We have seen BIN numbers exceeding $30k on some examples, making these true collectables. This particular bike is available via auction, and the current bid has just crossed $12,000 (with reserve) at the time of writing. Bidding has been moderate, and I expect it to pick up as the auction goes on. For more info and to peek at the frenzy, click the link and jump over to the action. Good luck!
MI