Update 8.1.2016: The seller has notified us that this bike has sold. Congratulations to buyer and seller! -dc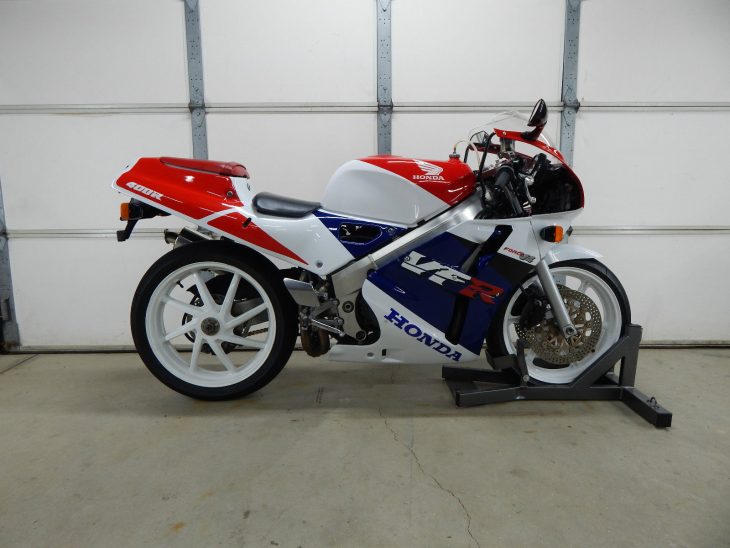 V4-powered sports motorcycles are all the rage now, but they were long associated with just one manufacturer: Honda. Their homologation RC30 set the standard for "exotic" in the late 1980s and 1990s: V4, gear-driven cams, single-sided swingarms and real links to Superbike and endurance racing. They weren't the fastest machines, especially in stock form, but that wasn't really the point. Certain types of production-based racing require that manufacturers, in order to compete, produce a specific number of a given model for sale to the public. Honda wanted to race a V4 and the associated frame and swingarm, so they had to build a bike to sell and the RC30, along with little brother NC30, was the result.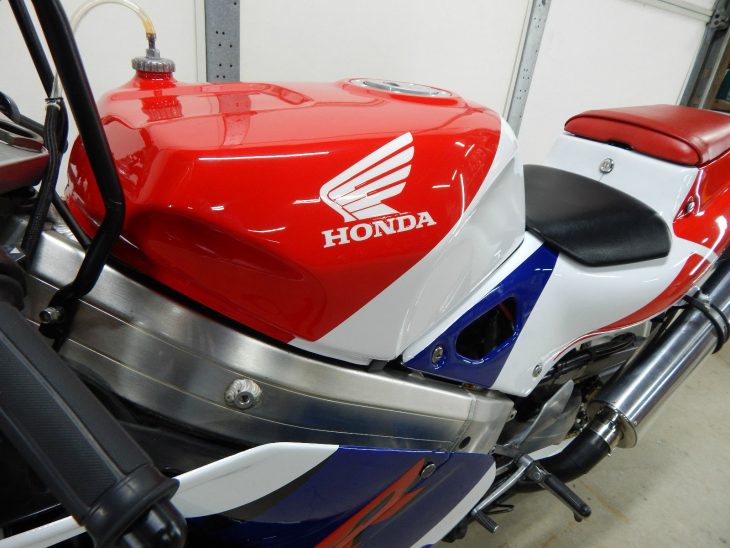 The littler VFR400R version is what we have here today, and it was only rarely seen outside Japan and the UK, at least in part because the cost made it a poor value: it was priced like a literbike, but the 399cc engine made just 59hp and 30ft-lbs of torque. However, the gear-driven overhead cams and straight-cut gears made beautiful music, and the bike had a surprisingly flexible powerband. Handling was, as you'd expect, superlative, and the featherweight, 350lbs dry machine made an ideal starter superbike for riders with money to burn.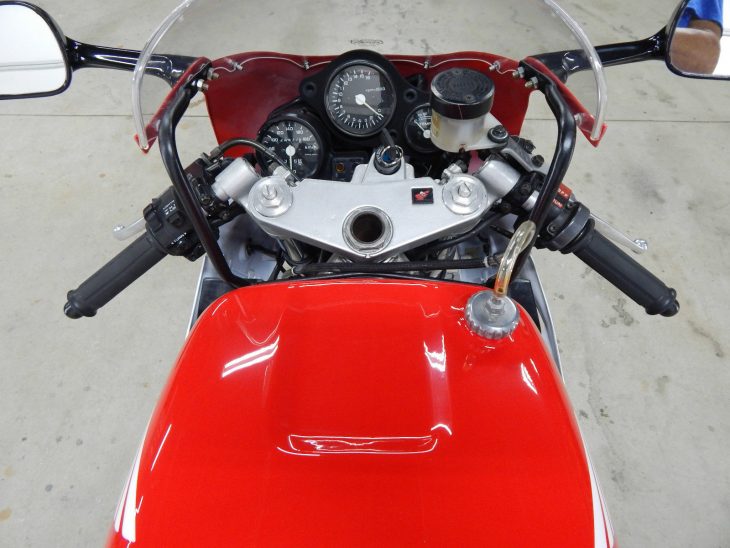 Interestingly, the NC30 was the first version of the smaller V4 to use the 360° "big-bang" firing order and helped to give the bike a distinctive exhaust note that mirrored the 750. The idea behind big-bang engines is that, instead of spacing out the combustion events evenly, they're grouped close together. This is intended to give the tire moments between forward drive where the bike can regain traction, something that was thought to be one of the significant advantages of v-twin machines competing at the time. Just two cylinders firing every revolution gave plenty of time for the tire to recover between pulses, and big-bang four cylinder engines sought to replicate that additional traction, while retaining their overall power advantages. Probably not all that important on a 400cc machine, but still very cool, and an additional link to the more sought-after RC30.
Today's Featured Listing is in beautiful shape and has been well cared-for, although this isn't some perfectly-preserved, all original bike: the fairings very shiny and mostly look great, but are aftermarket pieces. It comes with a spare set of aftermarket fairings as well in case the new owner exceeds their riding ability on road or track. The bike looks very sharp, and the price reflects the nice, but not perfectly original condition.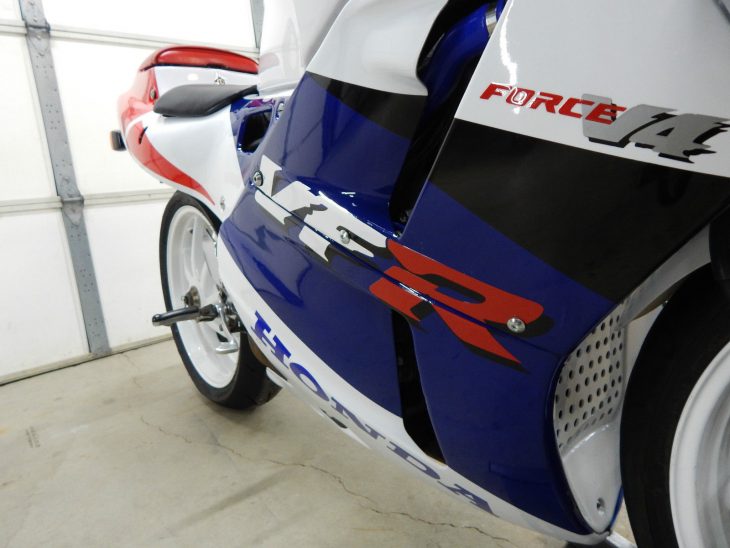 From the seller: 1990 Honda VFR400R NC30 for Sale
22,977 Kilometers (14,278 Miles) I have owned and ridden this bike for 2 years. This is a very clean well cared for bike. Fairings and bodywork are aftermarket. Comes with a second set of aftermarket fairings in excellent condition. I have gone thru the bike mechanically and everything works, as it should. Turn signals, brake lights, horn, High and low beam, radiator fan. Fork seals and upper and lower radiators were just replaced. Rear shock is from a CBR600RR. Original shock is included with sale. Shifts and revs to redline perfectly. Starts effortlessly every time. Very smooth running. Bike has Ohio State Title ready to transfer into your name.
The NC30 may not have the full WSBK displacement and power or the race-winning prestige of an RC30, but you shouldn't be buying one of those for an eyeball-squishing experience anyway: time has moved on and modern superbikes have nearly twice the power of a stock, roadgoing 750. The NC30 is plenty fast enough, if your favorite parts of a road are the wiggly bits, and if the much sought-after and very expensive RC30 is out of your reach, a VFR400R offers up most of the bang for a much lower cost, and makes a very sharp canyon-carver or trackday mount.
-tad