Update 10.6.2022: This bike has SOLD! From the seller, "I have sold the bike. Allow me to express my appreciation to YOU and RSBFS for your wonderful service and building such a large network of like-minded viewers." Contact us for your own Featured Listing! -dc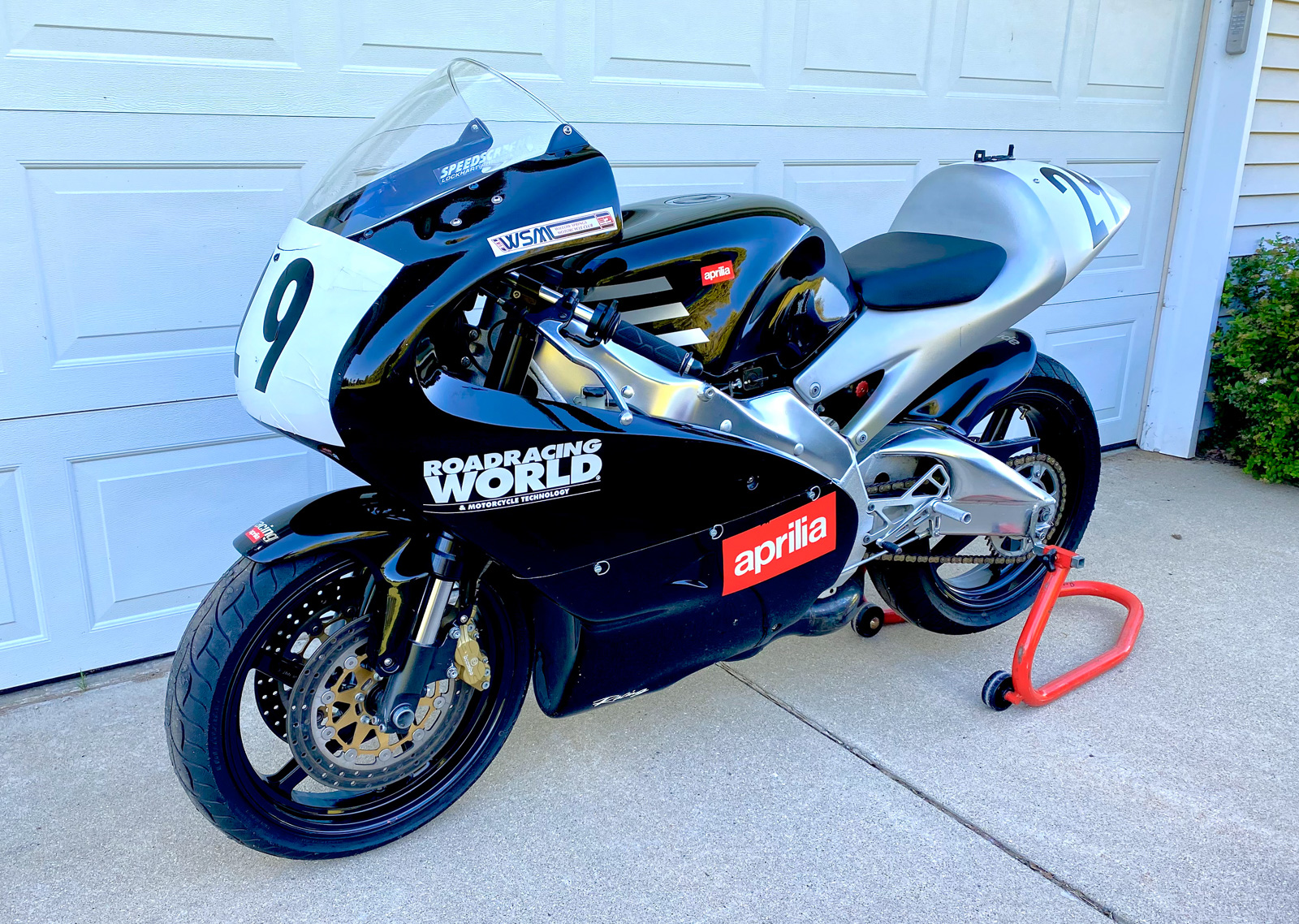 Today RSBFS reader John M. brings us a fantastic bit of racing history. The Aprilia RS250 Challenge offered a true one make race series celebrating what was essentially the last of the two strokes. And for the occasion, Aprilia ran off a batch of Cup bikes that were devoid of pesky D.O.T. goodies such as 17 digit VIN numbers, lighting, etc. These were bikes that were only intended for track duty. And this particular one raced… and won. The winning rider for the 1999 US championship series – on this very bike – was John Hopkins. If you are newer to racing, you might recognize John Hopkins' association with the American Racing entry in the Moto2 world championship (supporting American riders such as Joe Roberts and Cameron Beaubier as a coach). If you have a bit more history with racing, you will know him as a WSBK Superbike competitor, a British Superbike participant, an AMA Superbike rider and a genuine MotoGP racer, having tasted both the 500cc two stroke era, as well as the transition to four strokes on both 990cc and 800cc machines. Today's Featured Listing is the RS250 that John rode to the 1999 Aprilia Cup championship. This bike was also a winner with Aaron Clark at the help in the 2000 Daytona Race of Champions. And if that is not enough historical significance, the bike was built, fielded and maintained – and ultimately sold – by the legendary Team Hammer crew.
Historic 1999 Aprilia RS250 Challenge Cup Racer for sale with just 664 miles!
From the seller:
1999 Aprilia RS250 Challenge Cup Champion

Price: $12,500

This is a 15-digit VIN Aprilia Factory Race Bike. John Hopkins (Hopper) won the U.S. Aprilia Cup Series Championship on this bike while racing for John Ulrich's Team Hammer/ Roadracing World in 1999. Aaron Clark (of "Clarkie Tuono" fame) rode this machine to win the title at the Daytona ROC in 2000. The bike only shows 1068 KM's / 664 miles.

I Purchase the bike from Team Hammer in 2002. It has been preserved in its original, glorious race-bike condition from when I received it 20 years ago. Although I start it and move it around a few times each year, It has not had any additional miles put on it since I acquired it (sans a stealthy ride around my old subdivision). It's been properly stored inside my climate controlled shop. It's a bit of a time capsule and I love it for that. I hope you will too.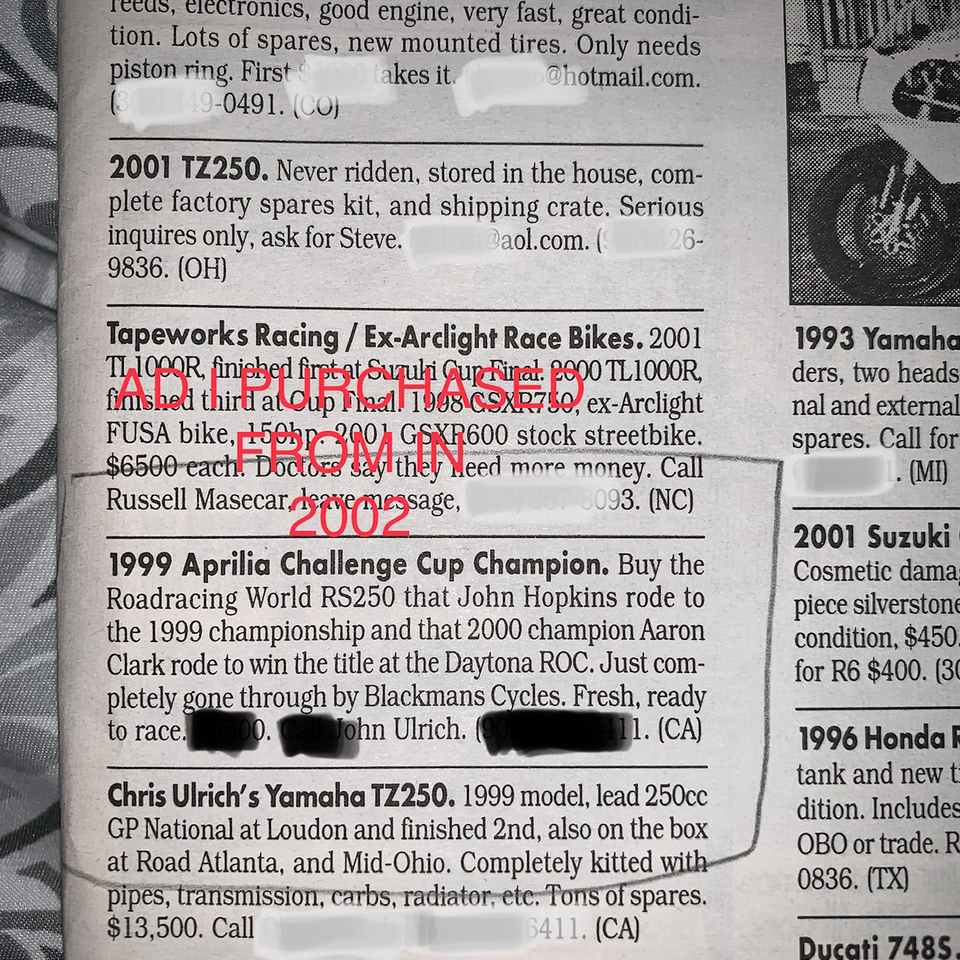 More from the seller:
Being a factory, built-for-racing machine, it is not currently street legal. Original certificate of origin through Aprilia and Pro Italia Motors (Glendale, Ca) plus a bill of sale will be included in the transfer.

The sale includes all the spares and manuals that I received when I purchased it, please see the photos regarding those items. Original rear-stand included as well.

The bike is in very good condition. Essential, non-dispensable components like the frame and suspension parts are in great shape. There are minor scuffs on the right side bodywork and a very small spot on the lower of the two Arrow mufflers. In my opinion, they are just enough to give it some character without feeling the need to further repair. The bike is incredibly good looking.

I Could write a long dissertation about the history and features of the Aprilia RS250 Challenge Cup but I feel it's safe to assume that if you are here, you already know!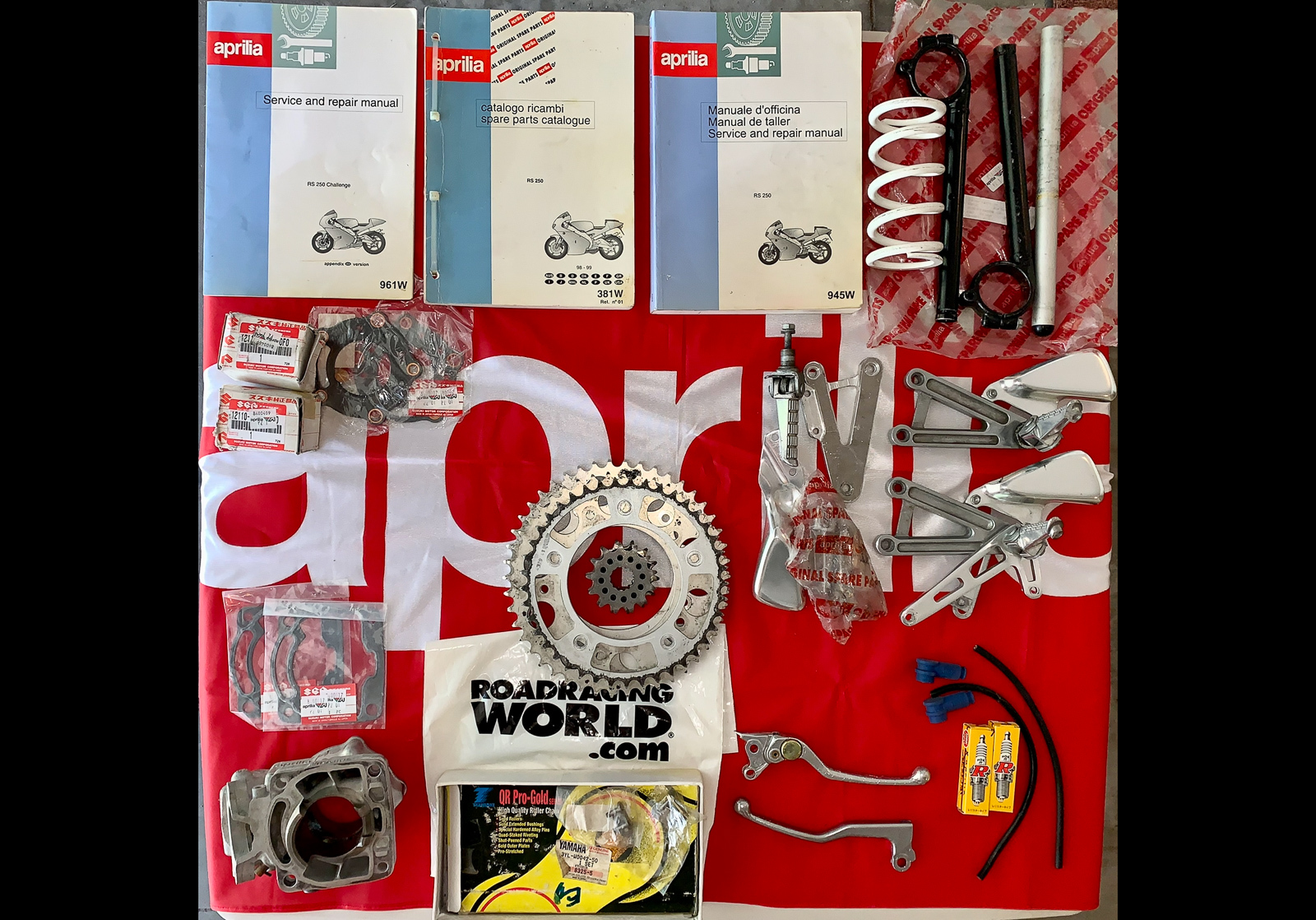 More from the seller:
A bit about Hopkins himself:
During and after the '99 Aprilia Cup Championship he went on to compete in AMA 600 Supersport, AMA 750 Supersport (Champion), Formula USA Superbike, Formula Xtreme (Champion) and then of course, MotoGP, Including finishing fourth in points in 2007 with only Casey Stoner, Dani Pedrosa and Valentino Rossi ahead of him. Then World Superbike and British Superbike (where he racked up 5 wins). He was featured in the 2003 documentary film "FASTER" and later "The Doctor, the Tornado and the Kentucky Kid" in 2006.

It's not every day that these bikes become available and for this one, it's the first time in 20 years.
Here's your chance to own a little slice of road racing history.

Go for it.

Price: $12,500
This amazing piece of racing history and heritage is currently for sale. While we do see Challenge Cup bikes come up for sale occasionally (many being converted and masquerading as street machines), none have had the star power or provenance of this one. And who would imagine you could purchase a Team Hammer race bike through a Roadracing World magazine advert back in the day?! The best part is this isn't some trashed or used up bike – when John M. peeled away some of the black vinyl covering up distracting elements of the dash (such as the speedo), the odometer only shows 664 total miles! This is truly an amazing find, presented in "as it was raced" condition. Thank you John for supporting RSBFS with such an interesting chapter of motorcycling history!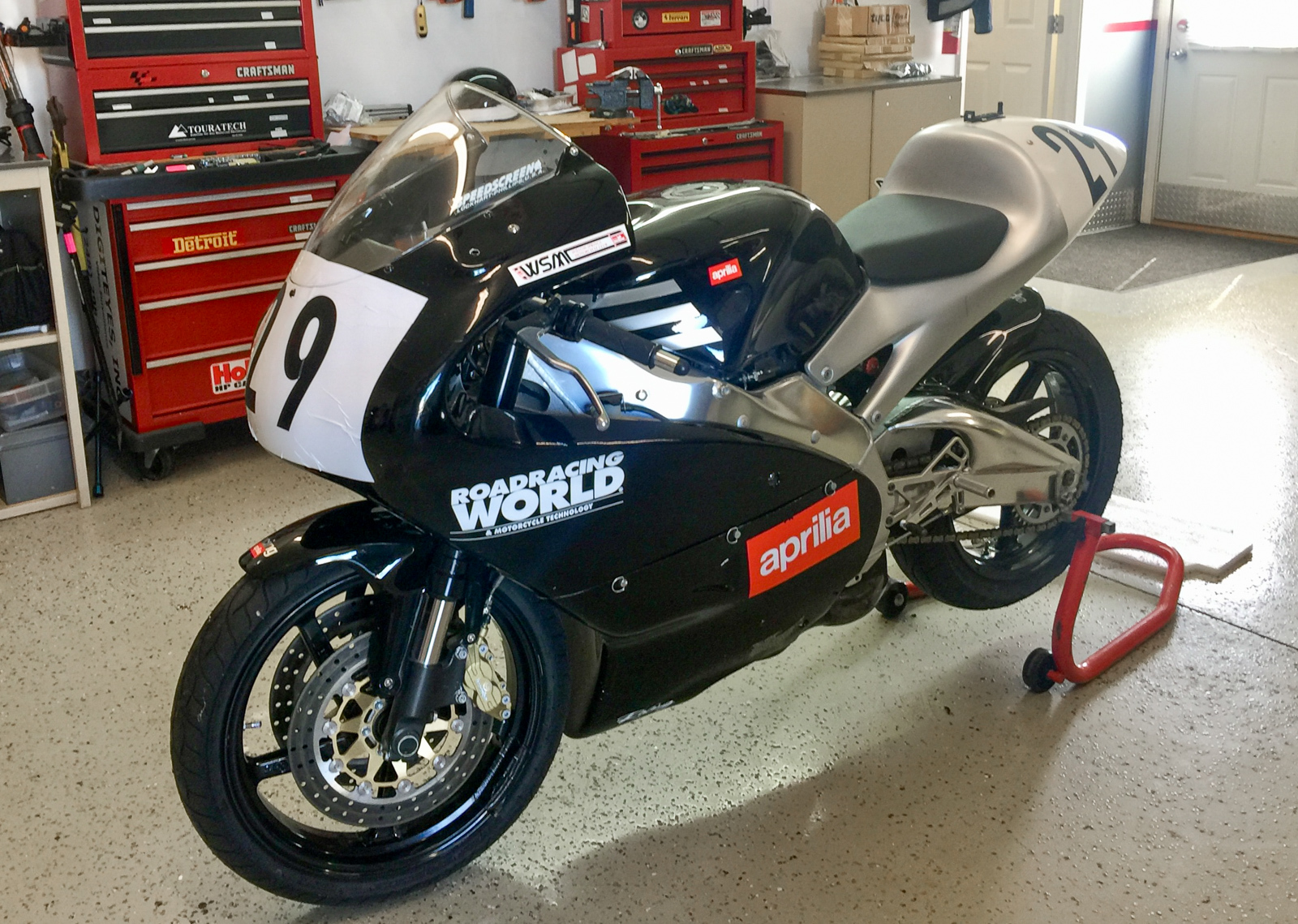 MI