Warning!
This post is in our archives. Links in this post have been updated to point to similar bikes available to bid on eBay.
If you are thinking that you haven't heard of the 2Moto 2M400R-SP, you are probably correct. But I'm sure you have heard of Yamaha's wildly successful two-stroke, the TZR-250. And knowing RSBFS readers, you probably wished for something like that – but with more horsepower – for your street ride. I mean, imagine the wild hi-jinks you could pull off with that kind of hardware but twice the power. Well, wish no longer. Think of the 2M400R-SP as a top spec TZR, but with 400cc and 85 horsepower at the rear wheel. At 265 pounds, this hybrid weighs less than the 250 it is based off of, but is considerably more potent. At the end of the day this is less TZR-250, and more like what Yamaha could have done with the RZ350 had that lineup continued. We don't often feature custom builds on these pages, but read on – because this one is worth it.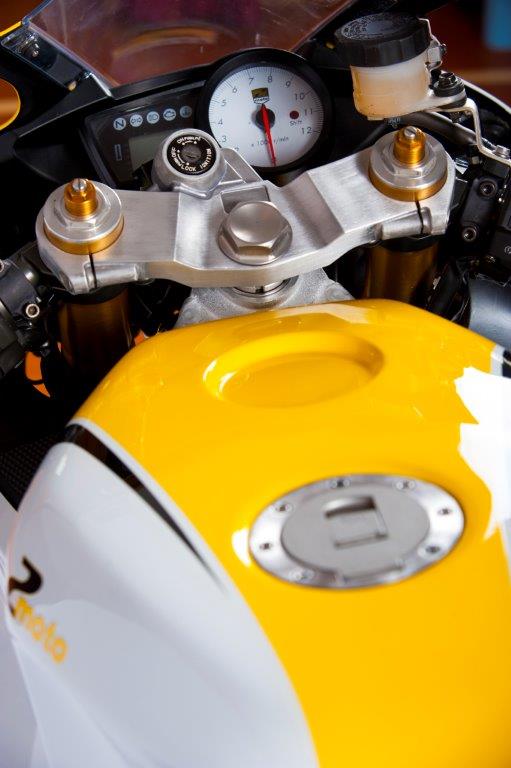 UK-based 2Moto is a bike builder that concentrates on just a few offerings. Most of their business is in the form of YZR500 and NSR500 GP500 replica race bikes. By tame comparison, the 2M400R is their street model – and what model it is! Start with 1990 TZR-250 chassis – this is the 3MA model offering, selected because it best fits the venerable parallel twin RZ motor. It is also widely known as precise and forgiving in terms of handling. Graft onto that a single-sided swing arm from the Honda RVF-400. The RZ style motor is a good choice as there is a solid foundation of knowledge and parts available; after all, these are the same basic engines utilized in off road quads. The power requirements of a quad screaming up a dune is quite a bit different than a racer / street bike, but by careful component selection, porting and assembly, a seriously stout smoker is born. Consider the dry clutch, the electric water pump and the clever custom carbon fiber sprocket cover that incorporates support for the gear selector shaft. Front forks are 600cc Supersport items, if that gives you any indication of the braking and cornering forces expected. Wrap that whole package in 125cc GP bodywork (yes, you heard that right – 125cc), and you end up with the spiritual successor to the RZ, and a phenomenal machine in its own right. This is a level of detail you would expect from larger firms such as Bimota, and the outcome is glorious.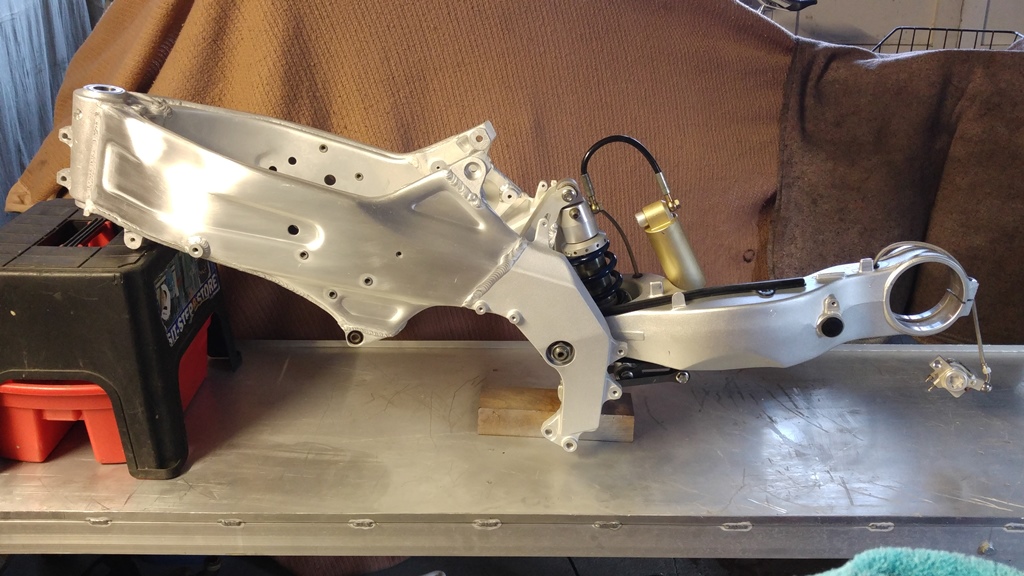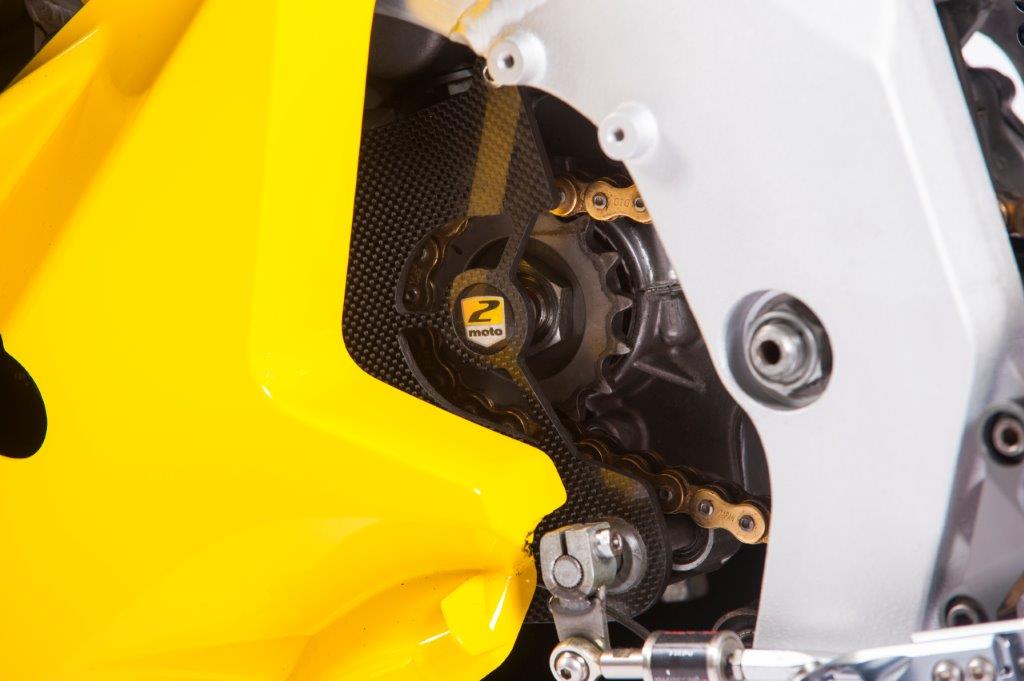 From the seller:
Since the Aprilia RS-250, no new 2-stroke bikes have been built by any manufacturers. We thought it was about time to rectify that situation. And we like the RD-350 YPVS engine as there are lots of relatively inexpensive engine upgrade option courtesy of our American cousins who insist on racing some crazy Yamaha Banshee quads, some making in excess of 150 horsepower!

Having built plenty of specials over the years, we had a pretty good idea what would work. And, what doesn't. The YPVS engine is fairly long, so most of the 250cc type V-twin chassis are too short, as we know from experience. In the end, the Yamaha TZR-250 3MA chassis fit the bill perfectly. Plus, the same chassis is used in the TZR-125 and the SZR-660, so availability is reasonable. And, we knew the engine would fit with only a few modifications to the chassis.

This highly desirable example of a modern 2-stroke sportsbike can be ridden on the street. A few of main specs are:
-400cc YPVS engine
-85 hp at the rear wheel
-120kg wet weight, no fuel
-K-Tech suspension
-The bike is titled as a TZR-250, 1990 model year and fully road legal in the UK.

Price: $12,500

Interested buyers should contact Felix Hirzel of Team 2Moto: info@2moto.co.uk
Website: http://www.2moto.co.uk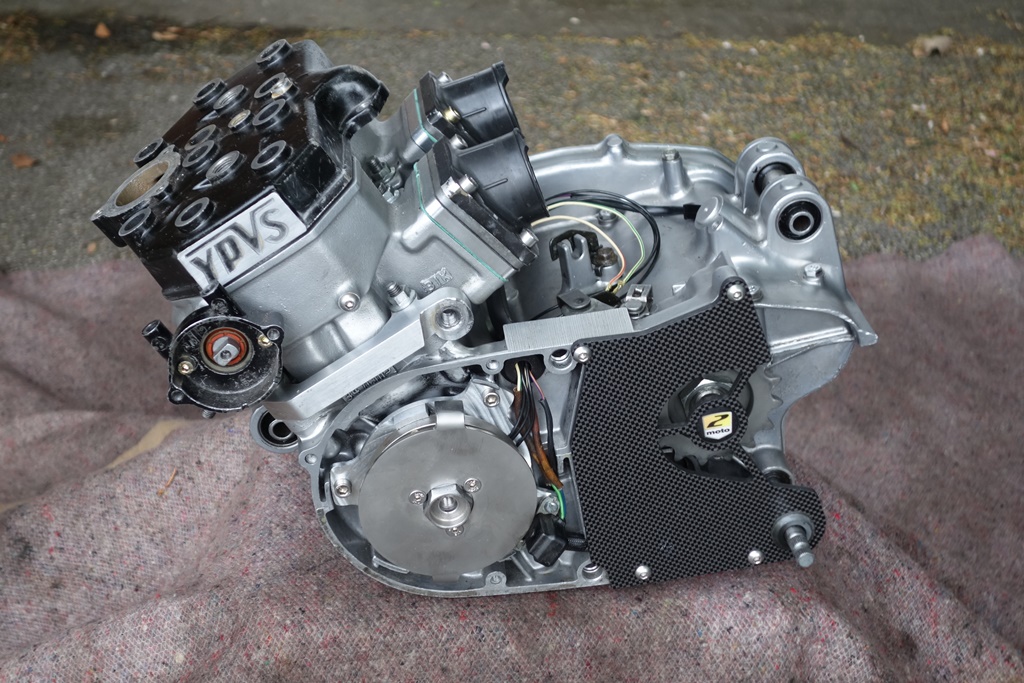 This custom build is not a simple one-off by someone in their backyard. This is a complete bike offered by a noted chassis and speed parts manufacturer. This is a repeatable process thanks to engineering, testing and experience. This is, as the ads say, professional grade. And if this 400cc doesn't light your fire, perhaps you should check out their other offerings such as GP replicas of either the YZR500 or NSR500, race-ready Moto2 chassis, or a 250-sized GP racer stuffed full of Kawasaki 650cc twin power. Like Bimota, frame kits are on offer as well in the event you want to build your own. But what could be better than a professionally crafted, street-going two stroke like this 2M400R-SP? It is ready to go, no assembly required. Serious parties can send an inquiry directly to 2Moto's Felix Hirzel, and talk numbers. Drool over the pictures on this one. Take your time. This bike has details you don't want to miss. And if you miss riding a serious two stroke on the road, consult with your wife, consult with your banker, and consult with your local laws. Then make the call and make us all jealous. Good luck!!
MI