Warning!
This post is in our archives. Links in this post have been updated to point to similar bikes available to bid on eBay.

Update 11.14.2017: Bike has SOLD! Congratulations to buyer and seller! -dc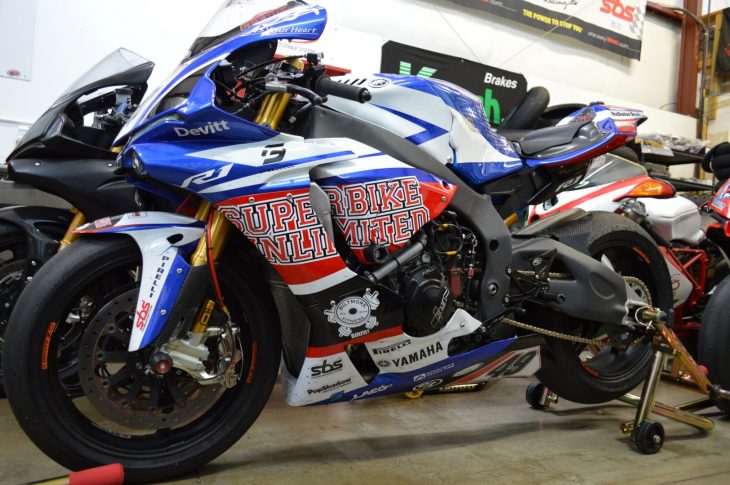 While a Yamaha YZF-R1 might not seem quite as exotic as the race-prepped Ducati Superleggera we featured earlier this week at first glance, the specification for this genuine YZF-R1 Factory British Superbike will certainly catch your attention on closer inspection. It's even got a bit of celebrity history thrown in as an added bonus, as it was ridden by none other than former MotoGP rider John Hopkins!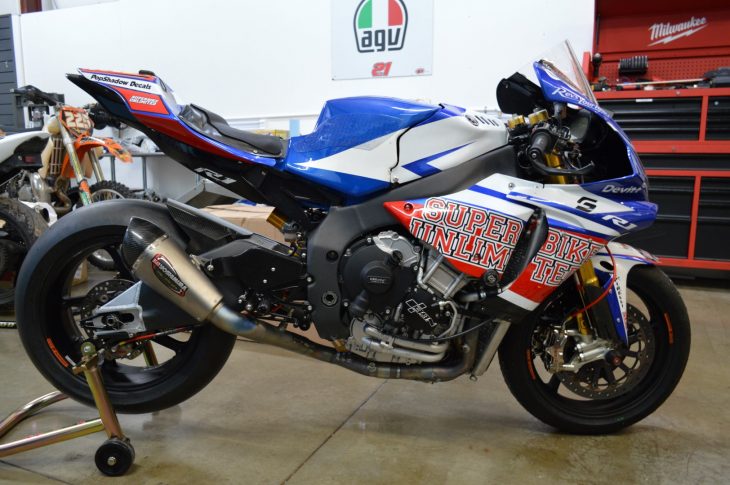 Yamaha's R1 is probably most famous for its "cross-plane" crankshaft configuration that gives it a distinctive sound. Cross-plane cranks are common in car engines but weren't seen in inline four motorcycle engines prior to the R1. Yamaha's MotoGP development team found that V4-powered machines had better acceleration out of corners and built test engines with 90° cross-plane crank throws instead of the usual flat-plane set up. The results were conclusive, and Yamaha's subsequent MotoGP bikes have all used cross-plane cranks.
In a road bike, the advantage for Yamaha is mostly marketing: a bike with a cross-plane crank doesn't make any more power than one with a flat-plane crank, but that unmistakable exhaust note makes the R1 one of the best sounding roadbikes outside an Aprilia RSV4, a bike powered by an actual V4. Of course, this isn't a roadbike we're talking about in this case…
I try to avoid simple listicles in these posts, where the seller brags about all the bolt-on farkles [and their prices] included with the machine in question, but it seems very appropriate in this case! This package basically includes a fully-prepped, fully-developed superbike with a fresh engine and spares to keep it running.
From the Seller: 2016 Yamaha YZF-R1 Factory Superbike for Sale
Yamaha YZF-R1 Machine – This bike was a factory Yamaha YZF-R1 Superbike that competed in the British Superbike Series. The bike was raced by former factory MotoGP rider John Hopkins. It was purchased fully refreshed for the 2016 season directly from the team owner. Included with the sale is data from both Milwaukee Yamaha and Tommy Hill Motorsports. This is the closest thing to a current-spec World Superbike a mortal can expect to own. This bike can win races at any level and is covered in factory race parts that are pure unobtanium.

Motorcycle is 100% fresh and needs absolutely nothing. 

Since our acquisition, Motec M1 ECU has been upgraded to World Superbike specification, to enable full rider aids, auto blipping and auto-tuning. This includes the ability for sector by sector mapping and rider aids. We added an E-Lean 6-axis lean angle sensor for superior accuracy in rider aids. We added in a 39N 5 button pod, that controls traction control, engine braking, etc and has a factory-spec connector. Suspension has been updated to current factory spec and fully refreshed. We replaced the exhaust with a Yoshimura kit exhaust that performed better in the midrange. We also updated rearsets and hand controls to Evol Technology. We updated secondary case covers to 39N CNC units for superior protection and ground clearance. Lacomoto matte carbon frame and swingarm protectors have been added. Originals are available. 

This bike was less than a 10th of a second from winning the last 2 races it was in and holds multiple lap records. 

Bike specification: 

Brand new frame fitted, Brand new bearings fitted, New complete engine re-fresh only 3 hours on engine.
Factory Ohlins RSP40 Rear shock 
FGR 301 Fork with Factory Ohlins valving kit plus shims 
Factory Yamaha Swingarm Including adjusters and bolt adjuster. 
Full Official Yamaha factory racing 2D Loom with carbon fibre box kit
Motec ECU M173 (updated to M1 Superbike-spec)
MB Motorsports WSBK Oil Cooler and Radiator
Yamaha factory racing parts as follows:
Subframe – Billet Gilles
Carbon fibre rear subframe box
All carbon 2D Factory Data/Junction boxes (Front, Main, ECU, Side, Side 2.)
All 2D Yamaha racing wiring Loom
Fuel Mapping originally from Yamaha Factory included
YEC Kit cams latest spec, Factory Funnels for variable stacks
Head work, porting. YEC Pistons rings, YEC Valve springs, Rods
Factory Oil Pan Spacer for increased capacity
MWR Factory filter
Top and bottom yokes and stem Yamaha Racing 
Spindles all by Yamaha Racing
Front carbon fiber dash mount and factory air scoop
OZ Piega R Kit Wheels front and rear
Brembo Kit disks front and rear
2D Speed sensors front and rear
2D Suspension potentiometers front and rear
Hel quick release brake line kits worth hundreds of pounds
Race fuel tanks same as original Yamaha racing tanks – 20-22 litres max
Steering damper mounts Yamaha factory
Steering damper Ohlins
Renthal clutch lever
Brembo MotoGP front master cylinder
Titanium Bolts
Brembo EVO Monoblock Factory-Spec calipers
Factory carbon Yamaha Racing rear hugger
THM Link arms – Replica Factory ones.
AMB Transponder with mil-spec quick disconnect
And lots more! 

Bike same spec as WSBK apart from swingarm and clutch, and ECU – ECU spec is equally capable.

Spares included:

Domino Throttle cable sets
Tyre warmers + Controls
Spare sprockets + Sprocket carriers x3 
New Radiator Guards
Motec dash protector – Billet inc button – new
All paddock stands front/rear/peg/yoke/ chassis
Spare grips – new
Head cups – different angles/offsets – Blue – new
Offset stem spindle – new
Front spindle – new 
Full set of side panels, seat unit, belly pan, tank cover – new
Fuel tank cap
2 NEW Speed sensors – new
THM Battery jump pack starter
Clutch Boss – new
Chassis Bolts – new
Tank Screw cap tool
YP Aliant battery spare
Front /rear wheel collars Black – new
Front carbon front fender mount brackets – new
Radiator bracket – new
Oil cooler bracket – new
Hose kit NEW
Aliante battery charger
THM Ride height tool
Spare captive nut for rear spindle – new
3 Oil cooler take off unions – new
Tank grip pads – new
Rear swingarm adjuster – caliper mount – new

Price as described – $50,000

Additional spares available but not included include a brand new MB Motorsports Radiator/Oil Set, complete 2D boxes set, various sensors, spare carbon subframe box, spare factory Akrapovic headers, upper triple clamps and more. 

Price with all spares – $55,000

We are willing to discount for removal of the shock, exhaust or brakes.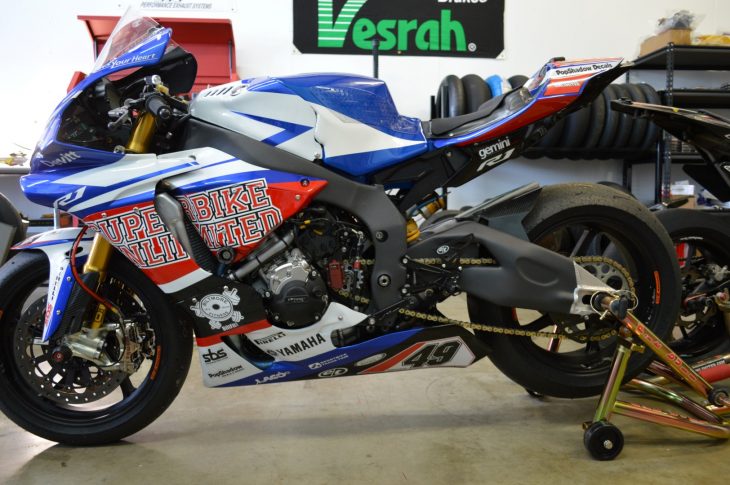 $55,000 is a pretty huge chunk of change for most of us to part with, but considering the parts and prep that have gone into it, that price seems, dare I say it: almost reasonable. Buy it and display it, buy it and track it, buy it and race it, or just buy it to drool all of the exotic, race-spec parts, this is a rare opportunity to own a genuine superbike with all of the trimmings. You could even swap the race-spec parts over to your street-legal R1 to create a terrifyingly trick backroad weapon…
-tad