Update 8.23.2019: This bike has sold to an RSBFS reader! Congratulations to buyer and seller! -dc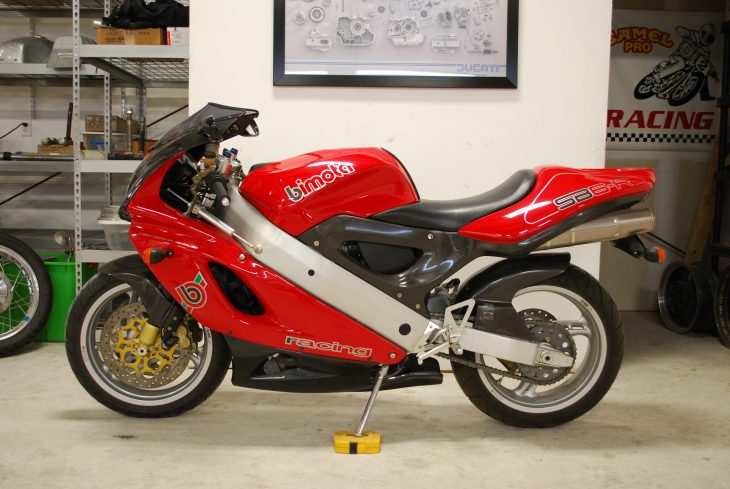 I'm unreasonably fond of the Bimota SB6R, making me possibly the very best or the very worst person at RSBFS to write up this particular Featured Listing. It's hard to explain why. It's not the prettiest bike of the era, but somehow the bulbous styling and classic graphics and general Bimota weirdness and current low prices just make it an object of lust for me. This example was originally posted here back in 2016 when it was for sale by the previous owner (for a considerably higher price), and now the current owner wants to pass it along to a new home.
Bikes of the era represent "peak Bimota" to me: earlier machines offered perhaps more of a racing pedigree and later bikes are more refined, but the big, bruising SB6 and YB11, the fabulous but temperamental V Due, the original Tesi, even the classic DB2 all epitomize the handbuilt, race-inspired engineering that exemplifies the brand, even if inconsistent build quality and impractical construction made them frustrating to own. What do I mean? Well the formula for the SB6R was simple: take the honking big inline four from the GSX-R1100 that weighed in at nearly 550lbs full of fluids and put it into a machine weighing in almost 100lbs less. That naturally required the body and frame to be virtually shrink-wrapped around the powertrain, and that led to issues with access when servicing them.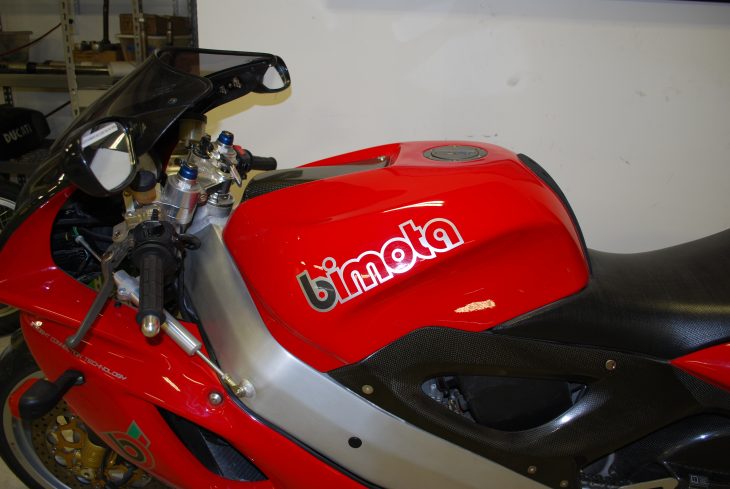 Luckily, that engine is pretty easy to take care of, once you gain access, and the bodywork is made up of very few pieces, making it relatively simple to strip it down. You still have to work around that massive aluminum beam frame, but at least you can admire its industrial beauty while you try to adjust the carburetors… The rest of the bike is as trick as you'd expect from a Bimota: the lowers on the right-way-up Paioli forks were carbon fiber and the fully-adjustable Öhlins shock was tucked in alongside the engine, with the remote adjuster slung underneath.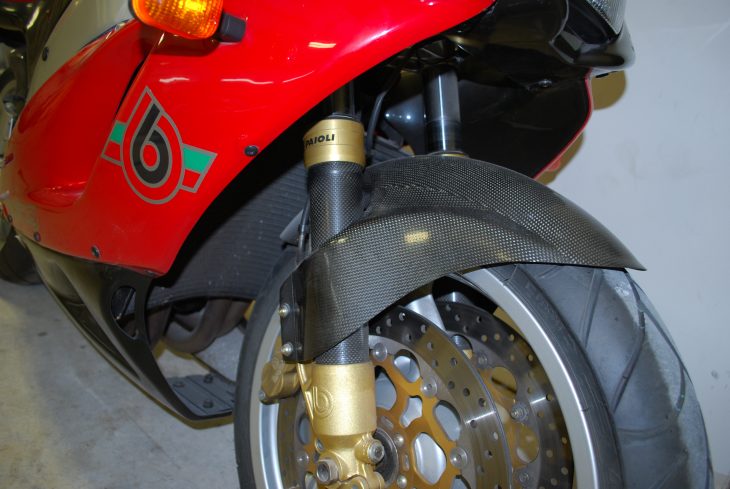 With supposedly just 600 made, you probably haven't seen one in person. I'd always loved the front but felt the tail was a bit awkward, but finally seeing one in the flesh changed my mind completely. From the pictures, this one appears to be in very nice cosmetic condition. The miles are now pretty much what they were on the bike back then, which is the only real issue here: it's largely been sitting as part of a collection, so it will need to be gone-through if you plan to use it on the road. Or on the track, if you're that kind of lunatic.
From the Seller: 1998 Bimota SB6R for Sale
I have a '98 Bimota SB6R that I'd like to sell. I bought the bike from a friend who owned Austin Vintage Cycles. He bought it at the Mecum Jan. 2016 auction and has divested his interest in AVC. As such, he sold me the Bimota and a bunch of Ducati Bevel stuff. So neither of us have much info on the bike. However, I recently spoke with the previous owner who took it to Mecum. It was part of a 15 bike collection of interesting bikes all having low mileage in common. He told me he rode the bike once or twice, in 2014 or 2015 and it was "very fast''. He had the tank drained prior to the auction but couldn't remember if the float bowls were drained; I'm guessing not. I'm not sure whether there's a battery in the bike but it's certainly dead if it's there. The bike will therefore need a fairly extensive "going over" before being ready to ride, most likely including new tires. Currently, the bike and title are at the former site of AVC in Leander TX, just north of Austin. We will facilitate shipping with Federal, who we've used extensively and are comfortable with them.

Frame & Engine Numbers Matching: ZESSB6009WR000010
Only 2,505 Original Miles
Original Red Paint and Bimota Badges & Decals
Carbon Fiber Fairing Inserts and Wheel Covers (Front & Rear)
5-Speed Transmission with Chain Drive
Electric Start with White Gauge Cluster (tachometer & speedometer)
Liquid Cooled 1,074cc Engine
Four Stroke, Transverse Four Cylinder w/DOHC (4 valves per cylinder)
Paoli suspension, Brembo brakes, Marchesini wheels
*156 bHP with 174 Top Speed (per Bimota)
*29.7 Seat Height and 419 lbs Dry Weight (per Bimota)

All lights and electronics work perfectly. There are blinkers and a mirrors installed so it will easily pass vehicle inspection in Texas.

Price: $8,000 $7,500

The seller is asking $7,500 for the bike, with reasonable offers considered. Obviously, it's going to need a bit of servicing to get it running, but that's honestly pretty common when you're looking at a bike this old. In the plus column, it's a Suzuki GSX-R1100 motor, so getting parts to make it roadworthy should be dead easy. In the minus column, that Suzuki motor is in a Bimota, which means that installing those parts could be a bit tricky. At the end of the day, the cosmetic condition appears to be excellent, which should be the primary concern for anyone looking to buy a Bimota, since those parts can be difficult and expensive to obtain. I love the SB6R, so hopefully the right person will pick this one up and get it running!
-tad