Warning!
This post is in our archives. Links in this post have been updated to point to similar bikes available to bid on eBay.

Update 11.2.2021: This bike has SOLD! Congratulations to buyer and seller! -dc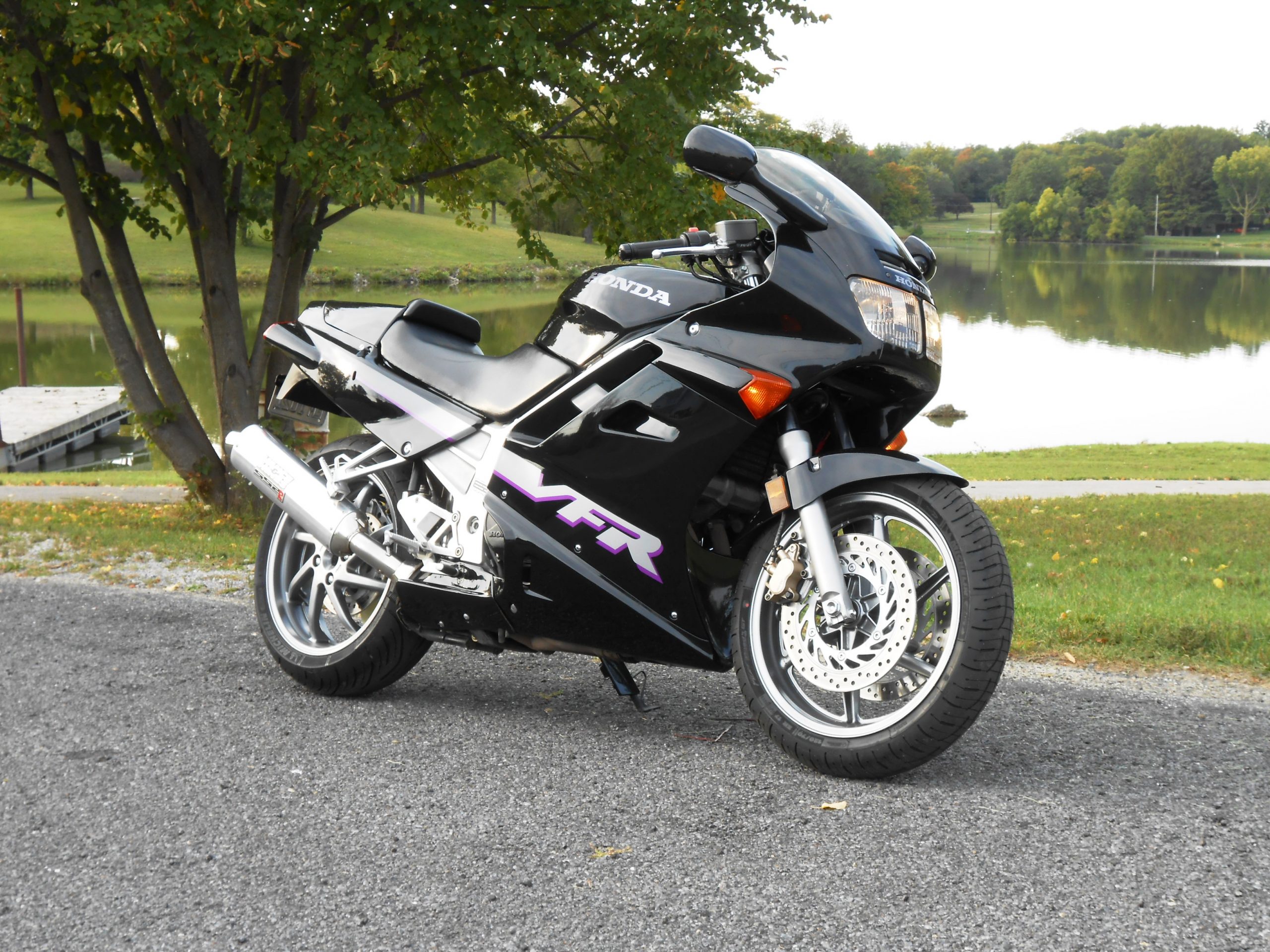 When you look back at the bikes you could have owned – or maybe did own, but let slip away – many will dream of the unobtainable collector machines built in small numbers and high prices. But when you look back on the bikes you could have owned to *ride*, then the list changes significantly. Gone are the torture racks, the rolling stock full of NOS parts never to be found again, or the odd and unique (but not very practical) imports. Instead you would look back at the best all around bikes in history – and come to a singular conclusion: the Honda VFR750F. Here is a bike that can do it ALL – from canyon riding and track days to touring, exploring and commuting. The VFR has long been a do everything exceptionally well type of mount. And while we can nostalgically look at some of the examples floating around the internet, the thought of somebody's used up bike is not the stuff of dreams. Enter this stunning 1992 model VFR750F in the more rare darker VFR livery. What you are looking at is what Cycle World called "…the best all-around motorcycle in the business…" that has been refurbished to a very high specification.
Featured Listing: 1992 Honda VFR750F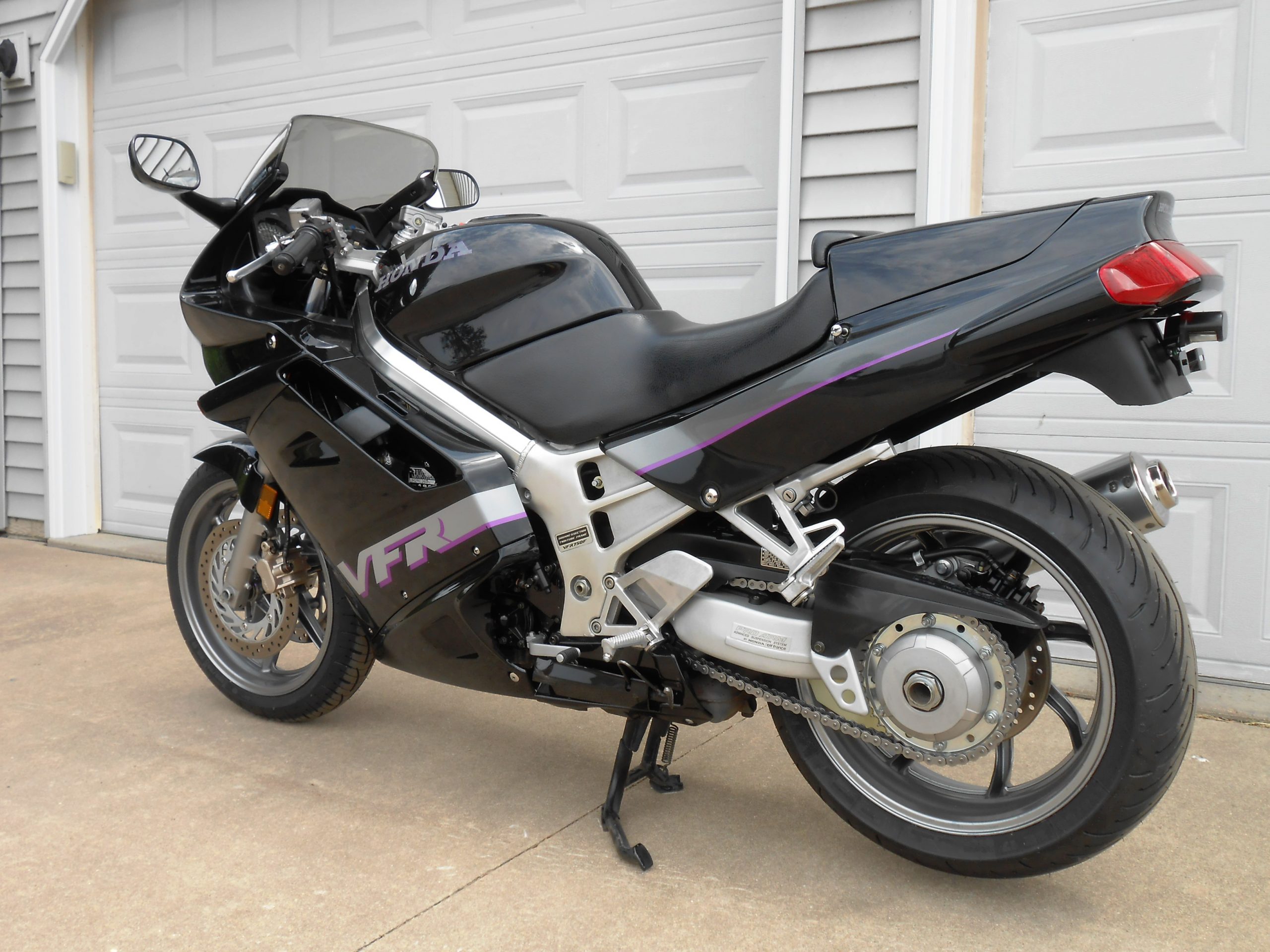 The VFR series was a home run for Honda, and spawned many generations and a couple of truly interesting models. Based around a 90 degree V-4 with four valve heads, the VFR has been a constant winner in reviews, in showrooms, and at the racetrack. Even the mighty RC30 and RC45 models were derivatives of this family line, if that gives you any indication of the performance potential that was engineered into the basic bones. The 1992 model is an ideal representation of the second generation bikes, with aluminum frame and classic single sided swingarm. Expect an even 100 horsepower in stock configuration, enabling the VFR to go as well as it looks. There is enough there to keep up with all but the most berserker sport bikes in the canyons, and the best part is the cushy ride to-fro the happy sporting grounds. Pound for pound, it is difficult to imagine a bike better suited to everything we tend to do with a two wheeled device in our stables. If you could only have one bike for the rest of your riding days….
From the seller:
Since this is an unusual color for a VFR, I've started calling this one "Darth Viffer" 😊 Seems most VFR's are red.

Up for sale is a 1992 Honda VFR750F with just over 25k miles on the clock. It is almost 100% stock and original, and includes two rare OEM accessories – the matching solo seat cowl and center stand. The bike has just undergone a thorough mechanical and cosmetic refresh, including the following that were completed before I bought it:
Fork seals/oil
Michelin Pilot Road 4 tires
New battery
New voltage regulator/rectifier
Brian considers this a complete OCD mechanical/cosmetic restoration – and I will let his words and pictures tell the story further. Obviously there is much, much more here than your average wash and wax!
More from the seller:
Over the winter, the following maintenance was performed:
Complete carburetor overhaul – ultrasonic cleaning, new float valves, and new viton o-rings/gaskets.
Carb synch performed with Vacuummate electronic synchronizer.
New carb intake boots.
Valve clearances were checked, all within tolerance.
Compression checked – 1) 188 2) 192 3) 198 4) 202.
New NGK spark plugs.
OEM Honda oil filter, Rotella T6 5W-40 synthetic oil.
OEM Honda Type 2 coolant.
Air filter cleaned (Uni filter replacement)
New OEM thermostat. Radiator and reserve tank completely cleaned and flushed.
Cleaned commutator and brushes on the radiator fan.
Verified output of charging system, cleaned and dielectric grease applied to critical connections.
Replaced two plug caps due to higher than spec resistance readings.
Steering head bearings replaced with tapered roller kit.
Rear suspension completely disassembled and cleaned, all bearings cleaned and greased.
Rear axle and bearings thoroughly cleaned and greased, replaced the double row ball bearing.
Replaced the chain and sprockets with OEM gearing. RK GXW chain and JT sprockets.
Complete disassembly and ultrasonic cleaning of all brake and clutch parts. Front and rear calipers, clutch slave cylinder and both brake and clutch master cylinders.
Replaced the fuel pump with a Facet electric pump (OEM pumps are obsolete). The replacement pump incorporates a check valve and shuts of fuel flow when not powered.
Rebuilt fuel petcock with a kit from NRP carbs in the UK.
All bodywork removed, cleaned and paint polished. Touched up where needed (mostly some nicks on the wheels and some scratches on the front fender).
All plastic and rubber parts treated with 303 aerospace protectant.
All fasteners removed were ultrasonically cleaned, and some polished.
More from the seller:
This is a true "no stone unturned" mechanical and cosmetic refresh, I was originally planning on keeping this one. Due to recent events and acquiring yet another VFR project I now have three 3rd gen VFR's so I've decided to let this one go. I really want to find a decent home for this one, it's taken a lot of work to get it up to its current mechanical state. There are still a few very minor imperfections on the bike and it's not 100% original and OEM, but I guarantee you will not find a cleaner or more mechanically sorted VFR outside of the Barber Museum.

Some of the pictures show the bike with a Vance & Hines SS2R slip-on. Others have the stock exhaust can. The buyer will have the choice between the two, but both are not included (I need one for the other VFR I have in the works).

Price: Asking $5,500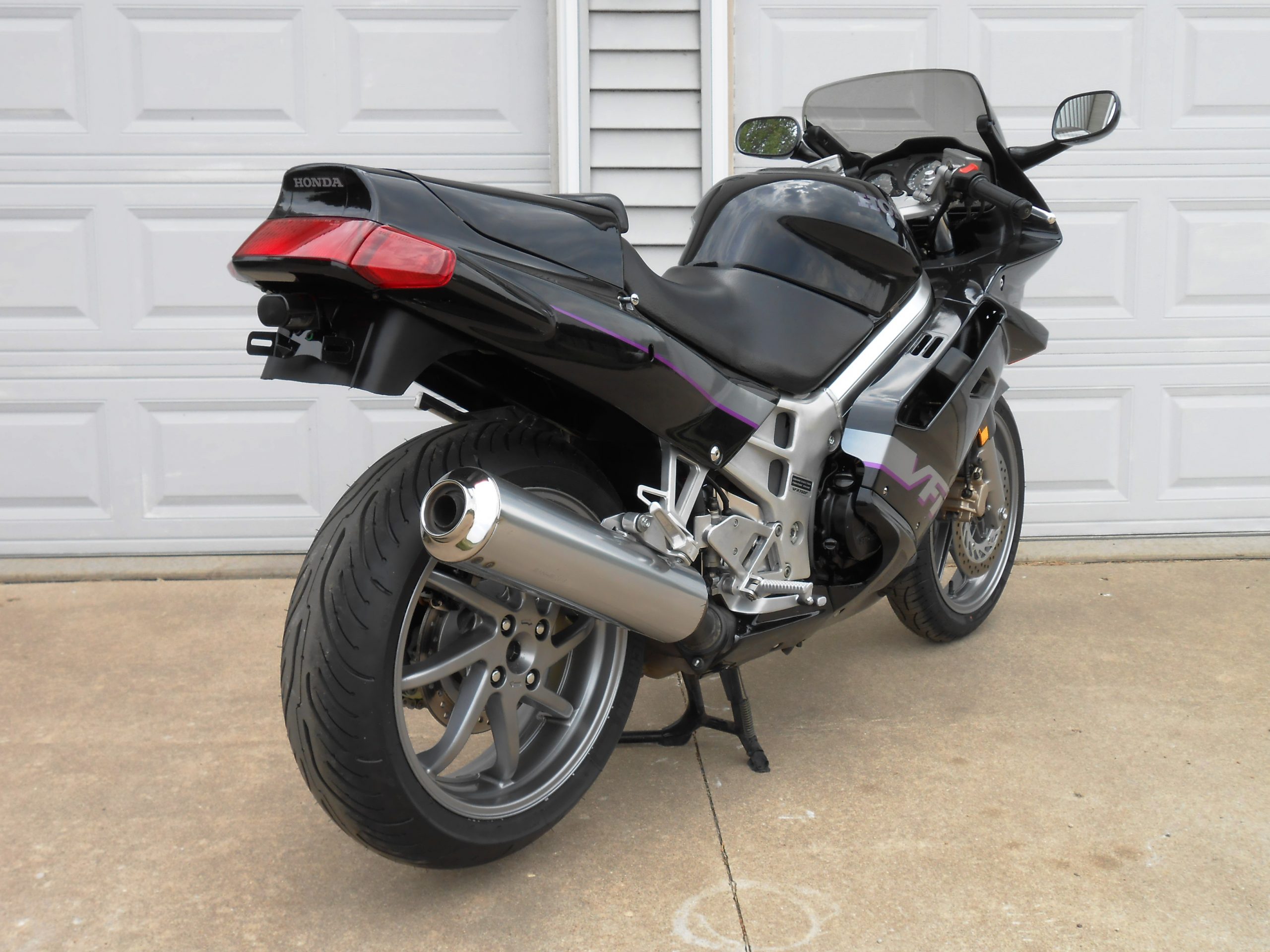 Nobody here at RSBFS is going to tell you that a 1992 Honda VFR750F is the collector's bucket list bike in terms of long term monetary value. But if you ride what you own – and ride a lot – you could scarcely do better than some of the under-appreciated models in the motorcycling spectrum. The VFR is definitely one of them, and I challenge you to find a better example of the breed than this beautiful specimen. It is completely stock, has all the OEM bits and is mechanically nearly new – making it an exceptional find in today's market. If you've never had one – or if you did and miss what you had, Good Luck!!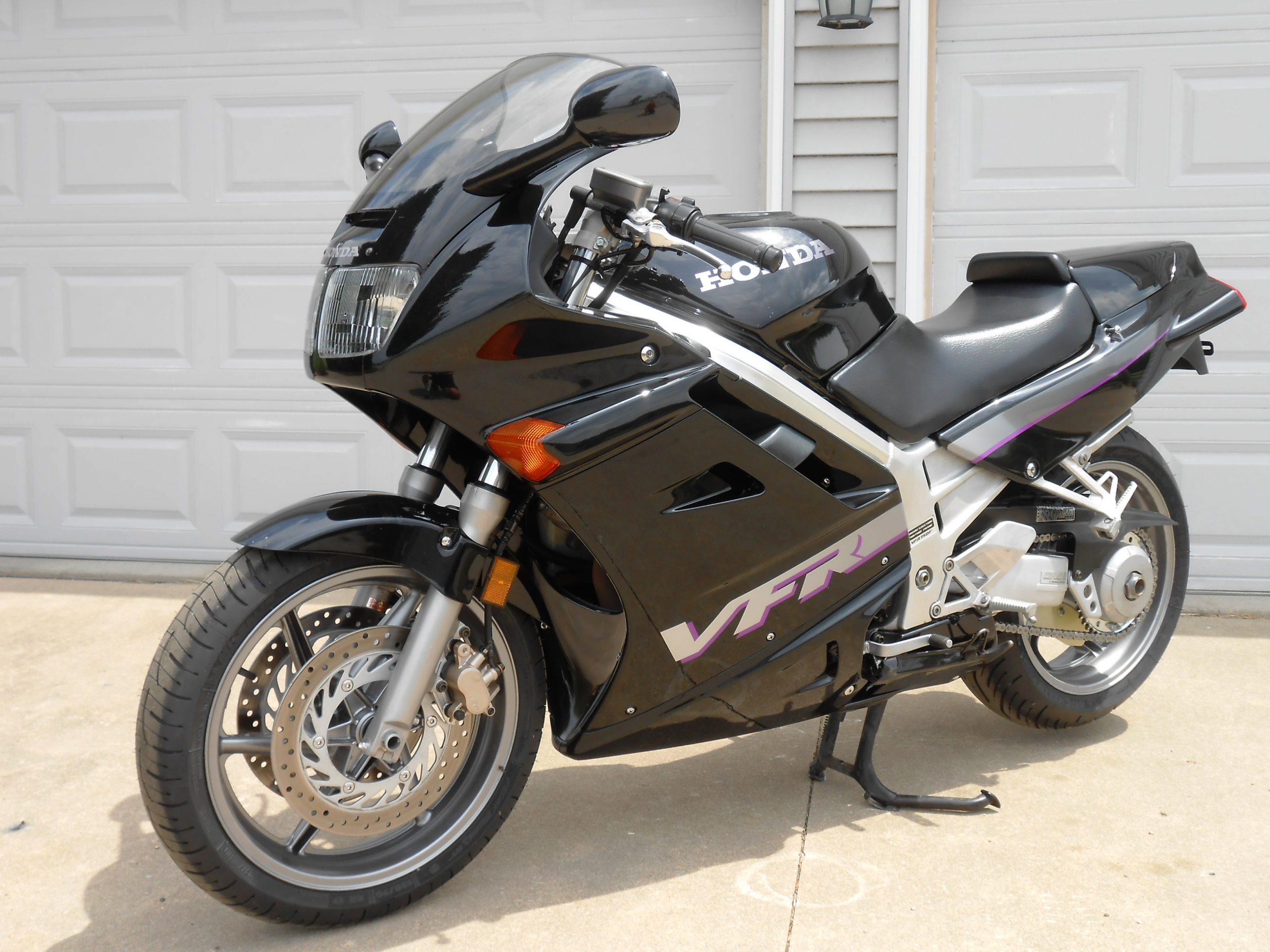 MI