Update 12.14.2021: Deposit received, sale pending! Congratulations to buyer and seller! -dc
Yamaha didn't pursue the late 80's race replica phenomenon, but ended up on the slippery slope anyway, with outstanding results.  Borrowing as fast as they could from the TT-F3 developments, the FZR-400R was a test-bed for how close a showroom machine wanted to get.  RSBFS reader Kevin offers his pristine FZR-400R with just 5,584 miles.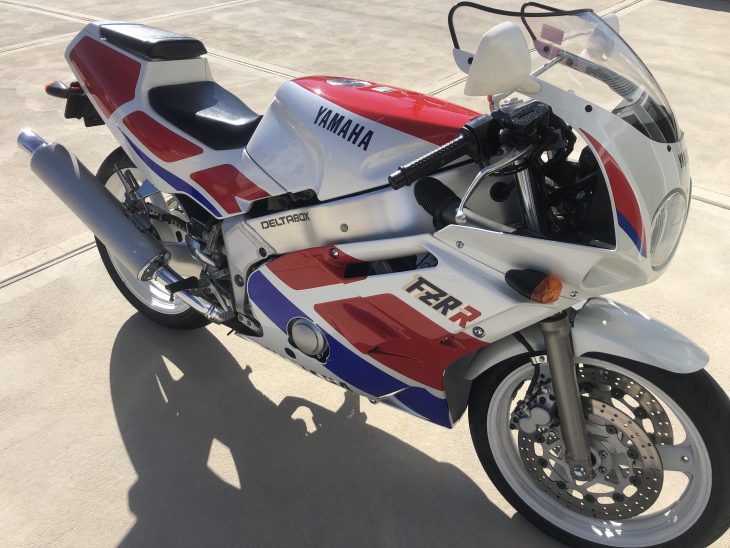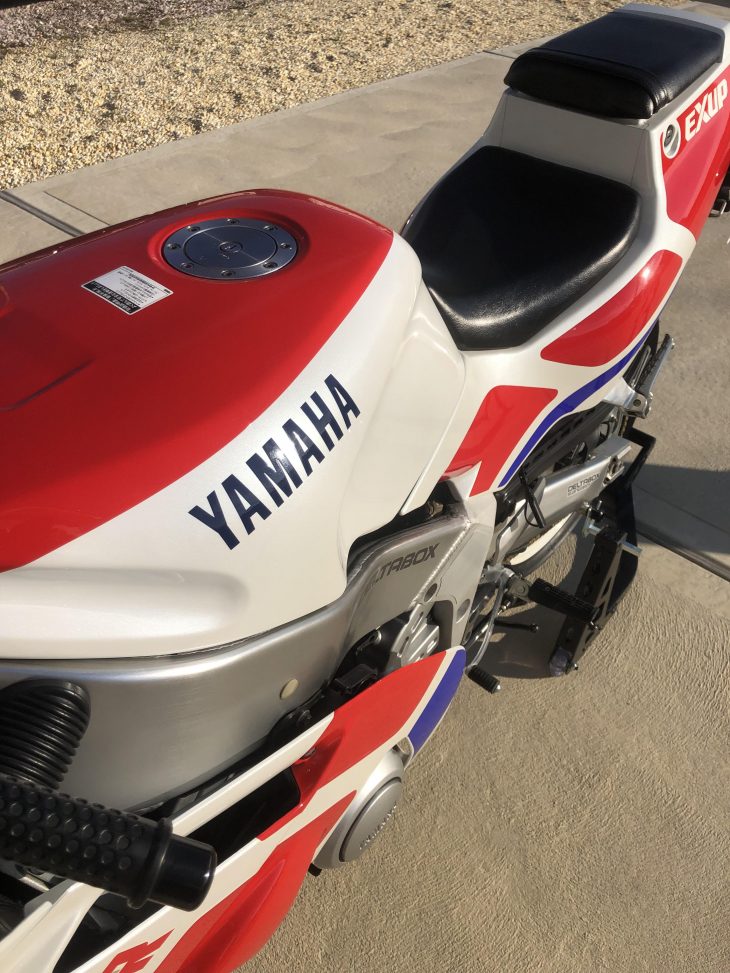 As much as Yamaha wanted to design the perfect middleweight for the street, looking like the OW01 generated excitement and the alloy Deltabox chassis could walk the walk.  With the EXUP exhaust valve to lengthen the torque band, riders found the 12,500 rpm peak power setting more of a suggestion than a requirement to horse-whip the 4-valve 399cc four.  Offset tire diameters were a period solution to tighten handling, but the wider rims and then-new low profile radial tires were a game changer.  The chassis solidarity and grip were such that suspension setting could be more compliant.  Twin headlights, full fairings, and big number plates on the seat fairing made it easier to think your back road was on the Isle of Man.
Kevin's FZR has rather low miles and none of the typical grey market corrosion, but was running many original parts until he caught the show bike up on its maintenance.  His notes –
Bike has 5,854 original miles, odometer is in Km so as the one picture shows 9,443 km. Bike is in absolutely awesome condition. I took a ton of pictures to show as many angles as possible. There are close ups of the few very minor imperfections. The bike was imported a few years ago by White Knuckle Motor Sports in Utah, they sold the bike to a collector in northern Virginia where this bike sat along with 27 other classic bikes that were all in impeccable condition, he had a clean clear Virginia title. When I went to the DMV in NJ they issued a new title in my name just like any other bike. So there should be no apprehension on the title front. Bike is original unrestored condition.
 

When I bought it the bike was sitting as a show piece with the tank drained and carbs drained. The carbs were slightly varnished from what is assumed a little gas left in them. Inside of the tank was flawless like new. I had the carbs professionally gone through by Sun Cycle in Manasquan, NJ. Frank there said he used to race these bikes. Jersey Shore Power Sports my local Yamaha dealer referred me to Sun Cycle. While the carbs were being done I also had a new fuel pump put in and filters, and new rectifier along with a new Yuasa battery from Yamaha dealer. The tires that were on the bike had like new tread but you could see they were old. I replaced both tires with new Bridgestone Battlax. The factory chain was like new but I wanted a gold chain so I ordered a DID gold X ring chain from England. I wanted to be able to drive the bike occasionally and just make the bike as nice as possible. The condition of the bike warranted it.
 

I did not plan to sell the bike as soon as I am. I recently just sold my VFR750 here on RSBFS. I am not a dealer and I do not flip bikes. I was really hot on getting a 2-stroke grey market bike RGV250 or NSR250 but they are about $15k for real nice original ones. I came across this bike and bought it. I'm 6'4″ – 240 lbs and a bit big for this bike. I just bought a new Ducati Streetfighter. I am available to answer any questions you might have. Please call me. So the bike runs awesome, idles perfect. One thing I love is, the bike is so light it handles ridiculously. It turns in to a corner just thinking about turning. Factory exhaust is still in its original black paint only showing small amount of surface rust (barely) by the collector. Exhaust is very quiet until you get around 8,000 rpm and it gets real aggressive sounding. Bad ass actually. The wheels are in very clean original condition but not perfect. I didn't want to do anything to take away from the originality of the bike. Spark plugs changed as well. They were the original plugs from the factory. Pictures really don't capture the condition. Frame and swing arm are flawless zero imperfections. Paint has like new gloss. Please feel free to call me anytime.
 

Kevin asks $9,000.
Yamaha thought beyond the accurate race replica idea, and toned the FZR's handling down a tad, so it handled more like the larger 750, and bred confidence into every possible rider.  The factory's strategy was to make the bike a bit easier to ride, let the suspension soak up real-world roads and keep the FZR more stable – willing the rider to add speed.  Kevin's FZR-400R could continue to show or get out and go, depending on the new owner. 
-donn