Warning!
This post is in our archives. Links in this post have been updated to point to similar bikes available to bid on eBay.
Every post will be sent right to your inbox every morning when new posts are made. We will never sell our list or spam you. Plus you can click links to bid or buy right from the email and skip the site entirely. Subscribe to Rare SportBikes For Sale today!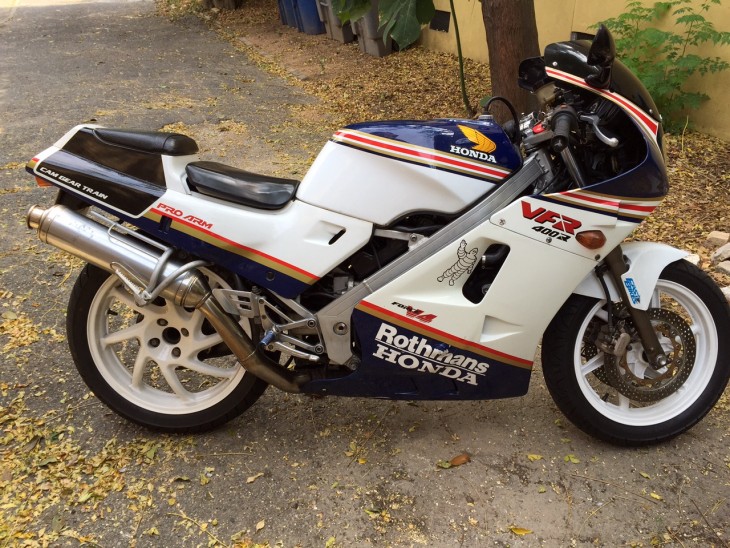 A precursor to the iconic NC30 that was a sort of "mini RC30," the VFR400R was powered by the a 399cc, gear-driven V4 and had the bigger model's same ELF-designed Pro-Arm single-sided swingarm. Visual differences compared to the later NC30 include a more conventional, street-bike styled single headlight and bodywork, along with four bolts to hold the rear wheel in place, instead of a single large hub nut.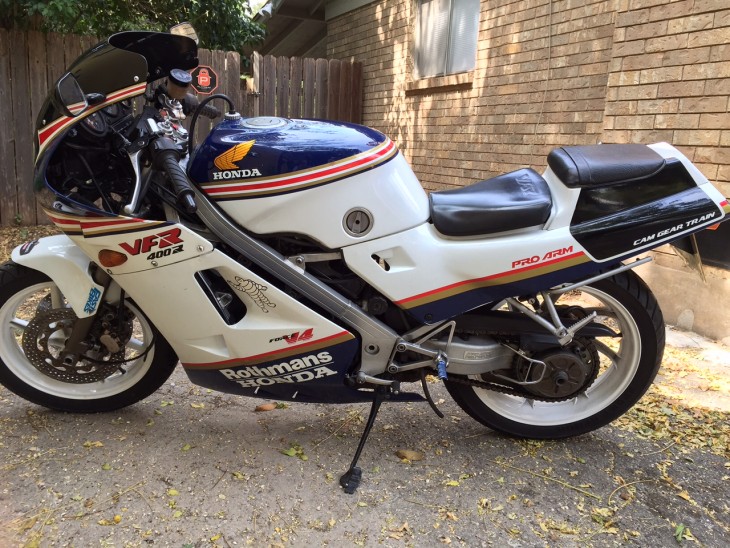 This earlier iteration of Honda's jewel-like V4 used a more conventional 180° crank, whereas later NC30 versions used a 360° "big bang" crank and firing order for improved traction and tire life. The 180° crank engine should sound a bit more like a conventional four, with combustion events spaced more evenly throughout each engine revolution. You still get the distinctive whine of the gear-driven cams fitted to these engines however.
Although the small V4 isn't as manic at high revs as other 400cc four-cylinders, it should have a much wider powerband and still rev to a screaming 14,000rpm. Grunt is ultimately limited by the miniscule displacement, but handling is superlative and these were [and still are] very popular in the UK as track-day bikes, although the 18″ rear wheel does limit tire choice somewhat.
From the seller: 1988 Honda VFR400R for Sale
Imported legally this year from the UK with the idea of learning about  and testing the market as a possible business idea for the future.

When I received it, it would not idle, so, rather than clean the carbs, I opted for the more circuitous route and replaced the regulator/rectifier, coils, plugs, plug wires and battery as well as the starter solenoid for good measure. It ran better, but eventually I did clean the carbs and found the elusive idle.

The motor is sweet. Whining gear whir and a really nice howling exhaust note as it revs from clutch out at about 3000 all the way up to a redline of 14,000. Smooth and very torque strong powerband all the way up.

Also, as stated in the eBay post, the bodywork is original and a little rough on the two lower panels. The tank and balance of the beautiful old plastic is pretty nice in a slightly weathered patina appreciators sort of way.

I would like to mention the scale. The bike is small, the clearances around the engine and really throughout are tight and favor the small of hand. But, I am 5'10" and do not reach the bum stop under most riding conditions, so the ergonomics are semi comfortable and definitely not cramped.

Overall, this is a very sound , fun ride without the overkill of a larger superbike. I had an S3 400 Kawasaki that would pop your arms straight on the power, but this 400 is faster and more controllable in getting there. Like a RD400 but more muscular and with a much broader powerband. Throttle feedback is really fine. Would make a thrilling track bike or a good rider.
Designed mainly for the Japanese market, a good number found their way over to the UK where they were popular as grey-market or "parallel imports." This example is a bit rough around the edges, as the seller clearly indicates, but these are the original panels and 27 years and 28,000 miles means some scuffs and scrapes and minor cracks are to be expected.
The VFR400R is very rare here in the US, meaning this should be of interest to Honda fans here looking to complete their V4 collections or track day riders more concerned with corner speed than top speed. All-in-all, this bike lacks the endurance-racer styling and raucous "big bang" engine of later versions, but still provides the basic handling goodness that made these so popular in the first place.
-tad