2.19.2016: The seller has contacted us and the bike has been sold. Congratulations to buyer and seller! -dc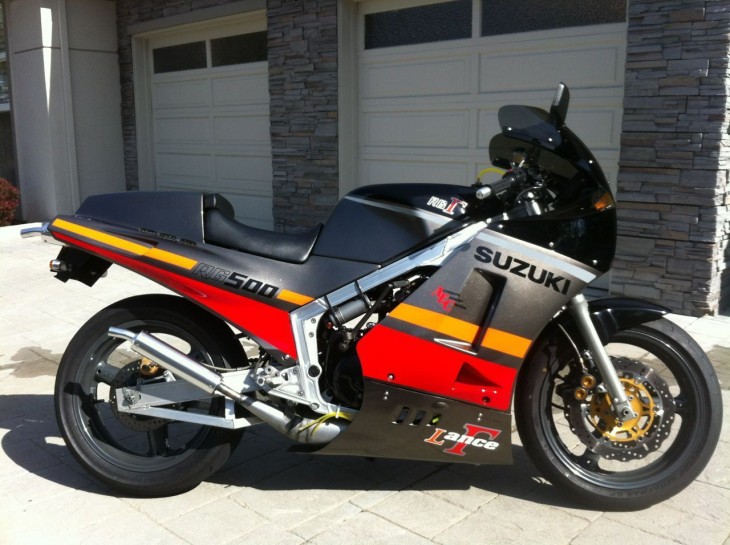 These days, MotoGP machines are powered by four strokes, so anyone with Marc Marquez fantasies can buy a nice Repsol CBR1000 and pretend they're getting a pretty authentic experience. But back in the 1980s, when two-strokes were king, things weren't so simple, and Suzuki introduced their RG500Γ Gamma to capitalize on their racing successes and create what is still considered one of the best rider's bikes of all time.
Powered by a very compact, water-cooled square four engine that worked like a pair of parallel twins geared together, with the rear pair set slightly higher than the front, the new machine was truly cutting-edge. Weighing in under 400lbs dry and producing 100hp at the crank with typically "exciting" two-stroke delivery, the Gamma was one of the rawest bikes of the period, a true "race bike for the road."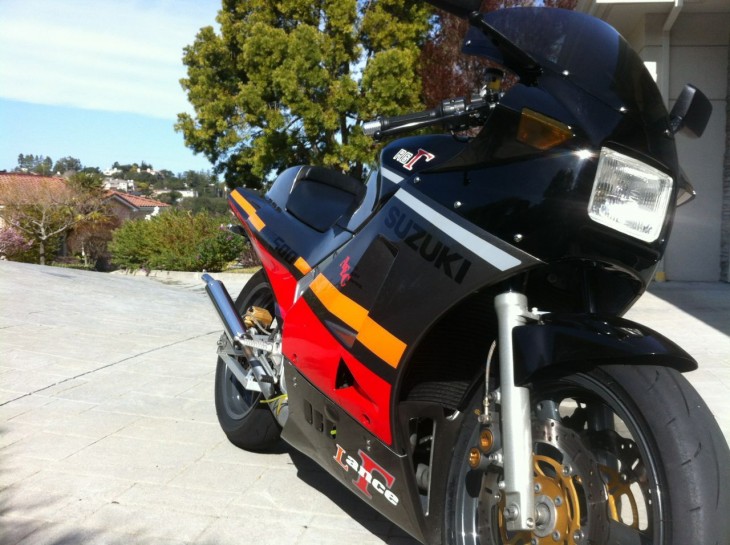 Although the Gamma may have competed directly head-to-head against Yamaha's RZ500 in terms of specification and on-paper performance, in reality there was no comparison. The RZ was tooled for the street, with a balance shaft to civilize the two-stroke beast and the resulting weight made it much more appropriate for street duty. But nobody buying a 500cc race-replica two-stroke actually wants civility and, although the RZ is a very cool bike and has its fans, reviewers then and now saw the Gamma as the superior, more emotional machine.
Today's featured listing isn't some all-original barn-find, but has been given serious mechanical and cosmetic attention by Gamma Guru Rick Lance.
1985 Suzuki RG500 Gamma for Sale
This 1985 RG500 has ~1000 miles on it since being fully rebuilt in 2011 by Rick Lance from Lance Gamma www.lancegamma.com

It has the following features:

Motor: full motor rebuild including:
555 upgrade, GSX-R radiator, valve kit
Maranello transmission kit
Lance Gamma clutch upgrade
Lance Gamma TriPod air filter kit
Lance Gamma supplemental petcock
Lance Gamma pipes

Chassis, bodywork, etc:
Battery + oil tank conversion
Wheels ands rotors
Forks
Shock
Lance Gamma fiberglass bodywork with custom paint scheme

This bike is something special and unique – I've very much enjoyed owning it but due to a recent change in circumstances I'm not in a position to keep it anymore.  The bike is located in San Francisco and can be shipped domestically or internationally.

BTW– when Randy Mamola visited my home he autographed the bike on the gas tank, so that makes it even more unique!
The original Suzuki blue and white found on many RGs is certainly a good-looking color scheme and the sinister Walter Wolf design is very sleek, but this owner decided to go his own way and the dark colors suit the bike very well, with bright blocks of accent color that proudly shout, "Hey, I was made in the 1980s!" While some of our traditionalist readers may take issue with the custom paintwork, there's no arguing that the bike looks great, and "prepped by Lance Gamma" is certainly a huge selling point!
While many fans dream of an all-original barn find bike, a well-fettled runner like this example might prove far more enjoyable in the long run.
-tad
From the owner, the RG500 at a track day a few years ago: