Tens years after the ground-breaking CB750 was introduced, Honda responded to market pressures with a DOHC update, making a solid 100 hp per liter.  Honda's Super Sport was aimed solidly at the market, and left HRC to tune and alter the CB's for AMA racing.
1982 Honda CB750F Super Sport for sale at Seattle Used Bikes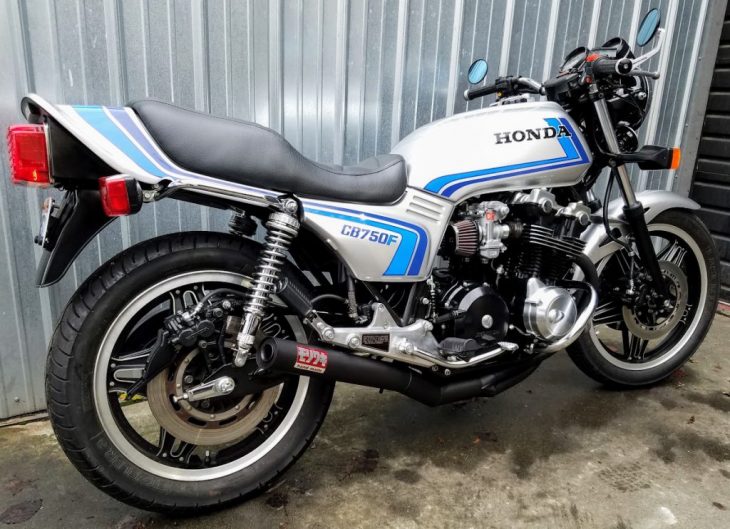 Ultra-square with 62mm bore and stroke, the new engine willingly revved to 9,000 rpm, where 77 hp was found.  Honda had three engines in the pipeline, and chose the smallest bore since it made for the narrowest engine and had the best combustion characteristics.  A fairly traditional twin-downtube chassis was constructed, with a riding position just slightly more forward than the original CB750.  Brakes are big, all disks, and in a nod to the 500 lbs. dry weight, the rear disk is larger than the fronts.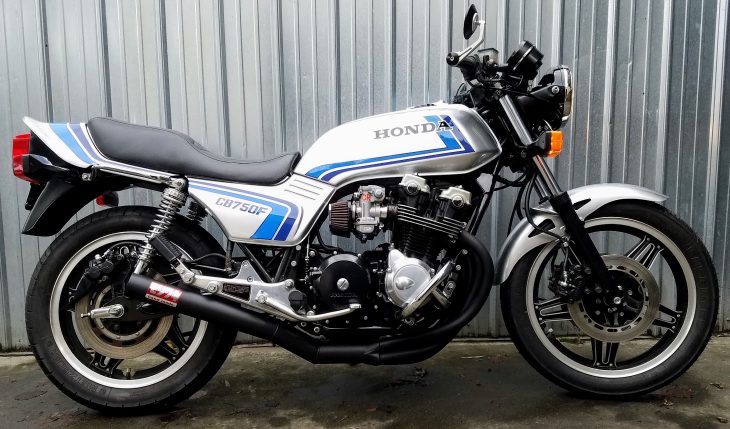 Offered by Seattle Used Bikes, this Super Sport has logged just over 8,000 miles, and has been nicely restored.  The Comstar wheels aren't the sportiest but have endured the test of time.  Though the  bar end mirrors are cool, K&N filters and black 4-into-1 exhaust will be the most noticeable mods after the engine's started.  Notes from SUB's – website –
This very clean Honda Supersport brings back lots of memories of Honda's HRC racing efforts with Freddie Spencer in the early 80's… This particular bike has gone through a full restoration over the past 10 years, carbs are updated to the fabulous Keihin CR Specials, a Moriwaki hand made 4-1 exhaust was installed along with K&N filters, this Honda Supersport runs and sounds fantastic!
Have to applaud SUB's tuned-in business model – service, parts, accessories, and consignment – very neat.  Ten bikes currently ( three on RSBFS ! ), and the CB750F is right in the middle of their sporty / spendy continuum ( just as Honda always intended ).  The ask is $5,199, and the cherry condition might sway a rider who's either not interested in financing someone else's boat payment or who recalls the Freddie Spenser era and can no longer pretend an ergonomic challenge is that much fun.  Contact Dave at (206) 535-6812 or by email – here –.
-donn