Update 7.26.2019: This bike has SOLD! Congratulations to buyer and seller! -dc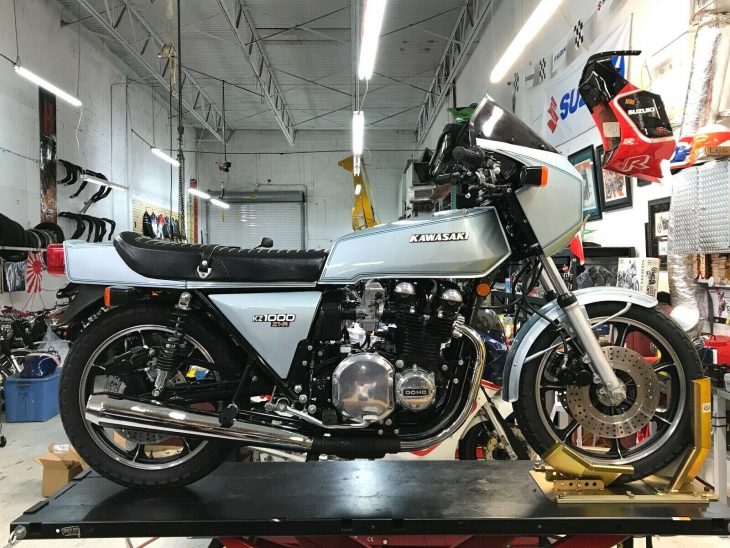 By the time the 1978 Kawasaki Z1-R rolled around, the Z1000 platform on which it was based was getting a little dated, though it still enjoyed a solid reputation for being a hard bike to tangle with on a street or track. Others were stiffer, lighter and offered tighter handling by 1978, so Kawi did what it does best: It sharpened the styling, threw in some frame gussets and punched out the engine. The result was the ice-blue, coffin-tanked 1,016 cc 90-horsepower Z1-R. The fairing tipped its hand as a race replica, while the full-starch straightedge lines on the tank, fairing and tailpiece set it aside from its swoopier competitors.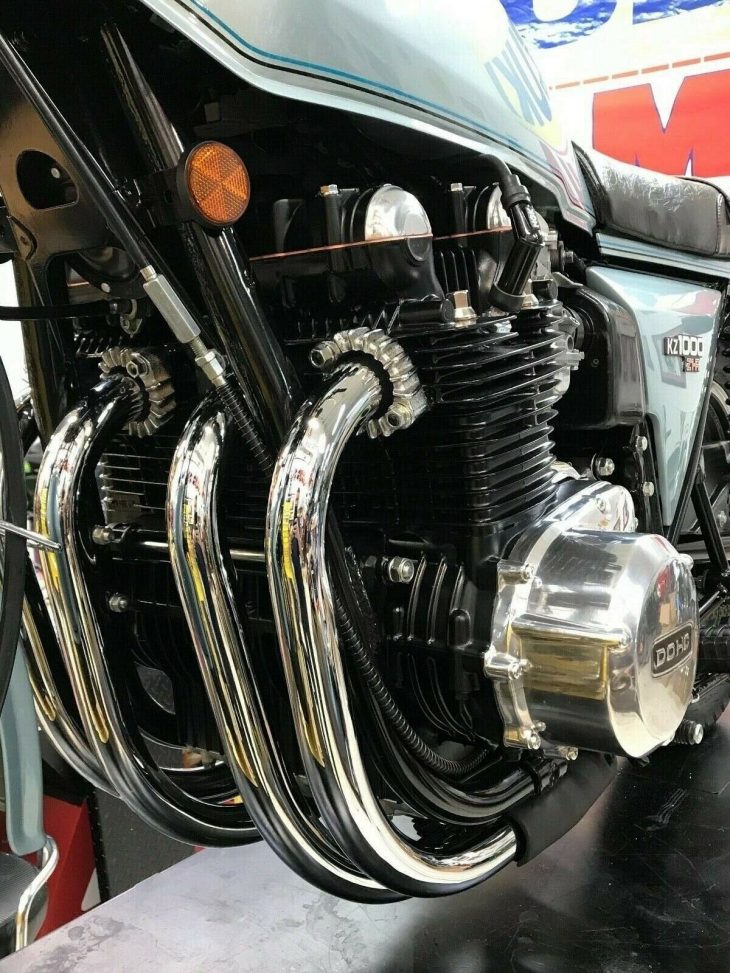 The big mill packed another 110cc over the earlier Z1s, and with a 4-1 exhaust and tweaked carbs, it put out about 90 horsepower. Cast wheels front and rear helped the 550-pound beast turn, but with skinny forks and a bendy frame, the engine was the show stopper. Think burnout box hooligan rather than trackrat superstar.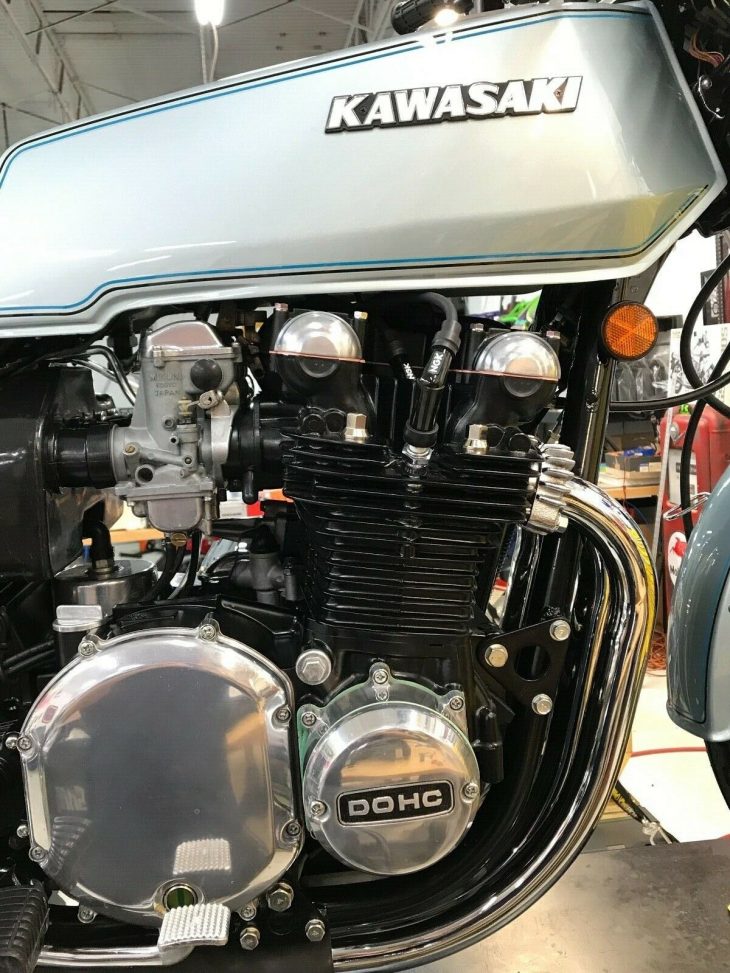 This 1978 Kawasaki Z1-R is from the personal collection of our buddy Bob, who consistently brings us museum-quality machines that have undergone no holds barred restorations to showroom or better condition. This bike is no exception. The paint is new, and has been color matched to new-in-box NOS pieces, so the hue is just right. The frame has been painted, the engine, which Bob says got forged pistons and a bunch of other mods when the bike was new, has been gone through and the tires are new. If you wanted to, you could easily hop on this thing and ride it daily.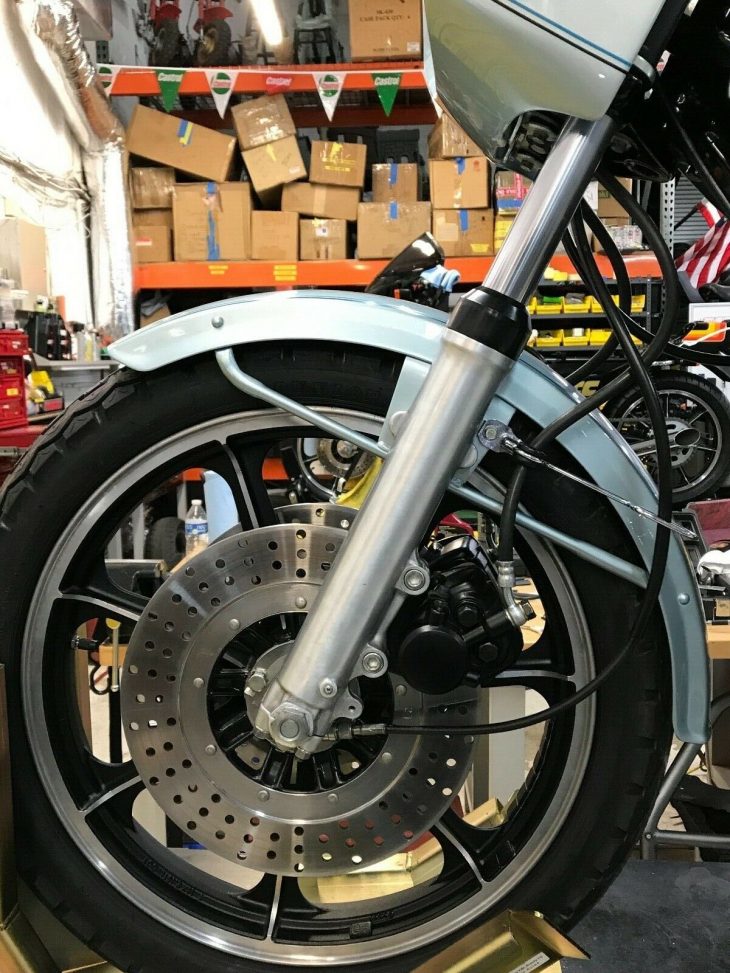 From the eBay listing:
MUSEUM QUALITY 2200 MILE 1978 KAWASAKI Z1R-D1 SHOW WINNER!!!! THIS ONE IS COMING OUT OF MY PRIVATE COLLECTION. IT IS A DOCUMENTED LOW MILE Z1R MYSELF AND 2 INTERNATIONAL AWARD WINNING RESTORATION EXPERTS SPENT OVER A YEAR RESTORING HER TO ABSOLUTE ORIGINAL MUSEUM QUALITY CONDITION. NO EXPENSE WAS $PARED! THANK GOD MY WIFE DID'NT SEE THE EXPENSE LIST. EVERY NUT, BOLT, WASHER, BUSHING, AND COMPONENT WAS REPLACED WITH OEM OR NOS PARTS, OR RE-PLATED TO EXACT OEM STANDARDS/SPECIFICATIONS. MOST OF THE BOLTS, SCREWS, NUTS AND WASHERS ARE NEW OLD STOCK AS I HAVE A VERY EXTENSIVE "NOS" INVENTORY), ALONG WITH COUNTLESS OTHER PARTS.

ENGINE: # 006527 IS THE BIKES ORIGINAL LOW MILAGE ENGINE THAT WAS UPGRADED WITH ALL THE NEEDED MODS BACK IN THE EARLY 80s. I COMPLETELY WENT THRU THE ENGINE TO VERIFY, INSPECT/REPLACE AS NEEDED. IT HAD A WELDED, BALANCED CRANKSHAFT, UNDERCUT TRANSMISSION, UPGRADED OIL PAN, HEAVY DUTY CLUTCH ASSY, FORGED PISTONS, NEW RINGS, PERFORMANCE VALVE JOB, SHIMS UNDER BUCKETS. THE ORIGINAL CARBS WERE ULTRASONICLY CLEANED AND REBUILT, ALL NEW SEALS AND GASKETS. NEW DYNA S IGNITION AND COILS. THE EXHAUST WAS DISASSEMBLED, STRIPPED AND RE-CHROMED TO BETTER THEN NEW SPECS (NOT AN EASY OR INEXPENSIVE TASK). THE ENGINE RUNS LIKE IT DID IN 1979.

FRAME: HAS BEEN STRIPPED AND REPAINTED TO OEM SPECS. THE FRONT FORKS REBUILT WITH THE LOWER LEGS PROPERLY REFINISHED TO OEM STANDARDS. THE REAR SHOCKS WERE NOS.

THE PAINT HAS BEEN REFINISHED IN THE EXACT MATCHING METALLIC STARDUST SILVER TO "NOS" OEM SPECS WITH THE ORIGINAL DEEP LUSTER IT SHOULD HAVE. MY EXACT MATCHING PAINT WORK IS AN EXACT MATCH THE MANY OEM "NOS" TANKS AND BODY PARTS IN MY COLLECTION. I PRIDE MYSELF ON THE MUSEUM QUALITY PAINT WORK I DO. AGAIN NO EXPENSE $PARED. IN THE PHOTOS IS A PICTURE OF A NEW OLD STOCK TANK IN THE BOX NEXT TO MY PAINT WORK, ALSO A PICTURE OF A BLACK Z1R TANK I DID.

THE WHEELS WERE DISASSEMBLED AND REPAINTED/POLISHED TO OEM SPECS. SHE IS FITTED WITH NEW METZLER TIRES "SEMI PERIOD-CORRECT". THE BRAKES WERE COMPLETELY OVERHAULED. THE SEAT IS THE ORIGINAL SEAT FROM THE BIKE AND IS IN AMAZING CONDITION. THE WINDSCREEN AND SEAL ARE "NOS" AS ARE THE LEVERS AND MIRRORS AND MORE COMPONENTS THEN I CAN LIST. INSTALLED ARE THE VERY HARD TO FIND NOS GRIPS. WITH ONLY 2200 ORIGINAL MILES THE BIKE GAS THE ORIGINAL CHAIN AND SPROCKETS.

I HAVE BEEN COLLECTING, RESTORING, FIXING, RIDING, AND RACING MOTORCYCLES SINCE GRADUATING FROM AMERICAN MOTORCYCLE INSTITUTE "AMI" IN DAYTONA FL. IN 1980. I OWN 6 Z1R's BUT THIS IS BY FAR THE NICEST IN MY COLLECTION, WORTHY OF BEING IN THE BARBER MUSEUM. ONLY SELLING IT TO MOTIVATE ME TO RESTORE THE NEXT ONE. I HAVE SEEN AND BOUGHT SOME NICE RESTORED Z1R's IN THE PAST AND WERE SO DISAPPOINTED WITH ALL OF THEM! WITHOUT ANY DOUBT MY SHOW WINNING BIKE IS A MUSH NICER AND MORE OEM RESTORATION WORTHY OF ANY MUSEUM.

BID WITH CONFIDENCE DON'T MISS OUT ON A MUSEUM QUALITY "OCD" NUT AND BOLT FRAME OFF RESTORED PART OF HISTORY. THESE LIMITED PRODUCTION MODELS APPRECIATE OVER 15% PER YEAR. TELL YOUR WIFE ITS A BETTER INVESTMENT THEN HER JEWELRY, SHOE AND HANDBAG COLLECTION. 🙂 THE BIKE CAN BE VIEWED DURING THE AUCTION IN PERSON OR VIA FACE-TIME OR SKYPE.

BIDDERS MUST HAVE A GOOD RATING. NO 0 RATED BIDDERS WITHOUT CONTACTING ME FIRST 954-816-0806 BOB. I RESERVE THE RIGHT TO END THE AUCTION EARLY, IT'S FOR SALE LOCALLY. A $500 DEPOSIT IS DUE AT THE END OF THE AUCTION. THE BALANCE IS DUE VIA BANK WIRE, OR CASH WITHIN 3 DAYS. I CAN STORE THE BIKE UP TO 90 DAYS AND WORK WITH YOUR SHIPPER OR RECOMMEND ONE.

PLEASE ASK QUESTIONS I AM SURE I LEFT OUT SOMETHING ELSE WE DID SINCE WE DID SOOOOOO MUCH.

DON'T MISS OUT BID HIGH SO SHE ENDS UP AT YOU MINI MUSEUM.
On Feb-27-19 at 18:13:38 PST, seller added the following information:
I HAVE BEEN GETTING A BUNCH OF QUESTIONS ABOUT THE BIKE, SO LET ME ADD THE FOLLOWING;

THE TANK AND SIDE COVER EMBLEMS ARE NEW OLD STOCK. THE SEAT IS THE ORIGINAL AND IS IN PERFECT CONDITION. I WILL ADD MORE PICTURES TOMORROW UNDER THE SEAT AND SIDE COVERS. THE KICK STARTER IS UNDER THE SEAT AND THE ORIGINAL OWNERS MANUAL AND KAWASAKI POUCH ARE INCLUDED. THE BIKE HAS THE ORIGINAL LION KEY. I REPLACED SO MANY PARTS AND COMPONENTS WITH NEW OLD STOCK PARTS THAT I AM SURE I AM FORGETTING TO SOMETHING. LIKE ALL MY BIKES THIS WILL BE A BIKE THAT WON'T DISAPPOINT.
On Feb-27-19 at 18:17:48 PST, seller added the following information:
THE "NOS" TANK IN THE PICTURES IS FOR COMPARISON ONLY AND IS NOT INCLUDED. JUST SHOWING THE QUALITY OF MY WORK. I HAVE "NOS TANKS AND BODY PARTS FOR MOST OF MY BIKES TRUST ME THIS PAINT WORK IS BETTER THEN "NOS"

On Feb-27-19 at 18:19:55 PST, seller added the following information:
THE BIKE HAS THE CORRECT REAR SHOCKS INSTALLED IN A FEW OF THE PICTURES IT HAD A SET OF CHROME BODY KONI SHOCKS TEMPORARILY.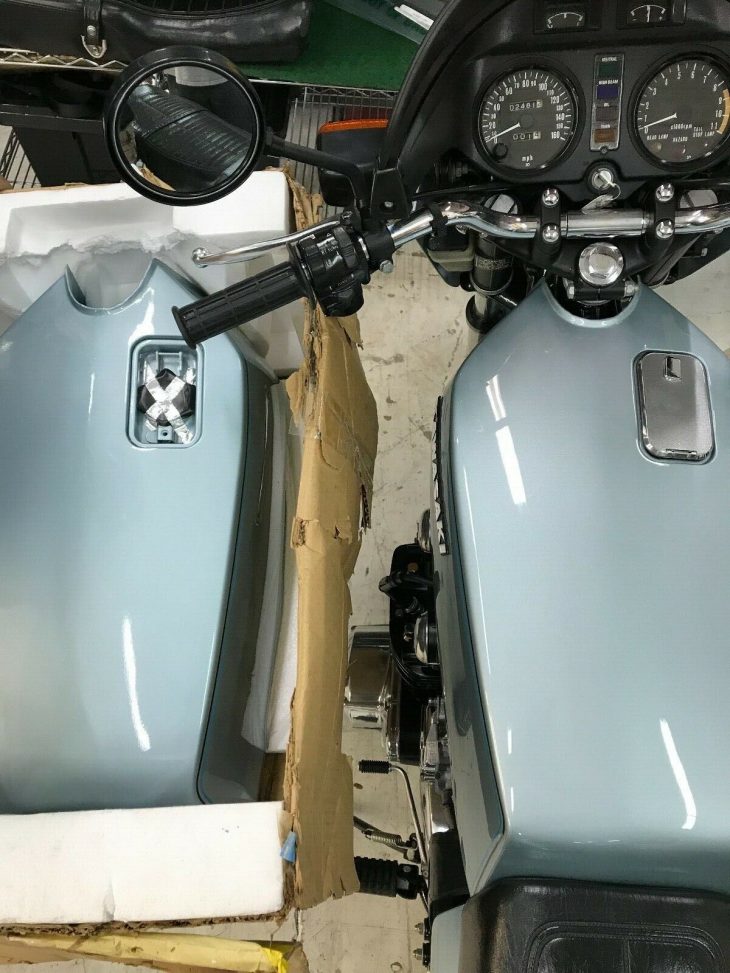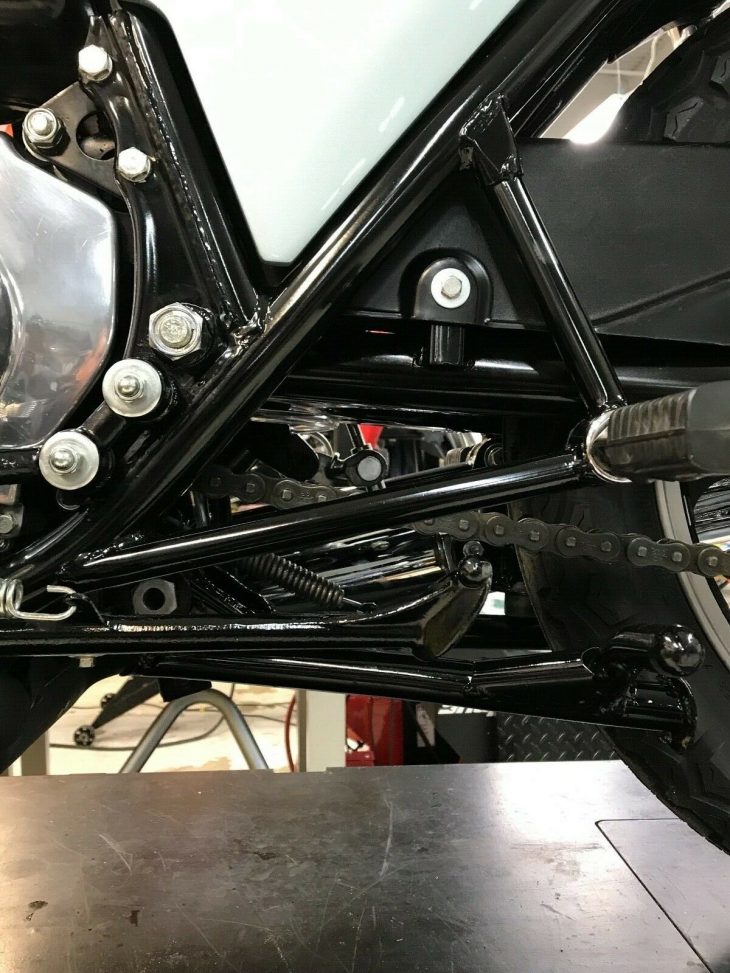 Bidding is already active on this beast, so if you want it, we'd hurry. The values of iffy examples of these things have been going steadily up over the past few years, so a better-than-new example is a killer find.