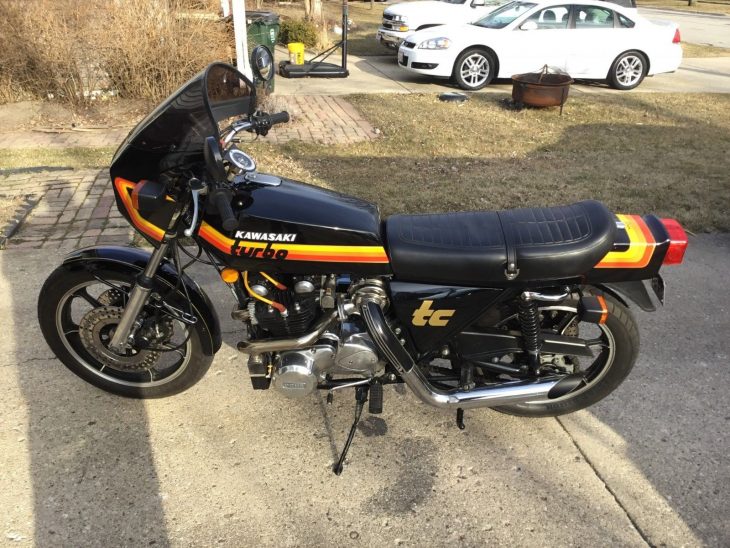 UPDATE: This bike sold before I could post it, but I'd thought I'd share it with you all anyway, since it is so darn nice. -Tad
The dream of the 1980s was to turbo all the things. Cars, hairdryers, sneakers… If you could buy it, someone was trying to slap a TURBO badge on it during the 1980s to help move units. Actual turbochargers started showing up on commonly-available vehicles during the 80s to inspire that trend, but people were experimenting with turbocharged passenger cars as far back as the Oldsmobile Jetfire, Chevy Corvair Corsa, and Saab 99 Turbo. It took a bit longer for turbocharging to find its way into the production motorcycling world, due to a few challenges associated with the relatively primitive turbo technology of the time. Of course, the term "production" might be stretching things a bit when you're talking about the Kawasaki Z1R-TC Turbo.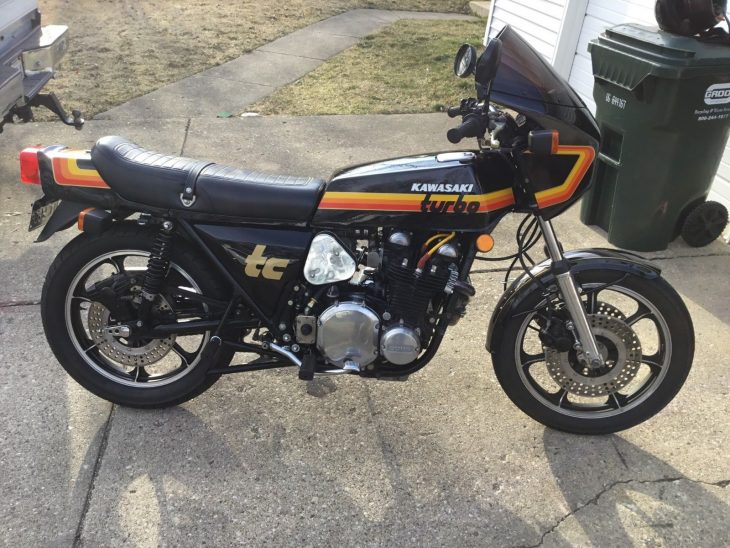 By 1978, the Kawasaki Z1R KZ1000 was decidedly old-fashioned, with honking big air-cooled four cylinder engine, a twin-shock rear suspension, spindly forks up front, and a frame that was less than cutting-edge. The package was generally competent and well-regarded, just a bit long-in-the-tooth. With the development of the much more modern GPz underway, Kawasaki needed to move some remaining stock and generate a bit of excitement for the brand. The TC Turbo, which took the already reasonably quick Z1R and added a RaJay turbo package that increased power by 50%, may have generated a little too much excitement.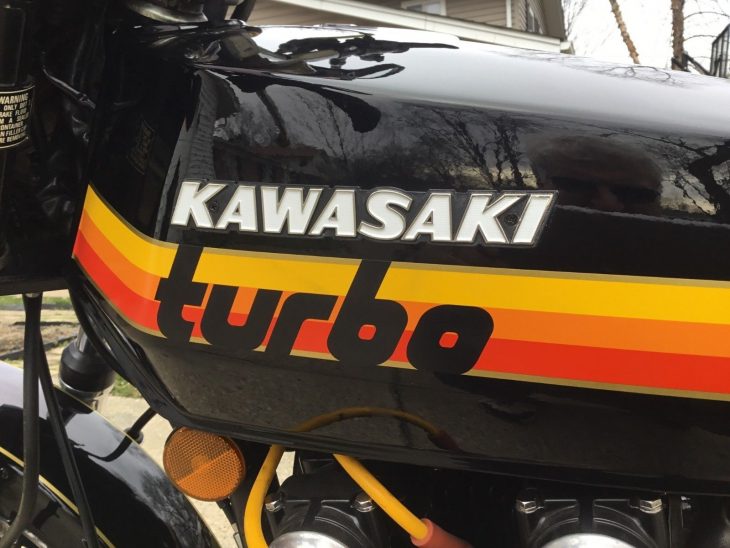 TURBO was a word associated with power and speed and modern and cool, even if most people really didn't know what it meant, or exactly how a turbocharger added power to an engine. A high school buddy of mine drove his mom's Mitsubishi Tredia L equipped with some sort of POWER button on the automatic shifter, and he was convinced that it activated "turbo boost," since he'd watched lots of Knight Rider and thought that's how things worked… What it probably did was lock out overdrive in the transmission, but you couldn't convince him it didn't actually release additional power. And likely a great many enthusiasts' understanding of the technology didn't extend much beyond that.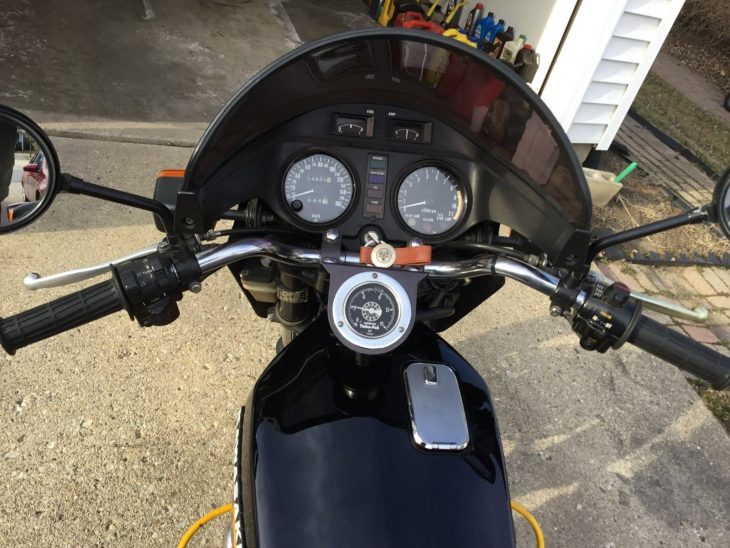 Turbos can make big power, but with that great power comes great responsibility and it was laughably easy to adjust the wastegate on the Z1R TC to allow boost far beyond what the stock internals could handle, leading to a sudden, explosive reversal of the normal interior/exterior engine component relationship. Sure, you could always opt to have your new Kawasaki's engine fully built to withstand the additional pressures, something that was actually recommended by the company, but how many people do you think bothered to do that?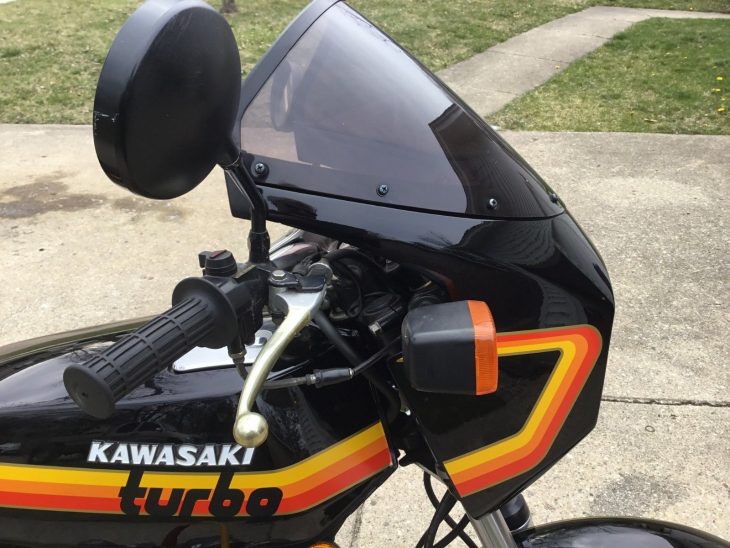 Turbochargers originally came into widespread use during World War II, and the advantages of forced-induction were exploited to allow combat aircraft to perform more efficiently at high altitudes, where reduced oxygen density significantly reduced power. The move towards turbocharging in automobiles was also driven by necessity in the 80s, when the manufacturers were hit by significantly increased fuel-economy and emissions standards. A turbocharger allowed smaller, more efficient engines to perform like larger engines on demand.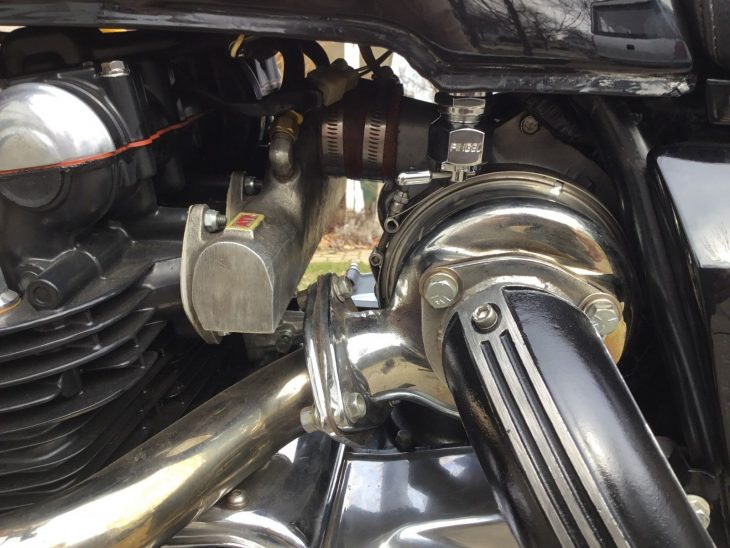 Unfortunately, while that Jekyl/Hyde personality of early turbocharged cars generally made them entertaining, it made motorcycles, especially ones already pushing the limits of frame and suspension technology, pretty terrifying: the Z1R probably would have killed more people than Cholera, but luckily very few were actually built. Even fewer still survive today, and most of those aren't in the hands of their original owners, who likely died horrible, firey deaths…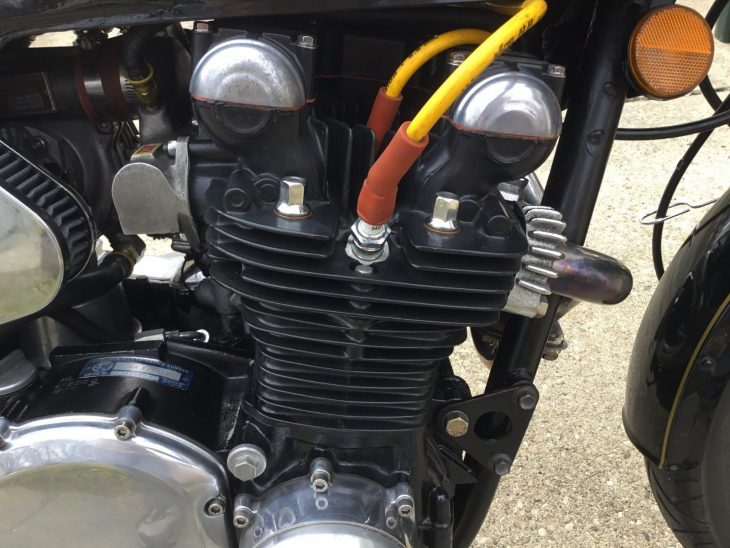 From the original eBay listing: 1978 Kawasaki Z1R Turbo for Sale
Created through an arrangement between Kawasaki and Turbo Cycle Corporation (which was founded by ex-Kawasaki Marketing Director, Alan Masek) brand new Z1R's were sent to TCC, who then modified them with a RaJay turbo and badging. These modified bikes were then sold through select Kawasaki dealers- without a warranty. THERE WERE ONLY 500 BUILT. 

The gas tank side covers, header panels, and tail section have been repainted and color matched to an original Z1R TC. It has all new decals from reproductiondecals.com. So much work has been done to this bike. There are approximately 40 miles on the top half of the rebuilt engine. the cylinder was removed, sand blasted, honed, and painted. New piston rings have been installed. I purchased a like new cylinder head that has all new component parts. The original head had two hairline cracks. The forks were removed, cleaned, and polished with new dust covers. It has a new battery. It has a rebuilt,older style Keihn carburetor. I have the original Bendix carburetor, but as most people know, it runs smoother with the Keihn carborator.

The Rajay turbo 370 F 40 was rebuilt by Mr. Turbo.  The seat has no rips or cuts. The seat pan was removed, sanded, primed, and painted with stock stickers installed from reproductiondecals.com. The bike starts, sounds, and runs great. I have all of the receipts from the mechanical work. Only if i feel you are very serious, I will provide you with the name of the motorcycle service center who performed the work on my bike and send you copies of the sales and receipts. Before the engine was rebuilt, I replaced the tires which are Pirelli Sport Demon. The sprockets and the brake pads were replaced. Those items have about 200 miles on them. The only item i know of that is not an original item is the Pingel fuel valve. Passed down from the original owner are the owners manual, turbo supplement manual, and black vinyl Kawasaki pouch, which was provided for Z1R TC conversions. Both manuals have all the pages intact, and are not oily or greasy. By the way, I know on Ebay, there are reproduction turbo supplement manuals, but this one is original. You can tell by the yellowing pages and semi brittle paper. All three items are 40 years old. 

This actual bike, and not one just like it, is pictured in a hard cover book written by Tony Sculpher title, "Kawasaki (K) Z1000 Z1-R." I have the book. I bought the bike from a collector of Z1R TCs. I wont divulge the info of the collector on ebay, due to privacy and legalities. I made a copy of the title while it was in his name, before I sent it to be transferred to my name. His name is in the book with a picture of my actual motorcycle above the description. All of the instrumentation works. The bike starts, sounds, and runs great. 

This bike's VIN is listed in the official Kawasaki registration for TCC bikes. I am posting a few photos, however, if you want more, please state the area of the bike that you want more detailed photos of. The frame VIN is KZT00D006472. The engine number is from the state police of California as it looks like there must have been an engine case issue which required a factory replacement. Replacement cases from Kawasaki do not carry an engine number and come blank. 

I will assist with your shipping, but will not be responsible for the shipping.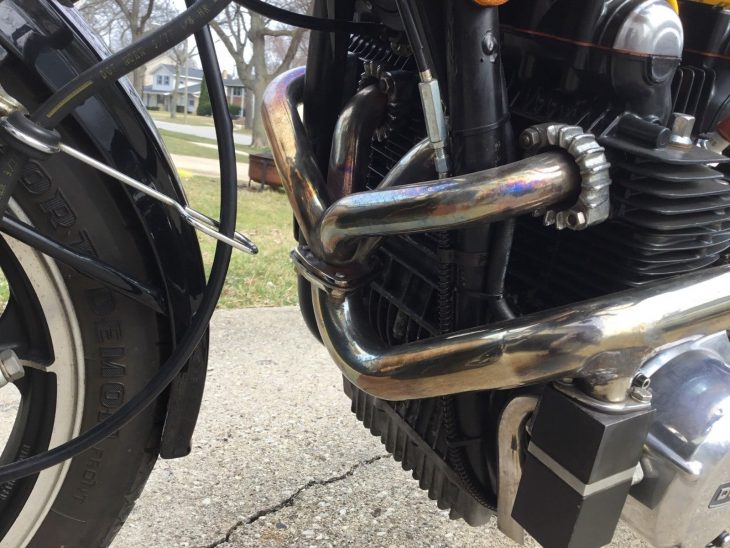 If you're in the market for a Z1R TC [and who isn't?] this looks like a good one. Unfortunately, as mentioned at the start, the listing has been pulled, so I'm assuming it "sold locally." It's clearly been owned by a knowledgeable enthusiast and, although it isn't sporting original paint, it appears to have been painstakingly restored. This is about as nice a machine as you're likely to find, with history, appropriate mechanical updates, and even a very comprehensive video with lots of commentary.
-tad