Update 7.24.2017: Interested parties can email the seller directly: mrcbx@att.net
Built in small quantities between 1981 and 1983 and very rare sight here in the US, the Honda CB1100R was created to homologate the big, four-cylinder machine for endurance racing. Based on the CB900F and powered by a 1062cc air-cooled inline engine, it featured the usual raft of upgrades to engine internals, frame, and suspension to make those parts eligible for competition. Unlike the CB900F, the engine was mounted rigidly in the frame to act as a stressed-member, improving handling at the expense of additional vibration.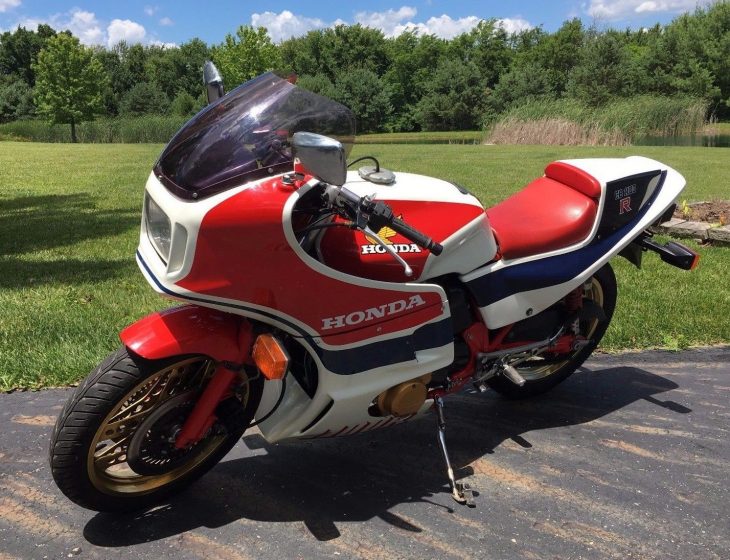 Power was rated at 115hp and the bike weighted in at 520lbs dry, which may sound heavy in a modern context but meant the CB1100R was on par with period rivals. The bike was fast and very stable, and Honda's first use of dual-piston brakes up front with vented discs meant stopping power was considered excellent at the time. There were TRAC anti-dive forks up front with adjustable units at the rear. Gold ComStar wheels are stiff and light, but a pain to rebuild if yours are damaged and a composite fairing means replacements for broken parts could be very expensive…
These don't come up for sale very often, especially here in the USA where they were never officially available. So how small were the "small quantities" produced? 1,050 were built for 1981, with 1,500 for 1982 and another 1,500 for 1983. That may not be Bimota levels of exclusivity, but this is still one rare motorcycle, especially for a Honda. Values will only be going up on bikes of the era and I expect that all those affordable 1980s bikes you can generally find on eBay will soon be a thing of the past.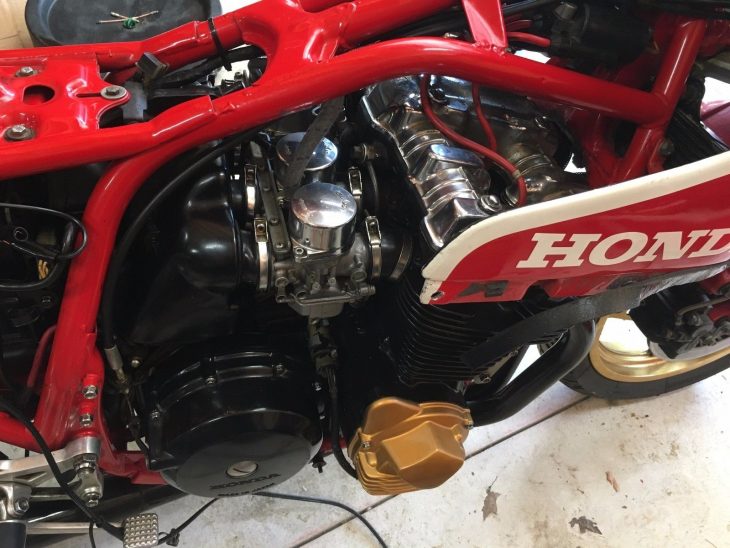 From the original eBay listing: 1982 Honda CB1100R for Sale
This is a nicely preserved CB1100RC.  If you are looking at this ad, then you should know what this is.  One of only about 1500 bikes produced by Honda to be able to compete in the pro-am series races in Europe and Australia.  Unique and incredibly rare in the USA. There is not even a 1982 RC at Barber Motorcycle museum, there is only a 1983 RD…

I have gone through this bike to make sure all is functional, it is still an exciting bike to ride even 35 years after it was made!  It is on recent Michelin tires, and everything works as it should. This bike has some personalized period-correct modifications, the original exhaust has been replaced by a Cowley 4 into 1 system, some of the parts on the bike have been polished and chromed, but it shows very well and is mostly original.  It was imported into the US by Larry Conlin, who sadly passed away a couple of years ago; at that time it had not been running for some time, and it did not have a US title.  Since then it has been properly imported, and recommissioned for use.  I have copies of the original UK paperwork, the VIN is correct for a 1982 CB1100RC, so this is the real thing!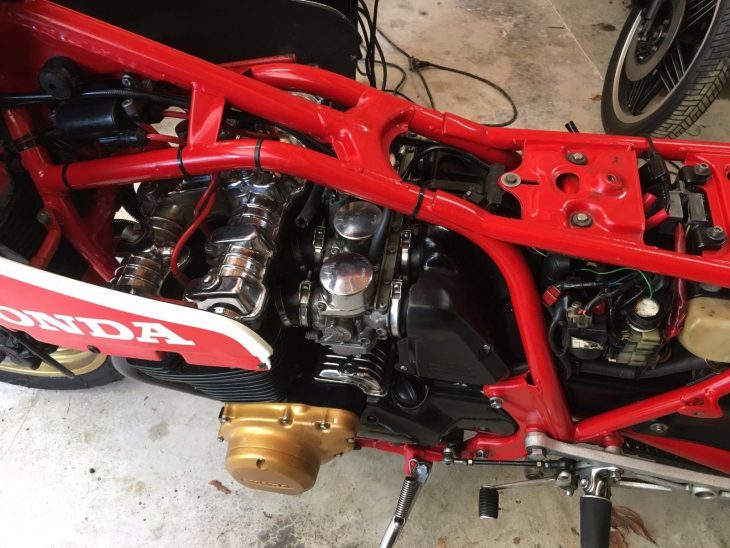 The bike can be heard running in this clip provided by the seller. So what is something like this worth? In other markets, they sell in the neighborhood of $20,000 but I'm not sure if it can command the same price here in the US. Currently, bidding is up to just a shade north of $12,000 with a couple days left on the auction.
-tad