DIY Kreidler Replica:  The Ultimate Chicken Chaser?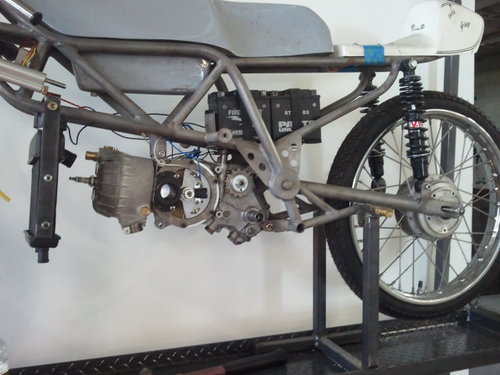 I consider Kreidler's possibly the most devious devices ever to be assembled.  I have absolutely no first hand knowledge, only the butterflies in my stomach when  I see pictures of them.  What other motorcycle can you literally lay on and have a 5occ piston revolving at metal shattering speeds and it all be supported by glorified bicycle tires?
If you have no idea what I'm talking about, click here for a picture of the real thing.
Looks comfy huh?  What we have up for auction is apparently someone's unfinished Kreidler replica project.  I know project bikes are hit and miss but if the pictures are any indication, some serious effort has been put into this one.  The seller did not go into too much detail and left me wondering how close a replica it is.  How close a copy in the frame?  What components in the engine are Kreidler; if any?
On to what the seller did have say:
Race bike , not for street use. Here is a chance to own a Kreidler 5 gang race preped gp replica bike (this is a total loss system)

5 speed , custom made crank, custom made cylinder and head , dry clutch conversion , rotary inlet , Electronic rev counter , CDI ignition , Custom made 30mm Lectron carb , custom made frame , custom made tank/seat/and fairing , custom made exhaust , 30mm ceriani front fork with a custom made Harley steering dampener , 4 LS magnesium 180mm front brake/hub . Engine has been on the dyno 20.49 HP @14500 RPM , bike should easily get to 90 + MPH .




this a project to be finished over $7000 invested already , maybe only 20 hours of work left on mounting the fairing / radiator /foot controlers/ wiring and tuning




everything on this bike is new except for the original cases and original rear Kreidler hub and even those have been modified
Can even the big bike lovers appreciate this 50cc's of two stroke fury?  You guys said you were sick of Bimota's.
Lard asses need not apply.
More of this ultimate chicken chasers' heart.
My amateur eye is impressed.  What do you guys, that know a whole lot more than I do about builds, think?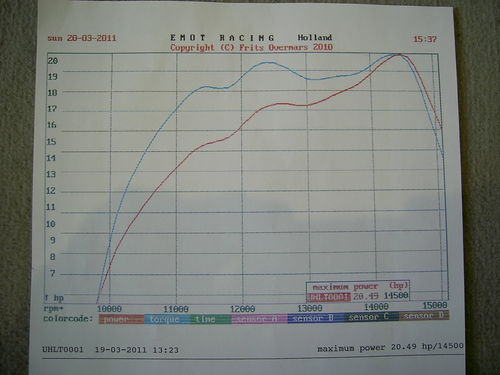 Not your average dyno run.  I'd guessing you have a very small margin of error on the fuel/oil/air mixture or she goes, boom!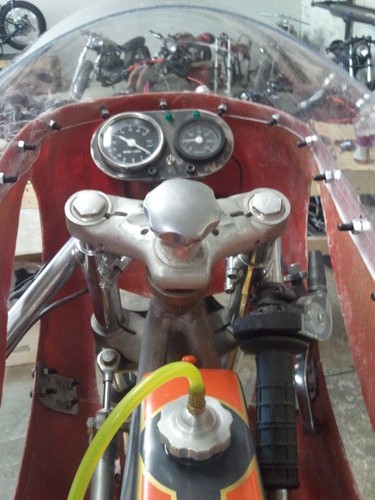 Click to buy and insert your butt here.  The seller has a BIN of $5,000 and an auction starting at $4,000.  If a RSBFS reader buys this thing I want pictures when it is complete.
Absolutely pure magic.  50cc's of angry bee's.
Some pictures of the real thing.


Ian