While we know we are always bordering on Bimota fatigue with RSBFS readers it looks like we haven't had a SB8R Special posted here since 2011.  This one meets all the usual Bimota requirements, including not being ridden.  The odometer hasn't clicked over 900 miles yet.
2000 Bimota SB8R Special
Those with a carbon fiber fetish can rejoice.
The story on it from the seller:
Greetings, it is with a heavy heart that I must list my Bimota SB8R Special for sale. I never thought I would part with this bike as personally I think it is one of the most unique (other then a Tesi) and beautiful motorcycles ever made. I bought this bike from a collector and have had it garaged ever since. When I bought it, the Bimota had123 miles on it. Three months ago, I had all the brake fluid changed to fresh fluid including the clutch, a new battery installed along with a battery tender connection (trust me you do not want to change the battery on this bike), oil and filter and brand new Dunlop Q2's. The SB8R S is always stored in a heated garage along with a dehumidifier.

Everything on this motorcycle is stock except for the addition of the $500 optional fuel trimmer. I have not hooked the fuel trimmer up but it is on the bike. One of the issues with this bike is its ability to run properly down low and that is where the trimmer comes into play. However, I have found this bike to run flawlessly with no glitches down low. I have been following the manual for the proper break in and have not deviated from that. At 1000 miles you are free to open it up and ride like the wind. I have all of the manuals, along with the original sales brochure and three copies of Superbike magazine where they tested the SB8R when it originally came out of Italy.

I have the title in hand. I will not ship the bike but I am willing to assist the shipper if the bike is picked up for transport.

There is no warranty on this bike and it is being sold as is. If you are near I would suggest you view the bike in person and if that isn't possible, I am more then happy to discuss it on the phone and send more picture of anything you would like to see.

I will let the pictures speak for this beautiful bike.

There should be no shortage of air reaching the  TL1000R engine hiding in there.  I still say the Suzuki cluster looks out of place (cheap) on the Bimota.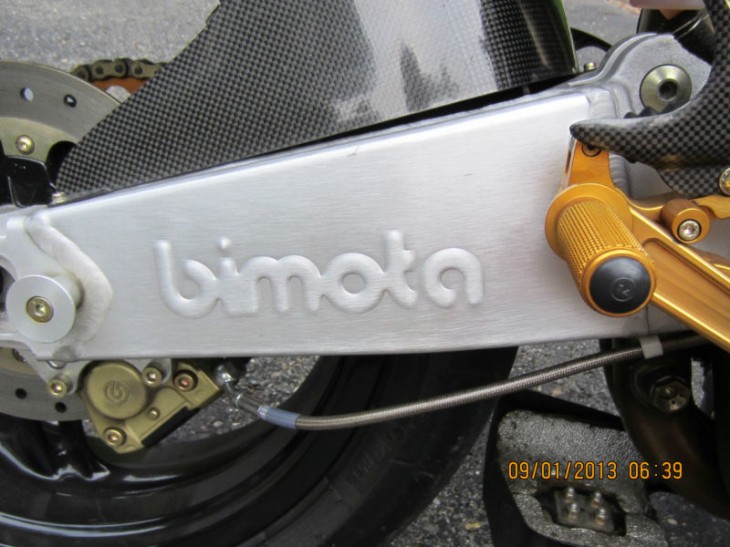 The sellers story about the fuel trimmer reminds me that we've had plenty of comments from Bimota owners, stating they can be a work in progress.
The auction is for keeps for #25 or 150 as the reserve has been met.  Click here to bid or stare at pictures.
Ian