Most collectors of homologation bikes place the Yamaha FZR750RR/OW-01 near the top of their lists, along with the Honda RC30 and Kawasaki ZX7RR and…whats that you say, you don't understand all the fuss about homologation bikes?   Well I don't see any big blue police boxes or dogs named Peabody around so I guess I will just have to do my best to go explain the historical significance of these machines.
In the late 1980's race series organizers and major manufacturers agreed that it was in both of their interests if race bikes were more closely based on bikes that people could actually buy.  The thinking was this would keep fan interest, cut down on development costs and weed out money losing engineer flights of fancy (i'm looking at you, Norton rotary).  The adage of the day was "a win on Sunday equals sales on Monday".  But the major manufacturers engineer departments were still charged with winning and made the legitimate point that race bikes had very different performance needs from standard street machines.  In the end a compromise was reached; racebikes would still have to be based on a bike available for sale to the general public but the base bike could be a limited edition series that was equipped with the same components as the bikes that would be used on the racetrack, including racetrack level frames, engines and suspensions.  The limited edition bikes had to be able to be able to pass emissions and run legally on the street but could otherwise essentially be race bikes with lights and a license plate.  This agreement became known as the homologation rule and bikes from the era are referred to as homolgation bikes.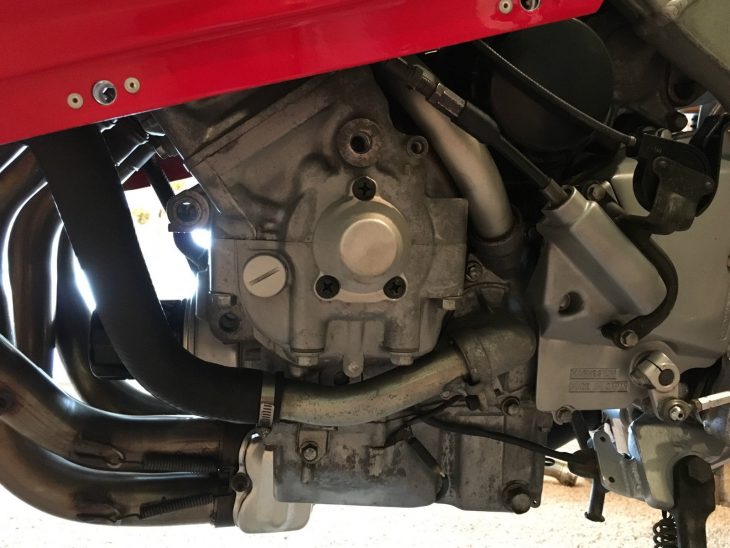 Okay, so they had some track-oriented tech, but you still don't see what's the big deal?  Consider this – a factory racetrack-level motorcycle has components that are hellishly expensive to develop and produce, the prices for one of these limited edition/homolgation bike was usually significantly higher than a standard street version.  The OW-01 had a list price of about $16,000 USD, which back in 1989 was equal to about a year of private college tuition.  And even with their high prices the street legal homologation machines were often unprofitable for the manufacturers so to cut down on losses the production run was typically a very small number of bikes.  For the FZR750RR/OW-01, production was 500 units over two years. But while Yamaha's 750cc powered machine was pricey and parts would always be a challenge, anyone who bought one did actually get something quite special: titanium rods, twin-ring pistons, an aluminum tank with a track ready fuel filler were all wrapped up in a beautiful hand welded frame. This was then combined with Ohlins suspension, magnesium brake calipers and quick detach sub-frame and axle release clamps.
And best of all, these track-oriented goodies weren't just for show. While not quite as successful as its main rival the Honda RC30, the FZR-750RR was used as the basis of multiple World Superbike wins, a British Sport Bike (BSB) title, set an Isle of Man TT lap record and was ridden to victory in the 1993 Daytona 200.
So in summary, homologation bikes were an opportunity for mere mortals to experience what a true race bike was like. They were also quite rare from a price and production number perspective and many were bought by privateer racers and then actually used on the track. This means that finding one today in pristine condition is quite a challenge and given that the primary rare sport bike criteria are condition, number produced, historical significance and technology, its only natural that the OW-01 always causes a fuss/is a big deal to collectors.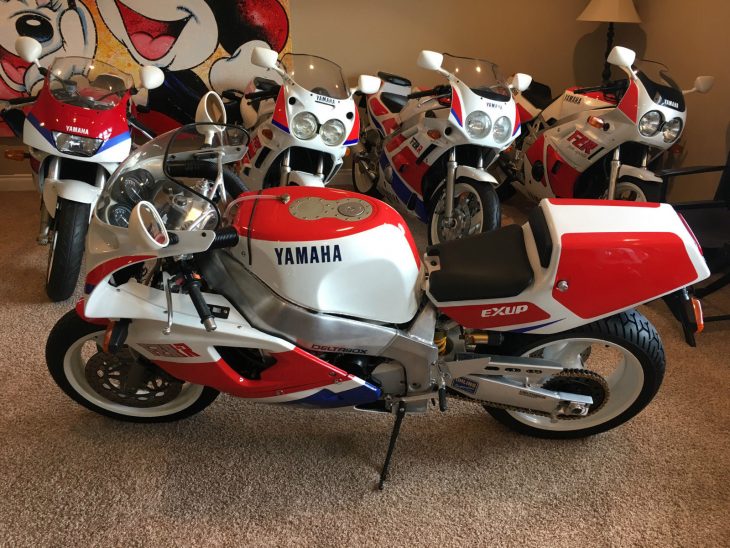 As for this FZR750RR/OW-01, a  quick look at the pictures in this auction show that the seller is a big fan on the late 1980's/early 1990's homolgation bikes.   The seller indicates a recent freshening of items which together with the low mileage means this one is a good option for someone building a collection.
Here is an overview of what the seller has to say
New battery,new fork seals and fork oil, new spark plugs
Fresh fluids including engine oil, new coolant flush, new brake fluid, and original air filter was serviced.
Carburetor jets and needles are original and still comes with the factory jetting set from the factory.  Runs a little rich at my elevation (Utah) but will need nothing if your going to run it at sea level. If your in a high elevation state it will need jets and fine tuning.
Still has the original factory tires, however there are age cracks in the sidewalls.
Still has its original chain & sprockets with factory safety wire, original brake pads and all original fairings and factory components.
Air breather hose was replaced since the original was hard and cracked.
Slight ripple in the muffler that does not show up in photos, you would never know it if I didn't mention it to you but its there.  Muffler was chromed and re-finished to repair the tiny ding in it that you cannot see now.
There is patina here and there as you would expect from a 28 year old motorcycle.  Also there was a scratch protection pad on the tank at one time, since been removed but has left a clear residue behind from adhesion.
The original fuel tank cap was replaced with a NOS OEM Yamaha fuel cap due to a rough edge from being dropped on the ground in the past we believe. Original fuel cap is included with sale.
?  
So, now for the price question- what is this bit of homologation era history going to cost?  While the listing has an excellent level of detail and some services have been done, the condition is not perfect (note the cracks in the dash foam) and there is a need for fresh tires.  Recent examples of FZR750RR/OW-01 on RSBFS  show a price range of between $16,000 -$25,000 USD so the sellers Buy-It-Now price of $27,500 seems to be a bit optimistic.
My person opinion is that the value of this one is right about $23,000 USD,  Current bid is at about $12,600 USD with about 5 days on the auction left.  Unless the seller has a significantly lower reserve than the Buy-It-Now price I don't think one will sell on the auction but any interested parties might want to follow the listing on Ebay and reach out to the seller after it ends.  Then again, Ebay can be a funny thing and part of being a smart collector is knowing when to pull the trigger so if this one is on your list, it might be time to move.
-Marty/Dallaslavowner