Although the ZXR-750/ZX-7 H1 often gets overlooked in favor of the GSX-R from the same time period, the Kawasaki was a worthy competitor. The bike was powered by a 749cc inline-four that produced 105hp, a number that looks unimpressive in light of today's sport bikes, but was on par with the Gixxer and YZF.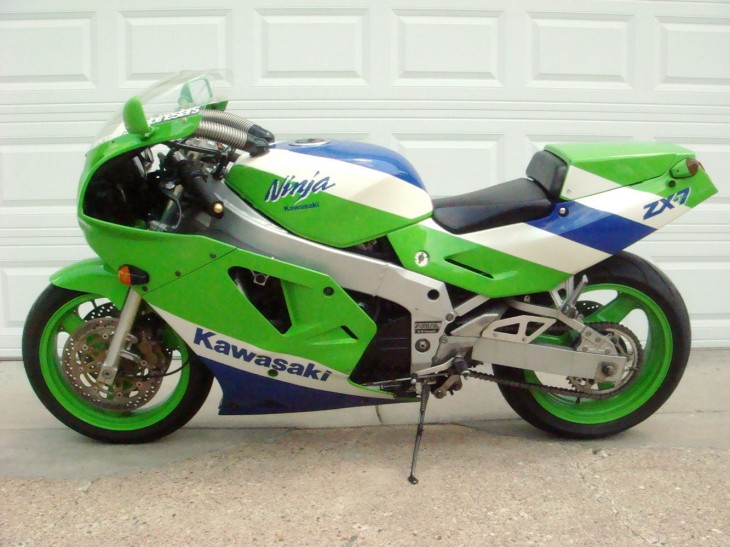 Interestingly, while Honda sold their purpose-built RC30 race bike in extremely limited quantities, Suzuki built their dry-clutch "LE" Gixxers, and Yamaha built their exotic-under-the-skin OW01, Kawasaki offered no comparable homologation-special edition of the ZXR. Instead, they offered a whole range of race parts owners could use to compete at virtually every level of racing, an unusually grassroots approach.
Kawasakis of the period felt long and low, and were famed for their mid-corner stability and feel. Riding this today, you'd never mistake it for a modern sportbike: if the stretched-out position and low seat height weren't obvious, those HVAC-looking ram-air tubes would certainly give it away…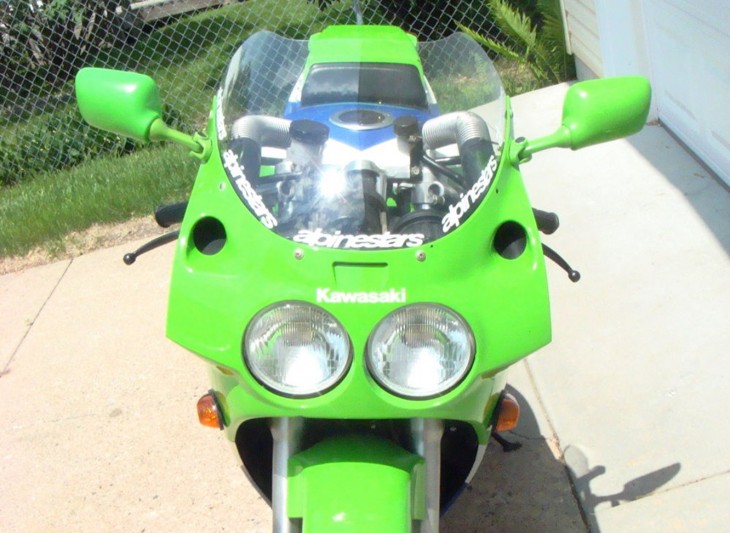 From the original eBay listing: 1989 Kawasaki ZX-7 H1 for Sale
I purchased this bike to bring to motorcycle shows and take out to local bike nights as a fun classic Superbike. If your looking at this listing you are probably already aware how rare and hard to find these 89 ZX-7 H1's are. It's very hard to let this one go, but I've decided to sell this motorcycle and channel the funds into another motorcycle project.

Details:

Only 20,559 miles
Very rare and collectable motorcycle.
Nice condition cosmetically. Not perfect, but very clean for a 1989.
Motorcycle runs and rides with no engine or transmission issues I can detect.
Newer Michelin Pilot Power tires. Less than 2 years old with very few miles on them.
Yoshimura exhaust that is period correct for the age of the bike.
Clean and clear title.
Original owners manual included.

This is a motorcycle that is becoming very collectable as a superbike over 20 years old. It is a survivor in good condition. The motorcycle does have some minor marks, wear, and scratches. The bike starts, runs, and rides. I have not gone through the bike thoroughly to inspect all mechanics. There may be some service necessary. Listing bike as accurately as possible based on what I know.
Aside from the "Alpinestars" decals and the questionably-located flush-mount signals, this is a very clean bike, and looks very original, just as the description indicates. These bikes were made to be ridden, and while it always seems a shame to spoil some pristine, low-mileage bike by actually using it, bikes like this one allow the owner to rack up the miles guilt-free, all the while enjoying the bike as Kawasaki intended.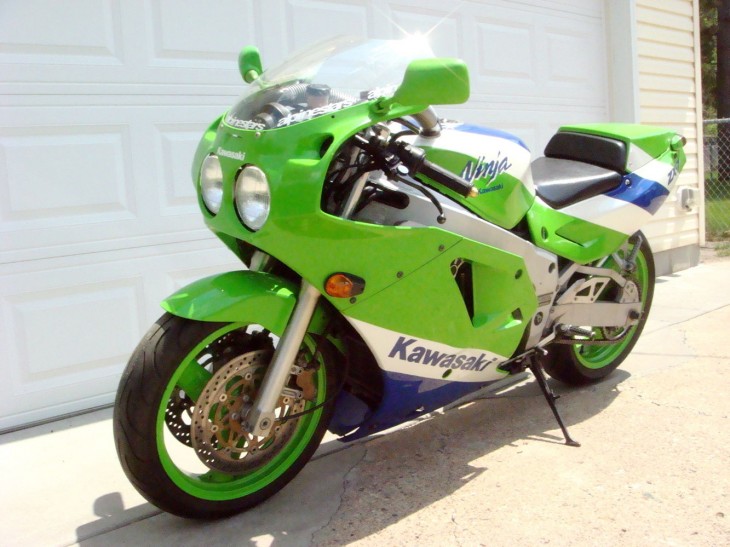 Not much time left on this listing, so move quickly if this strikes your fancy. The Buy It Now price of $5,500 it seems a bit on the high-side [pun!], but not outrageously so. These are seemingly thin on the ground recently, and are often in pretty shabby condition when you can find them. These have been increasing in value of late and, while they're hardly as rare as the Bimotas and Ducatis we often feature, Japanese sportbikes of this era have a very strong following among older riders who owned one new or wish they had, and young riders with a taste for lurid green paint jobs.
-tad