Warning!
This post is in our archives. Links in this post have been updated to point to similar bikes available to bid on eBay.

Location: Las Vegas, NV   Mileage: 15,060    Price: $6,300 BIN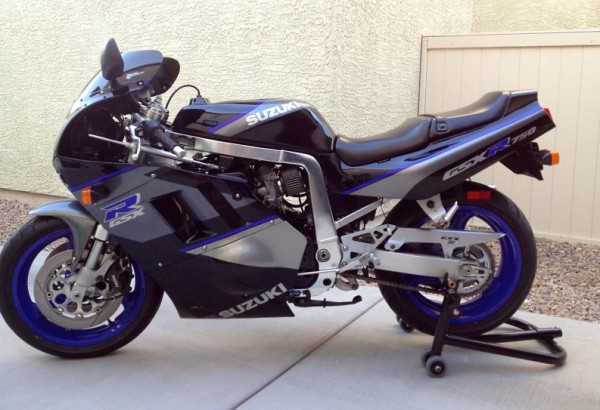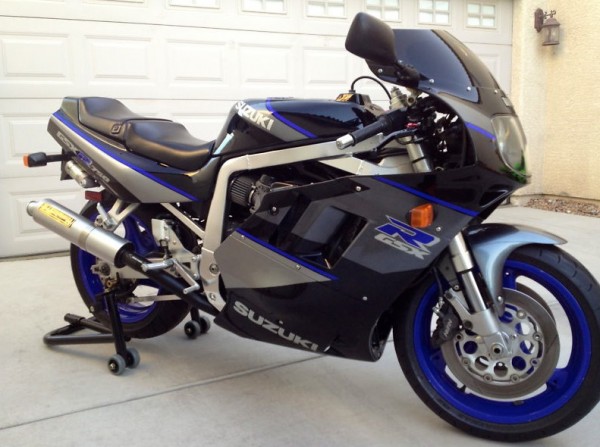 If you're looking for a nice, clean '91 GSX-R 750, then Sin City has something to offer. This is a solid example of an early GSX-R that looks to be in good shape and pretty much stock. Finding one in this condition is not easy, since most were put in ditches or into telephone poles. Or they were modded unrecognizable.
From the seller-
A COLLECTORS DREAM THIS 1991 GSXR- 750 IS THE LAST OF ITS KIND. TRULY PRESERVED WELL TAKEN CARE OF AND PROFESSIONALLY  MAINTAINED  AND ADULT DRIVEN  FOR OVER 20 PLUS YEARS . THERS NOT ONE HAIRLINE SCRATCH OR BLEMISH ON ANY PART OF THIS BIKE .THE BIKE RUNS PERECT ITS ALL STOCK EXCEPT FOR THE PIPE THAT SOUNDS GREAT  AND CARB PODS WHICH ARE TUNED PERFECT  I START  THE BIKE UP EVERY TWO WEEKS TO KEEP THE CARBS FRESH.  TRULY THIS BIKE FEELS FASTER THEN MY 1997 CBR 900. YOU  WILL NEVER SEE AND FIND A BIKE LIKE  THIS ONE WITH ONLY 15000 MILES . THAT IS IN SHOWROOM CONDITION . I HOPE WHO EVER BUYS THIS BIKE WILL CONTINUE TO KEEP IT LIKE I HAVE . FOR ANOTHER 20 YEARS . ANY QUESTIONS PLEASE FEEL FREE
And pics-
The importance of the GSX-R 750 is pretty much known to everyone in the sportbike world. This is a nice example that is relatively unmolested aside from the aftermarket pipe and windscreen. Mileage isn't too high and everything looks to be in good shape. Seller says the bike runs perfect but you'll always want to do your homework and make sure.
I love the GSX-R and always like to see nice clean older examples out there. If you don't have the money, then just grab $100 bucks and go to Vegas, put it all on black and let it ride. Or if you do have the money, check the auction!
But, you should still probably go to Vegas.
-RN