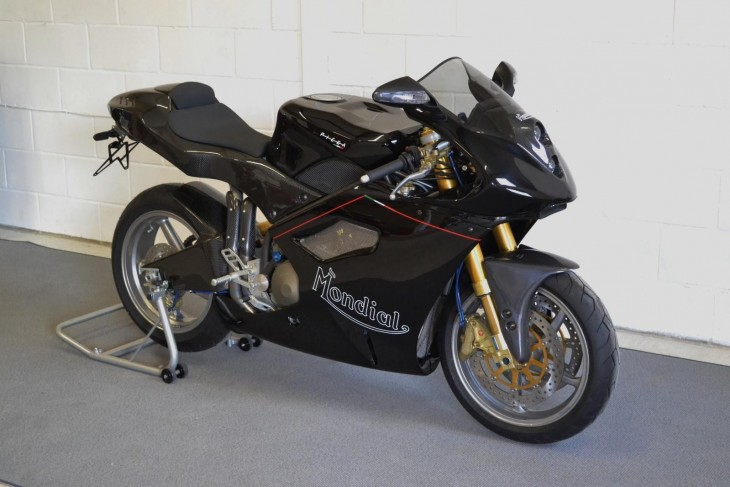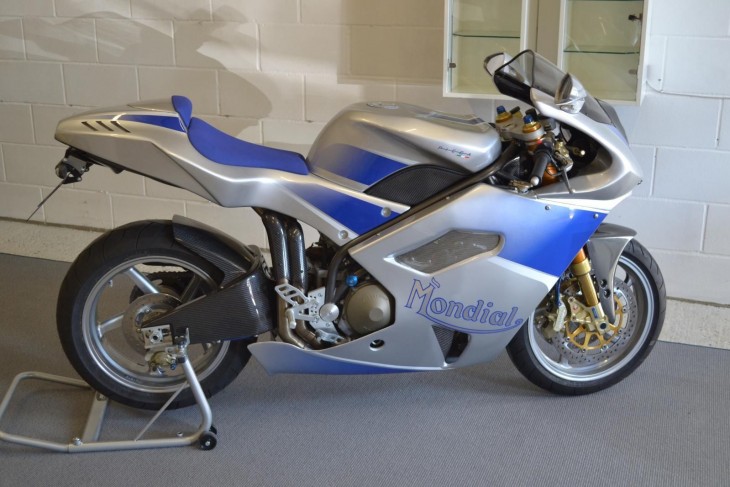 Here are two (2!) of the ultra rare Mondial Piega models, both from the same seller.
For anyone not familiar with these bikes from previous RSBFS posts, FB Mondial was a small motorcycle manufacturer that had racing success in the 1940's and 50's but couldn't translate that success into a long term successful business model.  Mondial produced highly successful race bikes, many with the distinctive Dustbin fairings.  These bikes are considered to be some of the most beautiful bikes ever made and are now highly valued by collectors.  For example, the 1957 Mondial 125cc Grand Prix DOHC 'Dustbin' pictured below was recently offered for sale by Bonhams for over 110,000 USD (click the pic for more details).
The Monidal bikes were so successful and so highly regarded that back in the 50's Soichiro Honda himself approached Mondial about purchasing their 125cc race bikes to help his company get up to speed (no pun intended).  When Honda won the 125cc and 250cc championships in 1961 the badges said Honda but the technology was Mondial.  FYI – This is why today, when you enter Honda's museum at its race track at Motegi, Japan, the first bike you see on display is a 125 Mondial.
By the mid 1960's Mondial was starting to struggle and in an interesting reversal, the company worked out an agreement with Honda to offer their bikes with Honda power. The Mondial brand continued on until the late 1970's but eventually it shutdown and fell into disuse.
In 2000, entrepreneur Roberto Zileti bought the dormant Mondial name from the original owner family and using his considerable wealth had a new Mondial designed.  The new bike was designed to compete in World Superbike racing and was to be powered by a Suzuki TL1000 V-twin engine but just before it was due to be launched Suzuki withdrew.  Ziletti then managed to convince Honda to supply the reborn Mondial with Honda SP-1 engines and the new Mondial Piega was born.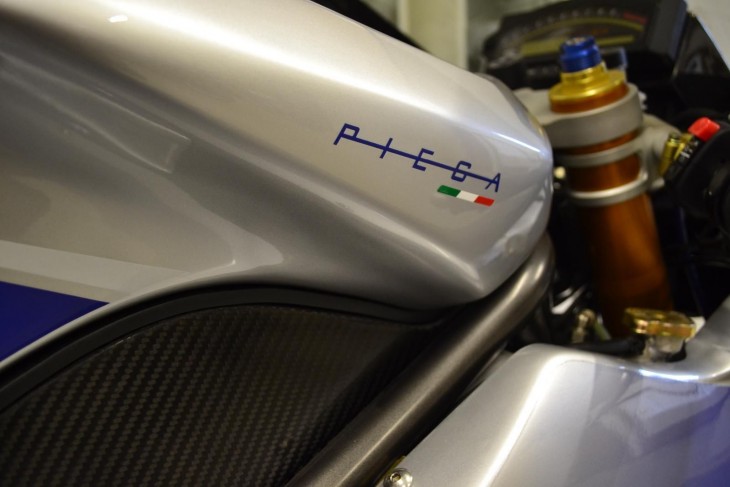 While European bikes designed around Japanese engines have been known to promise more than they deliver (Im looking at you, Bimota), the Piega isn't one of those.  Mondial's engine modifications were small, consisting of a new intake and exhaust system and a reworking of the fuel injection mapping which bumped out the power a bit.  The major change was to weight; due to the extensive use of carbon-fiber,, the Piega is 45lb lighter than the SP-1.
Reviewers were quite enthusiastic over the bike, stating:
"the bike also feels faster than the latest Honda SP and the handling is at least as good. The SP-1 felt awkward and at times unstable with an especially flighty front end. The Piega is better, with great stability."

"The main development rider for the Piega was a 250cc race champion and it shows in the results…the Piega somehow manages to feel like a much smaller machine…it can be flicked into a corner and re-positioned mid-turn.  Also the very high quality race-based suspension gives the bike a tactile quality."

"You don't have to ride the Piega fast to savor the sensations it offers, because it's enormously rewarding at most speeds, but when you do it responds with a top-level ability. Of course the bike is also great to look at in its traditional blue and silver livery, although the combination of hard edges and curves occasionally clashes and the droop of the tail plate unit detracts from the bike's aggression."
Here is the first one, a year isnt specified but it looks to be one of the early edition bikes, possibly a 2003.  Mileage is listed as Zero/new.  Asking price is 17,000 GBP which comes out to about 26,000 USD.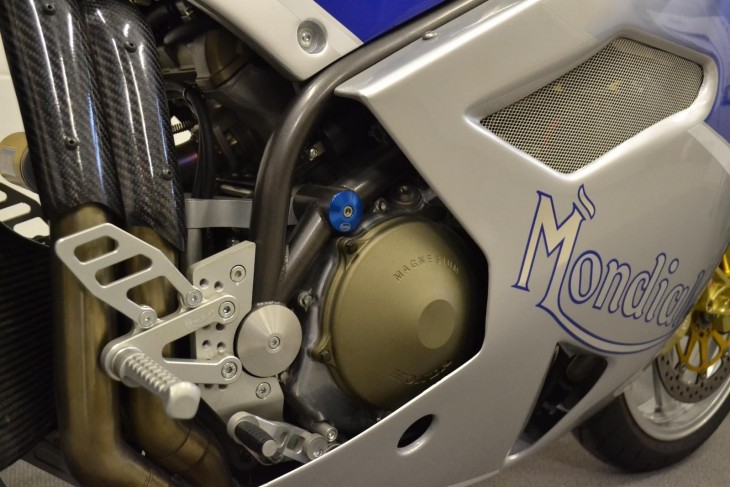 While normally I am wary anytime someone says Zero/o miles for a bike, this one does look absolutely clean.  NOTE:  There have also been comments on previous RSBFS Piega posts that 11 of these bikes were "taken" by employees who didn't receive their paychecks after the company went bankrupt and that these are considered stolen.
---
Now here is the second one, an EF/Finale Edition version in lovely black and carbon fiber.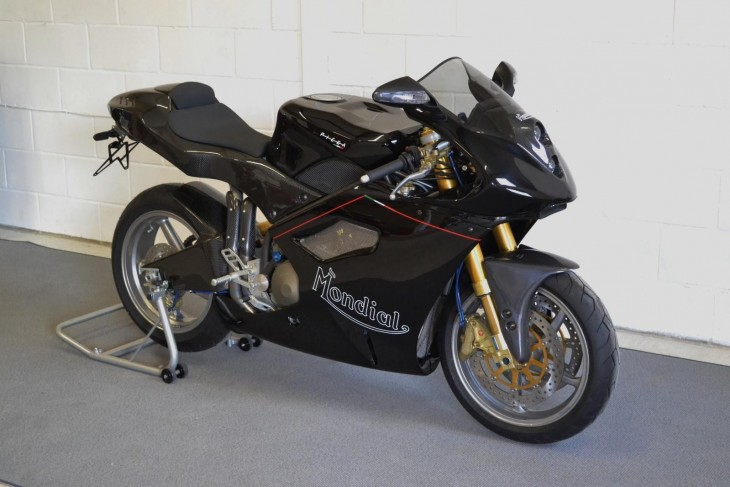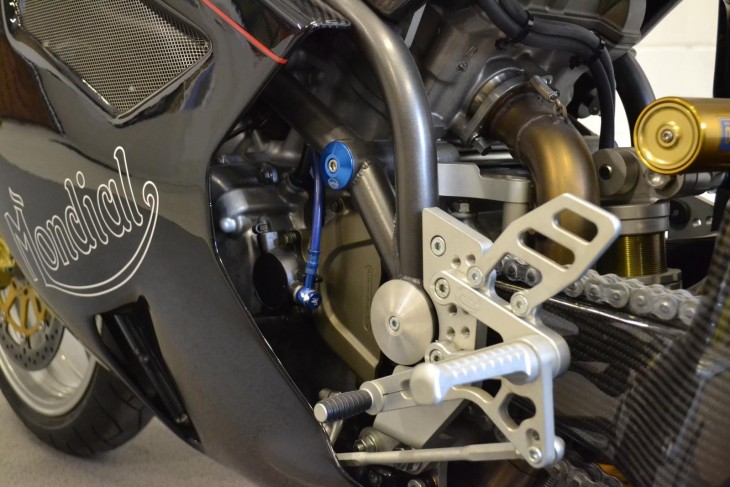 The build history on the Final Edition/EF versions is a bit vague and the only info I can find is a brief mention of them being launched in 2008.   It seems like the EF version was produced out of Piega backstock with different carbon based bodywork similar to that from the Mondial GP bike.   The seller indicates this 1 of 10 EF versions which may account for its higher asking price of 22,500 GBP/35,000 USD.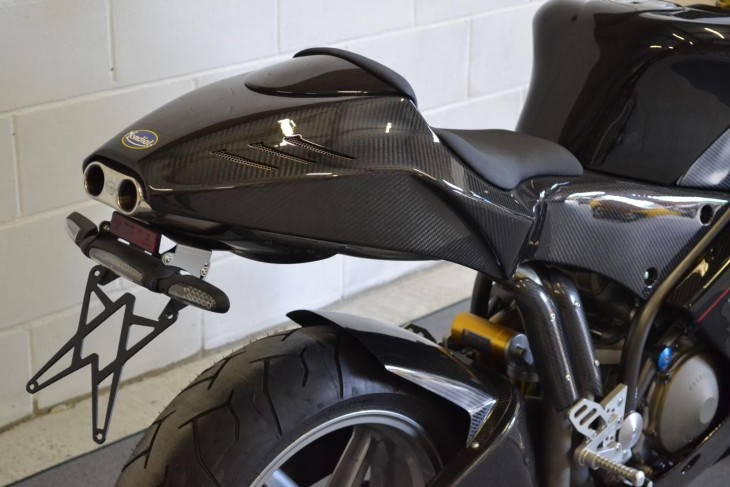 Now, the question is, what are these bikes worth?  The Mondial Piega is certainly a rare sportbike based on the listed production numbers and finding one let alone two in brand new condition is pretty amazing.  Even so, I think the price for these may be a bit high.  Previous postings on RSBFS  went for quite a bit less than the asking price but those posts were for US bikes, the bikes weren't 0 miles bikes and occurred while the financial crisis was still ongoing.  Perhaps someone can work out a package deal for both…?
-Marty/Dallaslavowner
Note:  This seller appears to have quite a few high end bikes for sale, including a Bimota VDue Evoluzione, which is the upgraded version equipped with carburetors.