Toronto, Canada – 8,200mi — $5,743 BIN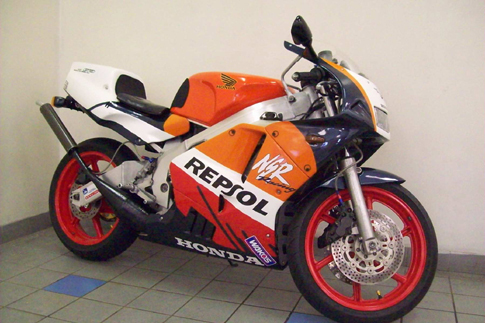 The Honda NSR250 is one of my favorite bikes. Oh how I wish I could own one (minus all the DMV/insurance red-tape). With a light weight 2-stroke engine, full-twin spar aluminum frames, dual front discs, and race-inspired riding position, these bikes are the real deal for hooligan GP fun on the street.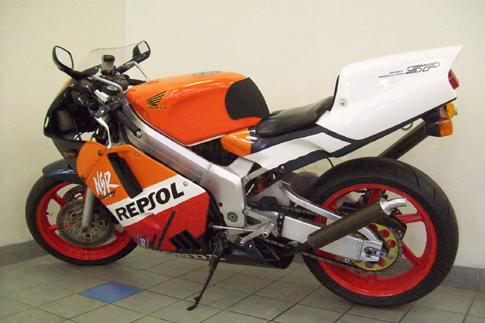 This bike comes to us from the two-stroke loving land of the north. The bike is claimed to be a 1994 model and an MC21. Though the photos indicate it is an MC21, the claimed year would put it at an MC28. Maybe things in Canada don't coincide completely with the importing of these bikes. It is also claimed to be an SP (dry clutch, trick suspension, etc…), however this bodywork is not OEM Repsol livery.
From the seller:
HONDA NSR 250R MC-21 SP 13,200km 1994

250CC, Two Stroke, Dry clutch, Liquid Cooled, 90°V-Twin Cylinder, 60HP unrestricted power, Kick Start, 6 Speed Transmission, Gull Arm aluminum frame, Front and Rear Disk Breaks, racing handlebars and footpegs, Carbon fiber mufflers, Braided front and rear brake lines, 78cm Seat Height, 132Kg dry weight, 16Litre Fuel Capacity.Low insurance, Dunlop tires, new fork seals, new battery, Certified.
Visit nuakjdm.ca to see more JDM bikes for sale.
I wouldn't consider this bike a collector by any means. It is too far from stock. Having said that, this could potentially be a kick-ass bike to ride. Which is exactly the reason we all love motorcycles. The joy comes from the ride. I will say that this bike could use some vetting in order to determine what exactly you are getting into. Feel like taking a look, check out the ad here and make the call.
-JS