For sale: 1977 Harley-Davidson Sportster XLCR Cafe Racer!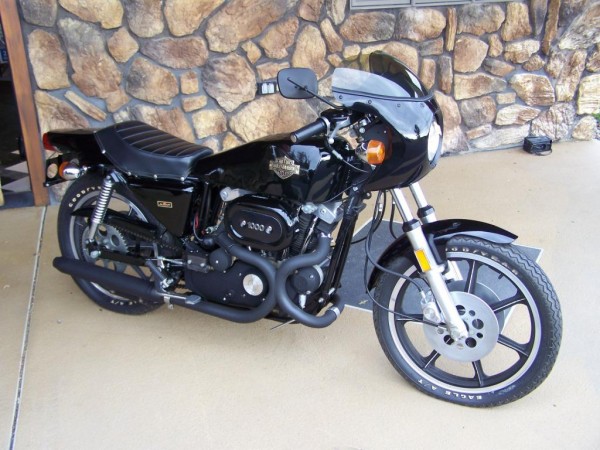 In the mid-1970s, the cafe racer craze was in full swing. Bikes like the Ducati Super Sport, Norton John Player Special and Moto Guzzi LeMans were gaining market share. Willie G Davidson, then Vice President of Styling for Harley-Davidson, decided the cafe racer scene could help grow the fortunes of AMF-controlled H-D. He was wrong.
You can almost see the mental checklist used to create this unusual bike: Sporty bikini fairing (check), blacked-out paint (check), cast "mag" wheels (check), triple disk brakes (check) tachometer (check). In all, these features led to the creation of a unique motorcycle that simply didn't sell. H-D produced but an estimated 3,123 units during a limited, 2-year run.
From the seller:
1977 Harley Davidson XLCR Cafe Racer Never used, Never registered, Brand new condition, always kept in climate controlled area, with only 4/10th of a mile, Yes under 1 original mile!!!

Hello everyone I am very proud to offer this near once in a lifetime chance to own a Unused, Untouched, never registered 1977 Harley XLCR Cafe Racer motorcycle that has only 4/10th of a mile from new.

This bike is on the 1 owner title and has always been kept inside in a climate controlled area since it was new in 1977. The bike was ONLY pushed outside of it's showroom area to take all the pictures. I wanted to take the pictures in the sunlight to show the beautiful condition. The bike could use a good wiping down to get the dust off and the chrome to sparkle, but rest assured this bike is in perfect condition in everyway…

It would be safe to say, without a doubt, that this IS the absolute lowest mile and completely untouched, most original XLCR in the World!!!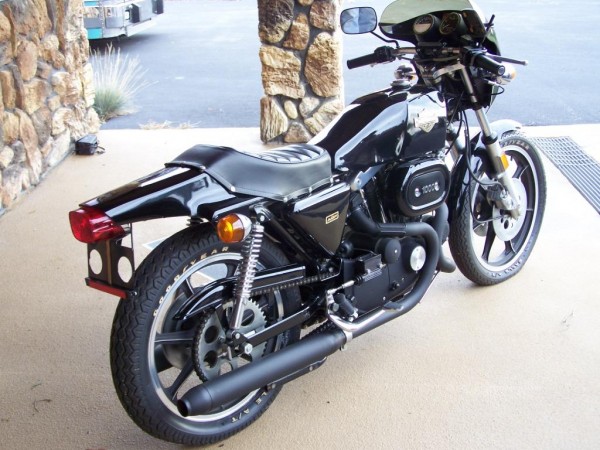 As it turns out, the Harley crowed wasn't very interested in sportbikes, and the sportbike crowd wasn't very interested in Harleys. This perfect storm created a rare collectable, and this particular bike has yet to turn over a single mile. So what is the current price for a "new" 1977 XLCR? This particular unit has a BIN price of $27,500 (!) and the auction is at $12,500 with the reserve still in place. , and determine if this is the sportbike of your dreams.
For those of you who don't need a zero mileage bike, there is another lightly used XLCR with 5,286 miles , with a BIN of $15k. Although not as original or clean as the new bike above, it represents another avenue if the XLCR is your goal. Some pictures of this alternate bike are below.
Predecessor to the VR1000 and the Buell lineup by many years, the XLCR was an idea a little too strange to catch on. These models do appear to gaining in value over the years however, so now might be the time to jump on the collectable cafe racer bandwagon!
MI