I started reading the British bike magazines back in the late-90's, when Suzuki's TL1000S was busy making headlines for its wayward behavior and monstrous 115whp. My girl at the time was working at Tower Records in the San Fernando Valley, and every month, unsold magazines had their covers ripped off and returned to the publisher, while the bulk of the pages were simply thrown out. I got to dig through and take my pick.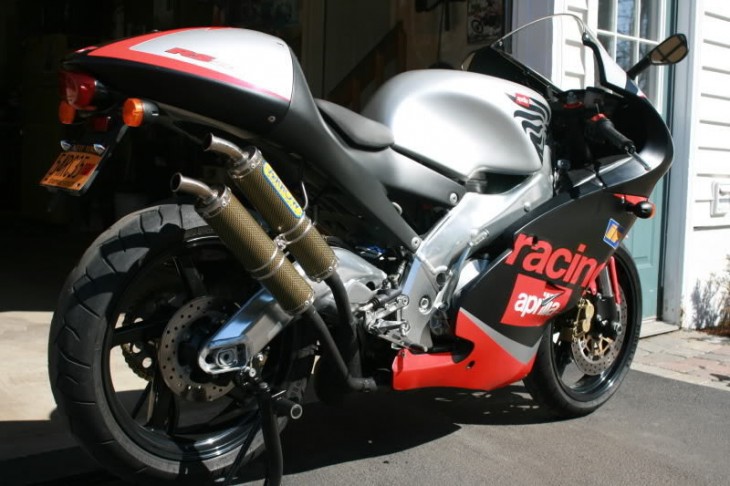 I've got dozens of old, coverless Brit biking mags lying around, full of filthy, irreverent language, "Page Three" style photo spreads, and pages of phone-porn and dating service ads in the back: so different than the sterile American publications, much more fun. So what if one month they thought a bike was "the tits" and two months later, the same bike was "bollocks"? I loved the attitude and insanity.
If the British biking press extolled the Aprilia RS250, then that was enough for me.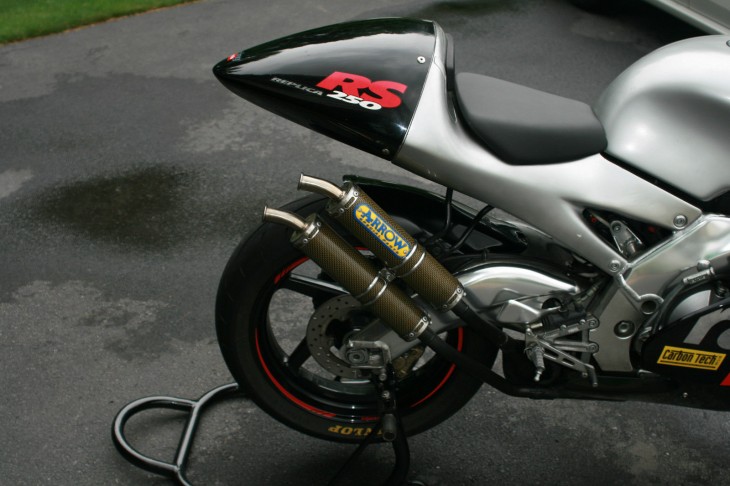 The Aprilia was powered by a heavily-tuned Suzuki RGV250 motor pumping out 60hp and wrapped in sleek bodywork patterned after their dominant 1993 250GP bike. Aided by light weight and a well-developed suspension package, featuring a distinctive "Banana" swingarm designed to allow the exhaust's expansion chambers to be tucked up close to the centerline for good cornering clearance, with brakes that would stop a much larger machine, the RS250 is a corner-carving animal.
From the original eBay listing: 2001 Aprilia RS250 for Sale
What a smokin' blast this bike is to ride – sorry, had to do it. I bought it with 8,500 miles on the odometer in January 2011 and am now parting with it because I need to make room in the garage for other toys. It currently has 13,456 miles with new pistons installed at 7,500 miles.   All miles I put on the bike are street miles with the exception of 1 track day. Other than the Arrow exhaust, Pipercross air filter, and clip-on risers, the bike is stock with oil injection intact and working perfectly. It starts from cold in 1 or 2 kicks, idles glass smooth, and has never been crashed.
This has a valid NY title, and that's a plus: a big draw for RS250 shoppers is a valid title, and bikes with these command significantly higher prices: many were imported as track bikes with no road equipment, and if I remember correctly, some years Aprilia was only able to sell them that way, since they didn't meet emissions standards. The RS250 was one of the first bikes to feature an onboard lap timer but there is no electric start, so you modern bike guys will have to learn to "kick it". Or bump it I guess.
Not long ago, all of the top-tier racing championships were ruled exclusively by two-stroke bikes and, until emissions standards killed them, they terrorized the streets as well: two-stroke bikes' characteristic smoke is as dirty as it looks, and they tend not to have modern standards of durability in terms of engine internals… The RS250 ceased production in 2004, and these always generate interest when they come up for sale. They have an impeccable reputation for being able to do "what it says on the tin." No false advertising here: this is a track bike, with the barest concessions to road use.
I'm generally not the biggest fan of "smoker" noise and clatter, but these are gorgeous, exotic, and two-stroke multis always sound like a gang of chainsaw-wielding maniacs has been let loose on the track, which has to count for something.
-tad