Warning!
This post is in our archives. Links in this post have been updated to point to similar bikes available to bid on eBay.

1982 Kawasaki KZ1000R Eddie Lawson Replica
I still find it hard to believe people used to race these beasts.  Well, some hearty souls did and bikes like this helped catapult them into the world of grand prix racing.  This was Kawasaki's tribute to Eddie Lawson winning the superbike title for them here in the United States.  What caught my eye was  how dog gone shiny this thing is.  I figured that it was just too shiny and had to be a respray.  After looking at some photos though,  I think it is the original paint.  Kawasaki just lacquered em up back in the day.  I've commented before that you could practically eat of  some of the bikes we post because they are so clean.  Check out the picture below and tell me that isn't true about the bottom of the engine.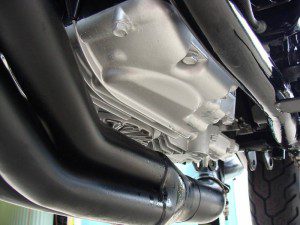 I don't know if I own anything that is that clean.  I guess I'll have to assume some this cleanliness comes from the restoration the seller describes but overall just a beautiful example to survive the years unscathed.  It isn't bone stock;  you can see the airbox has been removed and I can't quite tell if that is the original Kerker pipe.  In a couple of photos I found on the net  the muffler did not seem to slant up like this one does.  It may just be my poor eyesight.  The seller can you give you the details much better than me:
Up for bid is my 1982 1000R EDDIE LAWSON REPLICA I bought this bike from its original owner and have owned it for almost 20 years .This is production # 611 of 750 built in 82″ engine # KZT00JE03527, This bike has a complete full restoration with new tires, brakes, sprockets , grips ,ext. This bike has a total of 16,000 original miles on it with a Wisceo 1035cc bore kit installed 500 miles ago. Bike looks ,runs, and sounds better than new and is in show room condition. A must see to appreciate and would make a great addition to any collector who wants to own a piece of superbike history.

Only know problems with bike are the trip meter on odometer does not reset and speedometer works but is getting a bad signal from front wheel speed sensor making needle jump back and forth a little on actual speed.

This bike is decribed to the best of my knowlage listing any know problems and is being sold AS-IS condition with no written or implied warranty it has a clean NYS. title.

This bike is for sale locally so I reserve the right to end action early if needed.

Pay Pal payment excepted terms $1000 down remaining balance due 1 week after end of auction needs to be received in full before any shipping or delivery

Buyer responable for veichle pick up or shipping , Please contact me by e-mail with any other questions on bike or possiable help on ship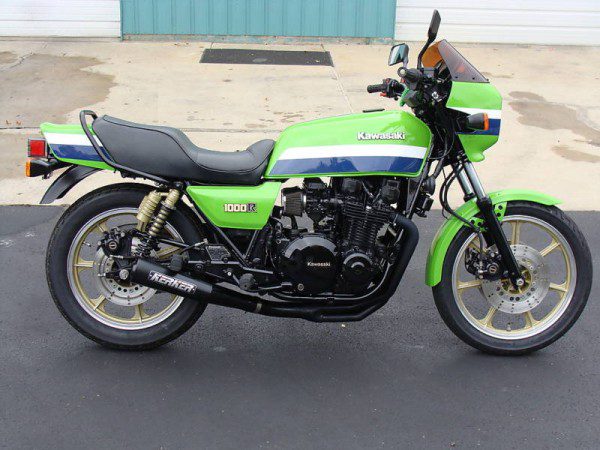 It looks like that shiny engine has caught a few people's attention as the bidding has been active on this one.  As of this writing, in the fabulously plush RSBFS offices, the auction stands at $9,100 and the reserve has not been met.  I can honestly say I don't know how high this one will go for a little Kawi superbike history. .
IK