If you're one of those RSBFS fans who turns up their nose at bikes of questionable pedigree, you should probably stop reading now. Or make sure your keyboard is all warmed up for the inevitable flood of vitriol that will inevitably spill forth once you've finished reading about this particular Suzuki RGV250 VJ23 replica.
The original RGV250 Γ "Gamma" replaced the parallel-twin RG250 with a water-cooled, 90° two-stroke v-twin in 1988 and went through various iterations until it was discontinued in 1998. Japanese home-market models were restricted to 45hp, but derestricted bikes or ones sold in other markets could see over 60hp, plenty to send the 300lb motorcycle shooting between corners. And corners was where this bike was built to live, with handling that lived up to its GP-replica looks.
In building his little two-stroke mongrel, the builder combined the basic goodness and power of the VJ21 with its parts availability, added the running gear and slick swingarm from the VJ22, and cloaked it all in bulbous late-90's VJ23 bodywork. It's listed as a 1997, but the frame came from a 1990 bike so I expect that's how you'd register it.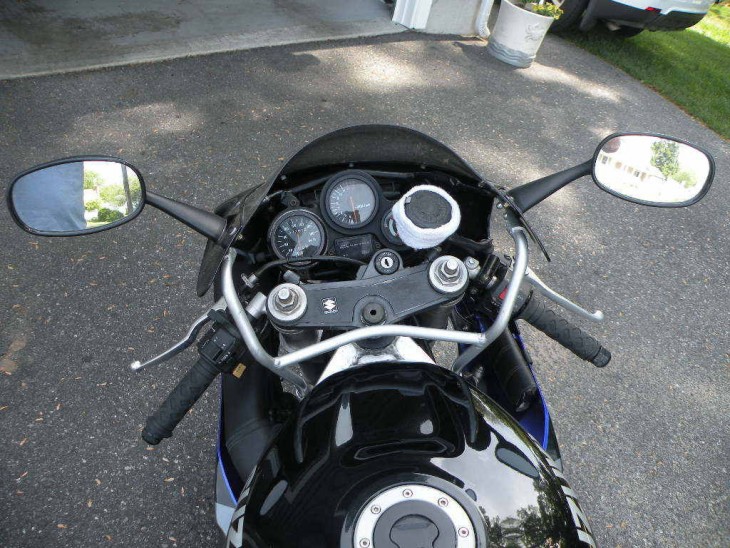 If you're a fan of the later style, this bike is perhaps a very wise choice as the 1997 RGV250 used an all-new 70° v-twin that shared virtually no parts with the earlier bike and parts are much more difficult to obtain. In addition, derestricting these later bikes is expensive if it hasn't already been done.
From the original eBay listing: 1997 Suzuki RGV250 VJ23 Replica for Sale
RGV VJ23 replica in exceptional condition

I started with a very strong running low miles 1990 Suzuki RGV 250 VJ 21 SP as it has 59 HP and is one of the more reliable RGV's with parts still a plenty.

To make it handle a bit better and look trick I added the USD forks and Banana swing arm and 17" rear from the 1991 RGV 250 VJ 22.

To make the bike to look modern and exotic  the 1997 RGV 250 VJ 23 OEM body components were chosen and craftfully installed.

The tail section is not OEM and was made special for this bike (To spec) as I could not locate an OEM tail) all other body parts are OEM VJ 23 correct

Details:

1990 VJ21 motor /electronics, frame, exhaust, rear shock (SP version), and controls

Massive power of the VJ 21 SP model = (59 hp) dependability, reliability and parts availability of the VJ 21. (The VJ 21 SP model came with the adjustable rear suspension and increased power)   Note: The stock VJ 23 only had 45 hp.

This bikes is very fast.

To obtain the same power output from a stock VJ 23 you would have to spend over $2500 to derestrict ( 45hp to 59 hp) !!!!

The SP VJ 21 came out of the box with 59 hp STOCK!!

 1991 VJ 22 USD forks, very desirable / rare Banana swing arm and 17" rear wheel giving the bike great handling and good looks with the USD forks and rare banana swing arm. Triple upper is from a GSXR 600 to provide VJ 23 fairing stay clearance. (No mods required/ simply bolted on)

1997 VJ 23 OEM Bodywork, Tank ,Fairing , Fairing stay , Mirrors , Head lamp, Tail lamp, Driver and Pillion seat: exotic and modern GP look of the VJ 23.

All of these components are in exceptional condition and all work perfectly.

Bike starts, idles and runs very strong. It also handles extremely well and always starts first kick every time!!

Has a nice kick in the pants between 8k and 11K when the power valves come alive.

Low miles… 7300 Kilometers = 4700 miles

All of the parts have been gracefully installed without modifying the existing VJ 21 attributes / structure so if one so desires, they could return the VJ 21 to its original state. (Surprising how many parts easily adapt together/ parts are not simply zip tied with the exception of one here and there!!) Nothing was modified to make these parts fit…

Oil injection intact and fully operational (only high quality oil used)
Fresh set of NGK BR9ECMIX Iridium plugs
Fresh oil change
Fresh coolant and radiator flush
Front and rear brake fluid flushed and adjusted (Great stopping power)
New air filter
Newer Bridgestone Battleax tires front
NEW Bridgestone Battleax rear tire.
Steel braided front and rear brake lines.
2 sets of keys
Carbs clean and function perfectly

I will include a set of OEM Suzuki RGV chambers and cans which will allow the exhaust to exit on same side (GP bike look).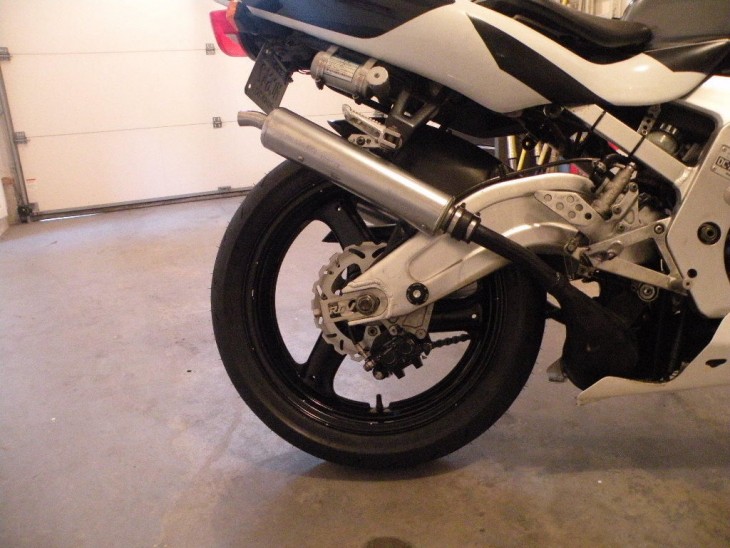 So it's obvious that, while this bike may be not be some all-original collector's item, parts are all from within the Suzuki family, and the seller has taken a "best of" approach to building this bike, taking the strongest, easiest to work on engine and combining it with more modern bodywork. I actually prefer the look of the earlier bike, but there's no question the VJ23 panels are very exotic looking, and I'd definitely fit the offered shotgun-style exhaust.
The question is: will the modifications turn off traditional Suzuki fans, or will they be excited by the enthusiasm and thought that went into this build and be willing to ante up for this bike? With 5 days left on the auction, bidding on this little mutt is up to $4,500 with the reserve, unsurprisingly, not yet met.
-tad