Each manufacturer makes their own call when they introduce an uprated "R" model.  KTM has taken it fairly seriously and built a 990 Super Duke with a healthy margin of performance above the standard model.  Often considered for a track day special, the R-model offered here could be show or go ride.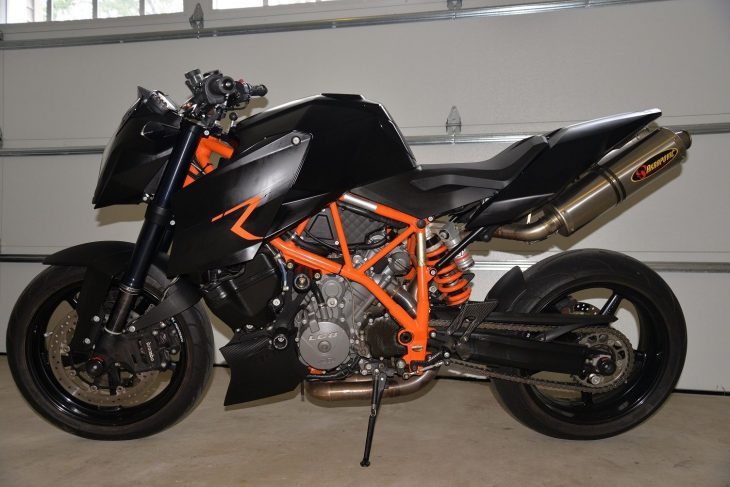 Built from 2005-12, KTM's Super Duke used the 75-degree twin capable of 132 hp, pretty out there for a naked machine.  The orange trellis  frame suspends the DOHC engine and has WP suspension both ends.  Big all over, the seat height is over 33 inches and the fork tubes are 48mm.  Akrapovic has added their pipe to the mufflers supplied on the non-R bikes.  Radially mounted Brembo brakes are 320mm front and 240mm rear.  The semi-gloss black ( the Duke name is in flat/gloss relief on the radiator fairing ) with orange color scheme is an attention-getting brand of stealth.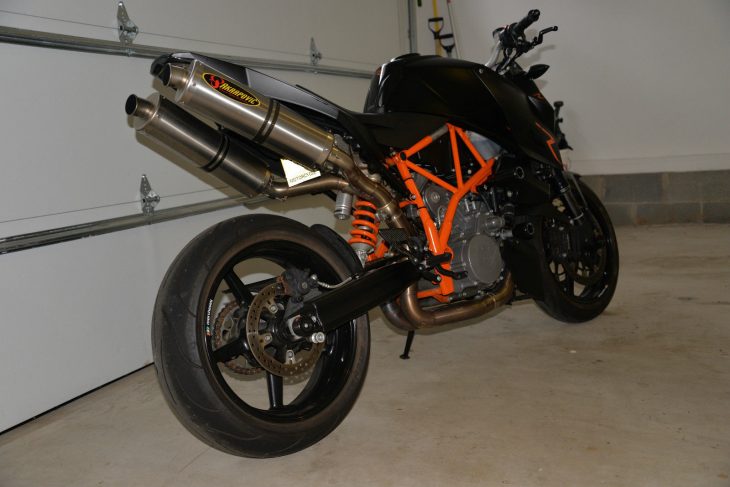 Evidently not much to report on this Duke R, with just over 7,000 miles, and no apparent damage.  From the eBay auction:
This is a real Super Duke R!  You will not find any for sale anywhere!  It took me 2 years to find one!

It is in great condition min wear only... super clean bike.

It has a Akrapovic exhaust pipes and cans, making the sound awesome! It also has Dynojet PowerCommander.
With the off-road side of the house paying the rent, KTM's street bikes have mostly been done in smaller quantities, and the Duke R is a sidelight in the already boutique naked superbike market.  Beside some carbon accents, factory upgrades from the Super Duke included blueprinting the LC8 internals, a lightweight flywheel, and sharpening up the handling by raising the rear ride height.  Reviewed as a super performer but uncomfortable once the pace relaxes, maybe an aftermarket seat would be a place to start.  Right after this 990 R gets back from a day or two at the detailer's...
-donn