Warning!
This post is in our archives. Links in this post have been updated to point to similar bikes available to bid on eBay.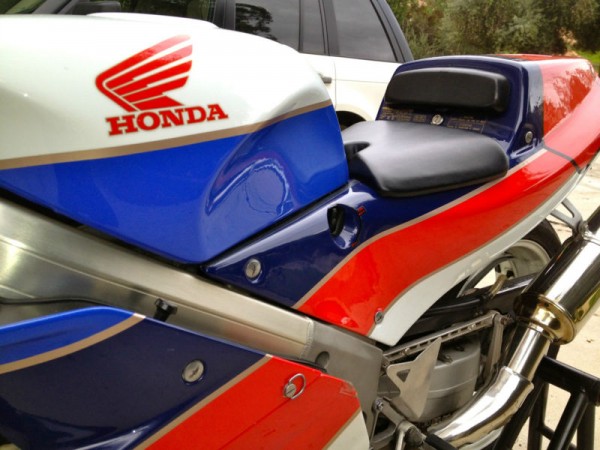 Times are good if you've been in the market for a RC30.  Over the past few months we've seen three or four come up for sale and every one of them has been a keeper.  This one is no different.  It is low mile (12,997 of them) and it  has been lovingly cared for by only two owners.  Now it is time for a third owner.
Note to sellers, here is how you sell a bike.  Can't you just picture yourself there with your own Rothmans leathers?  Well I guess it could give you the urge to purchase a Rothmans NSR250 as well.  The other way to sell a bike; don't change a damn thing on it.  It seems the majority of RC30 owners have followed that rule.
The story:
Everyone loves a story so here is mine;  I bought #37 back in 1997 because I knew about the racing legend of the RC30.  I sold her a year later to buy my first Porsche.  In 2005, I tracked her down and bought her back.  Same serial number, just a couple more miles.  The gentleman who bought her was a bike collector like myself and maintained her properly.  I take her out for coffee about every 6 weeks to ensure everything gets properly lubricated.  Then back in the garage and on its battery tender.  'Museum bikes' can suffer from a long list of ailments from non use.  Everything on the bike is bone stock just as it left the factory sans the grips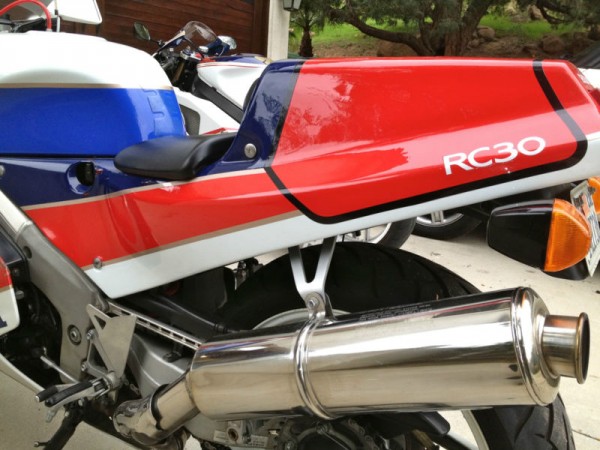 I believe you will anger the Honda Gods if you actually get a RC30 dirty. 
More from the seller:
No crashes, scrapes, paint chips etc.  I had the entire front end and lower portions covered in 3m clear tape for preservation purposes.  Speaking of lowers….there is no discoloration from exhaust heat.  Some RC's get burn marks, some don't.  The body work is in concourse condition with a deep gloss.  Fluid change last March and bike comes with spare oil filter.
Why a picture of a cover?  Apparently it is quite a rare item.
From the seller:
It comes with factory owners manual, original tool kit, factory stand and factory special equipment cover.  The cover is extremely rare and was a special order from the HRC catalog.  I have never seen one on Ebay.  It is cloth and has some discoloration and seam separation.  I am only including it because of its rarity
There really isn't much to say, it is another pristine RC30.  If you've even casually followed the price on these bikes you know it won't be cheap:  and it shouldn't be.    The old adage holds true, " You get what you pay for".
Ian