Location: Portsmouth, Virginia
Mileage: 8,100
Price: Auction, starting bid $12,500 Update 10.16.2011: The owner has contacted us to let us know the bike has been relisted with a lower starting bid. Links updated. -dc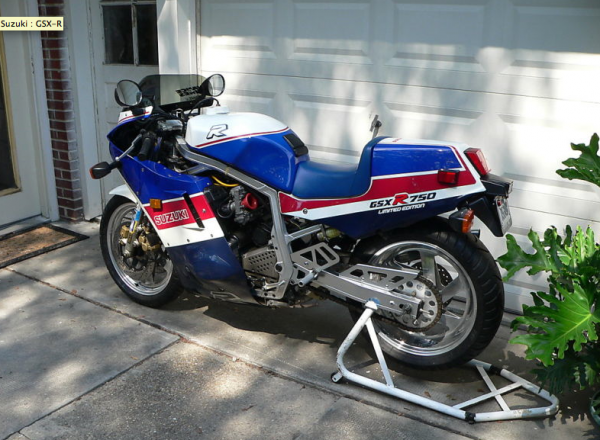 Okay folks, enough is enough. This is killing me. Another GSX-R 750LE for sale. In case the universe has not been paying attention, I don't have the money for one of these, so quit putting them out there. Okay, I feel a little better now.
I don't know that this bike needs much of an introduction by now. Especially since the excellent write up in Motorcyclist magazine (go here to check out RSBFS mention in that issue), much about what this bike is about is out there. It's a truly special machine that costs significantly more than the stock factory GSXR750 in 1986, but it came with the extras to make it worth it. Again, I would point to the June 2011 issue of Motorcyclist and the article Riding the Legend-we ride the 1986 GSX-R750 LTD. The seller mentions the article and provides a link in the auction (below).
Here's the seller's write-up-
Here is a link to Ari Henning's article in Motorcyclist Magazine on the 1986 Suzuki GSX-R750 LTD. http://m.motorcyclistonline.com/features/122_1106_25_years_of_gsx_r_riding_the_legend/index.html

Not only is this one of the most sought-after sports bikes, but this one may be one of the the only ones left on the planet that is in this condition.

My father-in-law is painfully parting with his because the doctor's don't want his heart to beat quite that fast…

I included some pictures, but have lots more.

The Legendary 1986 Suzuki GSX-R750 LTD

It has been my Sunday morning ride for 20 years, and it draws a crowd anywhere it goes. The motor is silky smooth, a little soft on the bottom end, but pulls through its 13000 rpm redline with authority. Health forces sale! 63 year old owner can't stand to see it sit idle.

8100 Original Miles.

Body work is perfect condition except for a thin scratch in the clear coat on the bottom left fairing, lower.

It has a smoke windscreen & headlight cover, solo seat, quick release body work fasteners, engine covers and foot pegs.

The fork tubes are 41 mm with progressive springs. They came with electronic neas anti-dive with servos that are triggered by the brake light switch.

· The rear suspension is a GSXR1100 Aluminum bodied remote reservoir shock with aluminum full-floater linkage

· The rims are 18" performance machine Chicane front and rear with Metzler performance tires 120/70 2R18 and 170 / 60 2R18.

· The brake lines are Kevlar front and rear.

· The bike has a close ratio 6 speed gearbox and dry clutch.

· The motor was professionally built with 771 Cosworth pistons with 13.5:1 compression.

· It has Yoshimura stage II cams, valves and springs. The heads were ported and flowed.

· The carbs are 39 mm Keihin, velocity stacks and new K & N filter pads.

· It has a full D& D exhaust with carbon canister.

· It has a Vance and Hines programmable ignition.

· The motor was tuned on a Dynojet model 150 Dyno. The motor made 120 RWHP on that Dyno up from 78 stock.

· The bike comes with the original owner's manual and service manual.
As highlighted in the seller's description, there are some modifications to this bike. While sometimes modifications can benefit a bike, when they are this rare and this collectible, you should weigh that information carefully. Even if a modification is a mechanical benefit, collectors tend to want all original regardless. I would keep that in mind when considering the value and how much you want to pay for a bike like this.
All that being said, this bike is a legend and a chance to own one is a rare opportunity. If you are a Suzuki fan or just a sportbike fan, this has got to be on the list of the all time greats. If it's on your list, make the jump here!
-RN