Warning!
This post is in our archives. Links in this post have been updated to point to similar bikes available to bid on eBay.
No one is arguing that we don't live in an era where "learner bikes" aren't very sophisticated machines, but no matter how impressive the electronics found on modern small-displacement bikes may be, and no matter stone-axe reliable the mechanicals are, there's something distinctly uninspiring about the weedy exhaust note of a single-cylinder KTM RC390. It's a great motorcycle in pretty much every way, especially considering the affordable price-point, but it definitely doesn't sound sexy. Something like this Honda CB-1 however, might appeal to both new and experienced motorcyclists, especially those a bit shorter in stature or riders who've realized the truth of the old axiom, "It's more fun to ride a slow bike fast than it is to ride a fast bike slow."
There's no problem with a lack of sexy here, although that's probably because the CB-1 wasn't really designed as an entry-level motorcycle: the 399cc inline four that motivates the CB-1 was shared with the sportier CBR400 that never officially made it to the USA, although they do show up from time-to-time as grey market imports. As you would expect, this mini-sportbike powerplant is very sophisticated, and has four tiny cylinders, sixteen valves, and dual overhead cams operated by gears, instead of the expected timing chain. The little four made 55hp and could push the 400lb machine to a top speed of 118mph. The frame is a less-sophisticated tubular steel unit instead of the CBR's aluminum beam frame, valves are bit smaller, and the CB-1 has a single-disc front brake set up, but it is otherwise very similar in terms of performance, except in top speed. Of course the CB-1 was geared a bit shorter and actually felt quicker in real-world riding than its sportier sibling.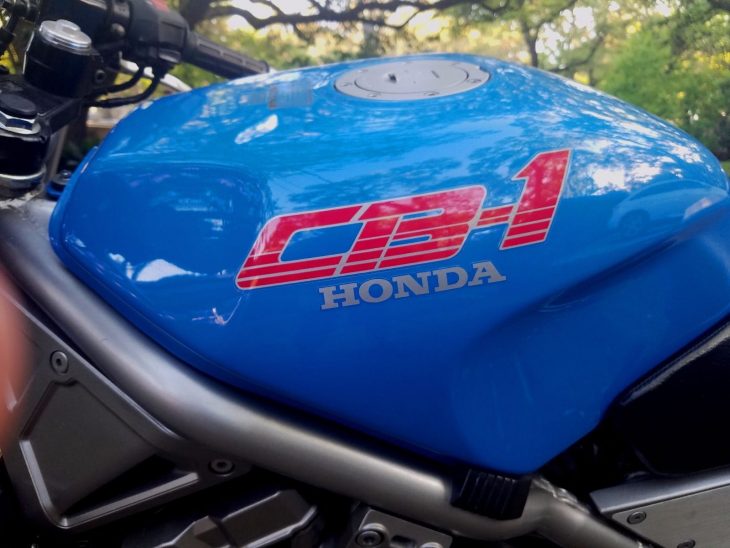 This example appears to be very clean, although the gauges could use a little help. A trip to eBay should eventually turn something up, or fit something cool and modern from Acewell or Motogadget. The carb service mentioned by the seller is a nice bonus, as that could be a headache for a new rider, or even for an experienced wrench.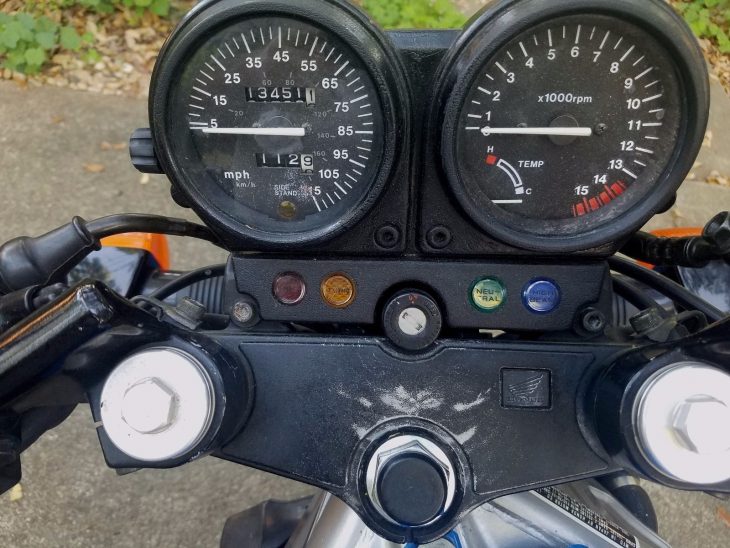 From the original eBay listing: 1990 Honda CB-1 for Sale
This is a fine specimen of a CB-1. It does not at all look its age. It's not museum quality, there are a few minor blemishes, but it is very close to perfect. The bike was just serviced: the carburetors were cleaned & synched and new tires were mounted. It runs perfectly, all the lights work, etc. It needs nothing but a new owner to enjoy the ridiculously smooth high-reving beauty.
The seller is asking just $3,100 for this particular bike, a bargain considering the performance and sophistication found here. There are near cult-like levels of devotion surrounding the somewhat forgotten Honda CB-1 and it's v-twin stablemate the Hawk GT, although that hasn't translated into increased values, as these are still very affordable bikes and offer performance, rarity, and relatively easy maintenance. Although handling is limited by the budget suspension, bolt-on upgrades from the era's CBR should sort that out easily and improve stopping as well with a second front brake disc and caliper. In an era of relatively simple and economical small-displacement machines, something like this offers up big-bike thrills in a very sophisticated, manageable package, with a low price tag, street cred, and good looks.
-tad