A Limited  That Makes You Say "Hmm":  1986 Suzuki GSXR750R Limited
Hmmm, wire wheels.  Purists and collectors look away.  Yep, the swing arm has been changed.  Yes, the over sized muffler is  odd.  Hey everyone has different tastes and if you don't like it you need to get over it because if you are hunting a Limited, you know they are far and few between.  This is one of the more unique ones I've seen, read on.
This one has a German accent.  It began life in Germany before the seller moved here to the U.S.  The bike is currently in North Carolina.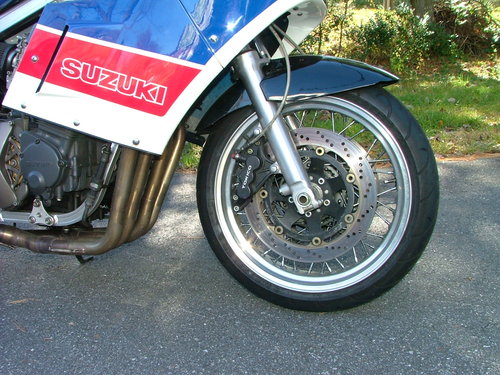 Hmm, the wheels definitely catch your eye.  Here is the story on them:
The wheels I had special made by a firm in Germany (WIWO)  they are numbered and dated 1994. They are 3.5 x 17 F and 5.5 x 17 rear  The tires are 120/65/17 fr and 180/55/17 I have run Metzlers without any problem.  They wheels are certified tubeless.  The rims are AKRONT. There is no damage to these wheels and they run true
Hmm, a shorter swing arm.  The seller does have the original though.
This bike is outfitted with the short 1985 swingarm giving a 55″ wheelbase.  There has never been any wobble or shake at speed.  This bike will allow you to stand on the pegs and drive perfectly straight ahead
Hmm,  that is a big muffler you have there.
The exhaust is a 4-2-1 stainless system custom made to fit this bike by Shaefer Racing in Germany. The Ackropavich end can was added to keep the bike road legal.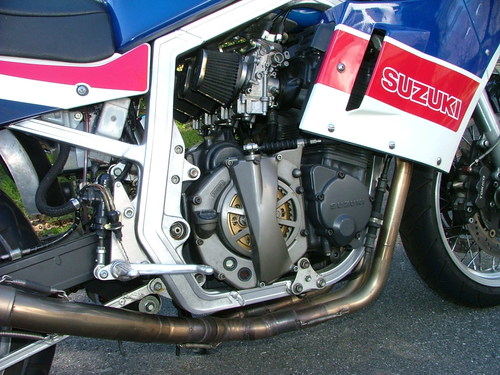 Clankety, clank, clank goes the clutch.  The seller says he has some spares for the dry clutch.  Those could be worth some money depending on what they are.  Those dry clutches are quite valuable pieces nowadays.
The info on the carbs and engine:
T he eurospec flatslide carbs have been precision CNC bored to 33mm and they have been expertly jetted.  The motor is on the original bore however the cylinder head was fitted with Yoshimura 1mm oversized valves and a Serdi blended 3 angle valve job performed to correct the factory valve jobs which were not very  accurate.
Hmm, she isn't original and has a couple of odd modifications  but if you are looking for a rider and not a collection piece you should still be interested.  Different wheels, swing arm and muffler and you are  in business.  Heck, if you are a wire wheel man then you are loving life.  The bike does not appear to be neglected in any way.  What price will this Limited fetch with clean and original Limited's selling for $10,000 to the low teens ?
The seller has posted a video for your enjoyment.
Ian