Update 1.31.2013: Back on eBay but with a dramatically lower opening bid of $5900. Links updated. -dc
Update 11.14.2012: Back on eBay a month later, now with a lower opening bid of $10k. Links updated. -dc
Another Lucky Strike RGV250 and another case of detective work needed.
Lets dive right in. Is this a 1997 RGV250 (VJ22) from the factory in Hammatsu? Absolutely not. Is this a Dream Machine spray out of the UK commissioned by the Suzuki importer there? I seriously doubt it. Lets start with the model year. All the parts indicate a 93-95 VJ22. Turn indicators are Euro spec so I'm ruling out a Japanese domestic bike. I'd lean towards a UK spec bike but they were imported to several European countries and Australia. The SAPC will give you more clues to the bikes country of import ( head over to rgv250.co.uk for the list of SAPC's). So, for fun lets run with a UK bike. As you may know, the UK importer had some RGV's sprayed in Lucky Strike colors by Dream Machine. As far as I know, those sprays were all of the earlier Lucky Strike design, not this later version.
The Lucky Strike paint is copied often but rarely done correctly. I would say this one falls into the average category. I've seen a lot worse. The official factory versions will have the blacked out frames to go with this paint scheme and they were 1994 models.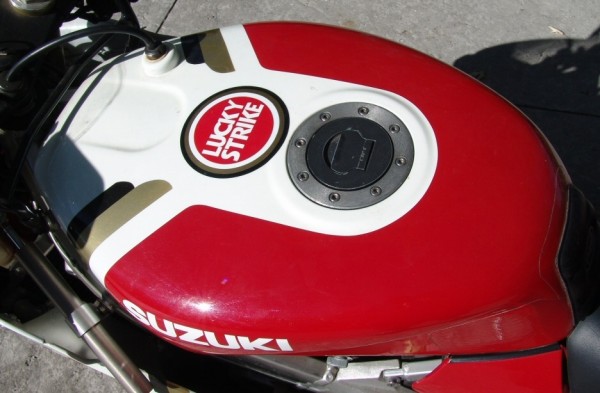 I'm not trying to embarrass anyone by pointing out what the bike is or is not but the fact is, sellers ask a premium for Lucky Strike versions and a buyer has the right to know what they are getting.
Once I got past the paint I have to admit it looks like a decent example of a VJ22. There are very few modifications and the pictures don't indicate much corrosion, scratches or dents. What is missing are the big questions buyers usually have with these bikes. Is it titled? Is it running on injection or premix? Is it in restricted form? If I remember correctly German VJ22's were restricted but not to the extent as the Japanese domestic market bikes.
If the mileage is legit, it is extremely low mile. Do UK spec RGV speedo's go up to 150MPH?
I know I focused on what this bike is not but overall it could end up being a really nice find if you can get a few more questions answered on it.
There is actually on last problem. The seller is asking a very steep premium. I'll let you click on the auction to see the starting bid. Make sure you are sitting down and have oxygen handy.
Ian