Boca Raton, FL – 16,500mi – $1,800 No Reserve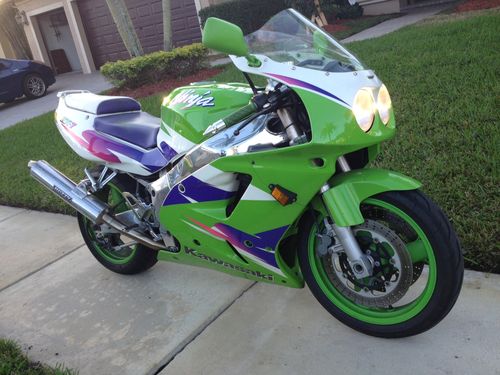 Couldn't make it to the Midwest for the last Ninja? Well here is a crack at another, and shinier, Ninja all the way down in Florida. This mid-90's example of a ZX-7 will have you riding in style like Zach Morris on his way to the College Years. Yes the frame has been polished, which will definitely turn some of you away who are looking for a bone stock example. But the sound of that Kawi-correct Muzzy exhaust might draw you back for a second look.
From the seller:
You are bidding on a 1995 Kawasaki Ninja 750 ZX7 –

Bike has all original plastics Muzzy Exhaust and Second Look Seat. The purple vinyl on the seat cover is faded and sun bleached. The fairings are in excellent shape for its age and only have a few faint scratches that cannot be seen from a few feet away.

The frame is polished, has brand new spark plugs, and brand new battery, tires are in good shape…runs great.

Do not miss out…not many left in this shape. High bidder gets the bike. Bike is for sale locally.

Please email any questions you may have prior to bidding.
So this might not be the cleanest and most original example of an early ZX-7, but with only 16k miles on the odometer, it is low in mileage and not a beat-up, re-sprayed hunk of garbage like most that I see. Let not forget the best part, it's only at $1,800 in bidding right now with no reserve. That means that this one is finding a new owner in a couple of days. If your retirement plans include getting that condo in Boca, then cruising some sweet 90's style, then this ZX-7 might be up your alley. Jump on over to the auction here and make this rad bike yours!
-JS