For sale right now on (Claudio Castiglioni), #90 of 100 in the world.   The auction has a $60,000 starting bid and the reserve hasn't been met…. go figure!.  Just in case your jaw dropped at the $60,000 starting bid, the suggested retail was $120,000.  So with that said, a 50% starting bid doesn't seem too bad. 
The F4CC was sort of a "pet project" for Claudio and here is the blurb from the web site.
The boss of MV did what any of us might well have done and gave in to his inner instincts, gave in to the temptation to create a motorbike, not just to meet strategic market needs, but to create something really special, something truly magnificent – just for the sake of it. To create the F4CC project, he obviously utilized everything at his disposal; exclusive materials and the latest technology to attain the utmost in performance.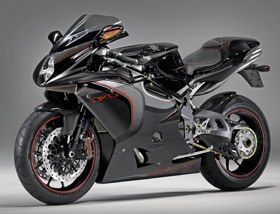 I put this stock photo in because the sellers didn't do it justice.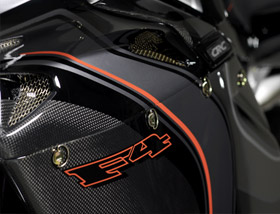 Pure eye candy.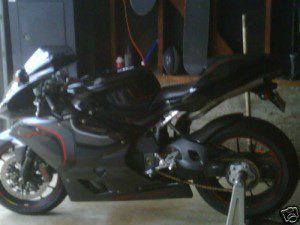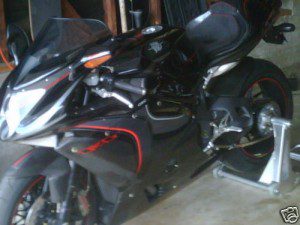 There are a lot of differences between CC and the 1000R, but it is far too many to list on this blog.  I'll highlight some for you and link the rest. 
Each machine will have a platinum plate at the top of the steering column bearing the model number from 1 – 100.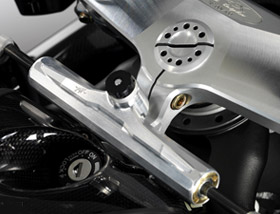 I guess if you have one of these gems and you just by chance need some extra gas money you can always sell the Platinum # plate.
 
As we mentioned before, apart from the fact that 90% of the components are made as one-off items including the fork feet, the upper steering plate, the steering damper, the brake and clutch fluid reservoir, the gear change and brake levers, the footpegs and the side stand. As you can see, the MV F4CC uses special materials built by CRC (Centro Ricerce Cagiva) just about everywhere. The fairing is 100% carbon-fibre and the tailor made filler cap comes from the aero industry. All the protective meshes at the intake ducts and outlets at the tail are made from titanium. The same applies to the lower radiator and the four racing exhausts that form the classic organ pipe arrangement.
 
100% Carbon-Fibre fairings, titanium bits that include the radiator and exhausts.  The list seems to be endless.  You can view all of the differences by clicking here. 
I know this is a large post, but it is a $120,000.00 motorcycle so I figured it warranted more room….
 dd