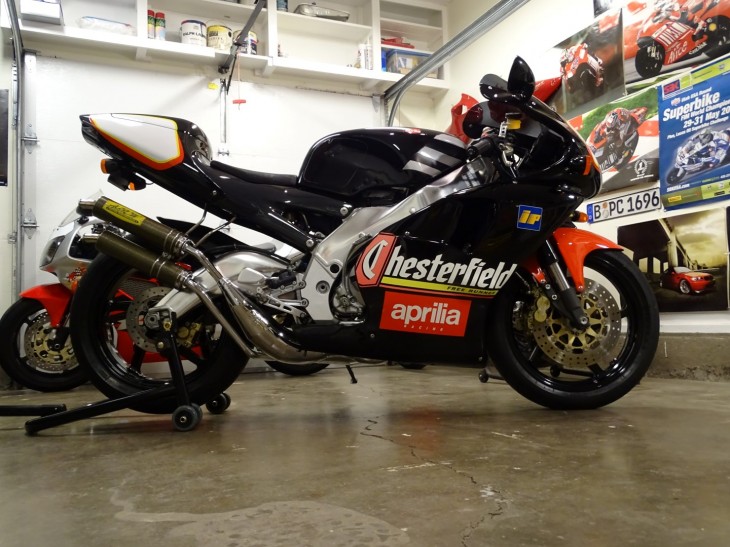 Update 6.28.2014: Bike is now sold. Thanks to everyone for your interest and congratulations to Jim! -dc
Today's post is for my own 1995 Aprilia RS250 Chesterfield. This is a great rider quality bike with easy restoration potential. I've put less than 600 miles on it since buying it in early 2011, which is precisely why I'm selling it. I tell my friends it's like owning a jet ski: you only take it out on perfect sunshine days and ride it hard all afternoon as intended. Sadly that didn't happen as often as I would've liked and I'm ready to put something else in it's place.
When I purchased this RS250 I was told it had a recent top end done but no paperwork since it was an in-house job and they never intended to sell the bike anyway. I verified the work best I could with my mechanic using the correct procedure to test compression, and we measured 125psi on both cylinders.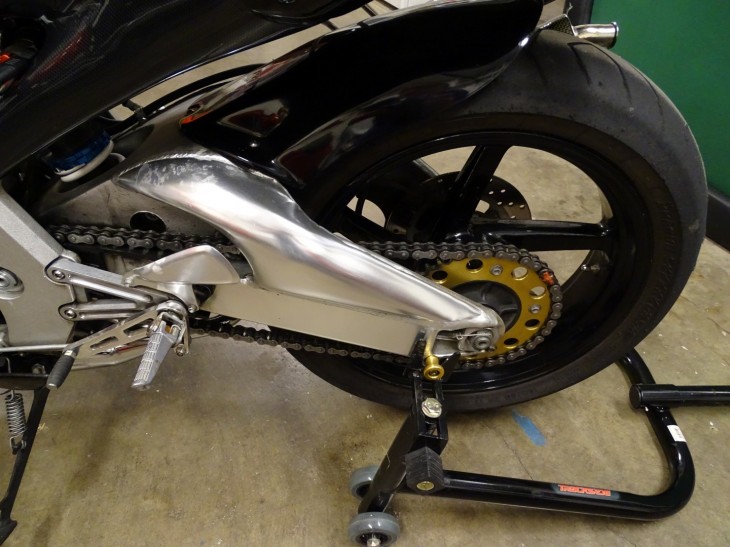 In terms of condition, I'll start by noting the swing arm has some minor etching. From 5-10 feet you wouldn't even notice, but I want to clearly represent what condition the bike is in. While the swingarm could be polished to correct this, it would lose the factory micro finish. You could also cover it with the tasteful carbon fiber swingarm cover from Tyga.
Overall the cosmetics are best described as an honest 7/10. The plastics are free from damage and cracks. The decals were applied over the clear coat from the factory, so after 19 years there are some dog ears, slightly faded colors, and clear coat deterioration. Modifications are mostly cosmetic and include the colored-in number plates, painted front fender, smoked windscreen, and aftermarket exhaust. To be honest the number plates feel right at home with the period GP replica. Better yet, I have a brand new, 1995 OEM factory decal kit, correct to this year, which will be included with the sale if you'd like to restore it to original in the future. It is highly unlikely you will find another OEM set, so a future restoration can be as correct as possible with the addition of a perfect swingarm.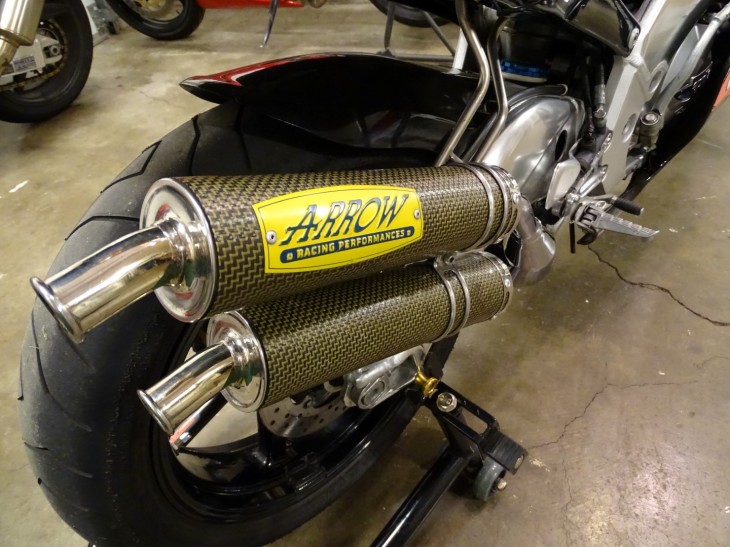 All said, the bike is in really good condition as is, especially if you plan to enjoy it as intended. All the minor issues I just described disappear in a moment as soon as you get on the pipe. Speaking of which, it's a period Arrow exhaust that was nickel plated after a repair to a pin hole leak in the expansion chamber. The result complements the satin finish frame and swing arm very well.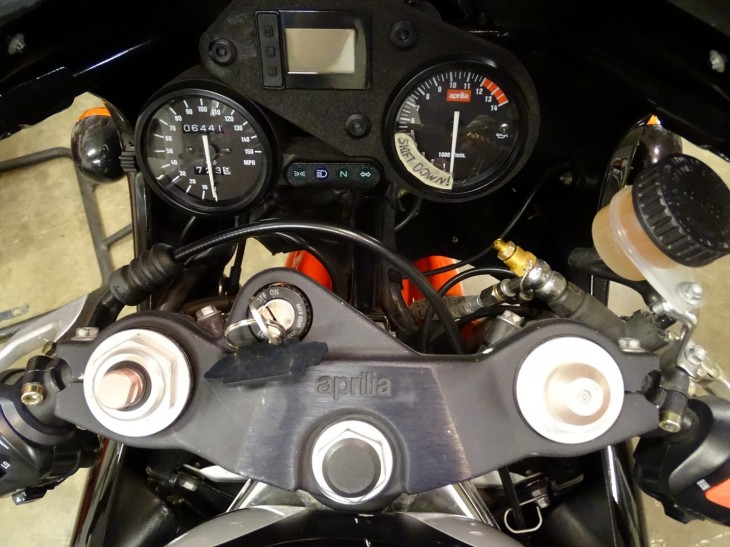 Mechanically speaking the carb floats stick and it could use new tires as it's currently wearing track day rubber that is several years old. There is some remaining safety wiring as well. The rear license plate holder and turn signal assembly was missing when purchased so a fabricated replacement has been installed with new factory indicators. Horn is missing. Otherwise the overall condition suggests it has always been enjoyed and cared for by enthusiasts.
What I'd really like to convey is how special it was to me to have owned a Chesterfield. My hope is to find a buyer that has always wanted one too and intends to ride it and/or improve it. While a museum collector may need to pass, if you've always been 2 stroke curious, send me an email! I will also consider trades of various amounts including the following in very good to excellent condition: Ducati 851/888/748/916/996/998, MV Agusta, 400cc gray bikes, Laverda Formula, Bimota, Aprilia Mille R, CBR900RR/954RR, or something else that would wind up on the pages of RSBFS! I'm also in the market for a sport tourer of similar vintage: BMW R1100S, Ducati ST4, ?
Thank you for looking. My price is $7000 firm. Please contact me with your interest by email: dan@motoringblogs.com
dc