For Sale: 1991 Honda VFR400R NC30
The 400cc gray market class is one of the most popular bikes on RSBFS – with the Honda NC30 leading the way – as evidenced by this post HERE, or HERE, or HERE, or HERE, or HERE, or HERE! We constantly receive reader feedback about these little rockets, and most riders understand the draw: lightweight chassis with low overall mass and excellent handling coupled to a reasonably powerful motive force (figure approx 60 ponies from the V4) that revs into the stratosphere. All of that equates to great fun on twisty roads and race tracks!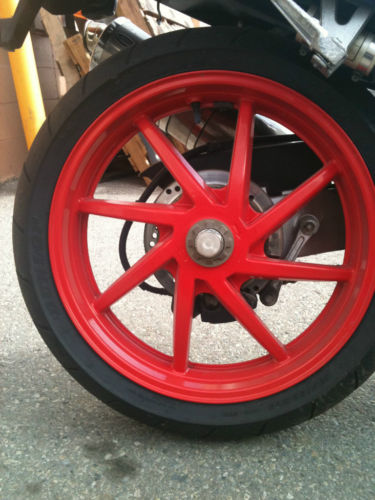 When it comes to components, the NC30 is no slouch. In addition to the aforementioned V4 engine (with 16 valves, naturally), the little VFR sports an aluminum frame and a single-sided swingarm, just like its big brother the RC30. This bike was really built around a racing platform, and the end result shows the effort Honda made on what us North Americans call a "starter bike." It is truly a pity that the smaller classes did not gain traction in the West, as we now lament the lack of 250cc two strokes and these fine 400cc mounts.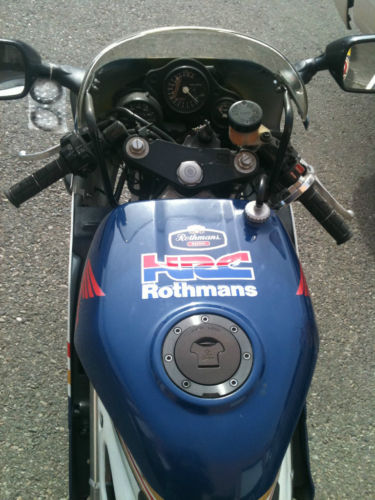 From the seller:
Hi what I have here is a 1991 Honda VFR400R NC30. It's the little brother to the RC30. I imported this bike from Japan in 2007 along with 16 other different bikes that I intended to resell but lost intrest so they have been in dry storage at my shop since. This bike has never been licenced for the road here yet, but it is fully able to licence in Canada. All you need is to have an out of province inspection done to make sure the bike is road worthy, which I beleive it is but than again I'm not a licenced mechanic(just a back yard). this bike was put down at somepoint before I bought it. there are some minor scratches on the tank. It does have new plastic now and I do have some of the old beatup plastic(fiber glass) pieces to go with it., front shield , side panels, and lower cowel. Tires are very soft rubber (track tires) with some life still in them. all the lights work, and the bike runs good. This is a unique bike that is quite rare here in North America. I am willing to help with shipping but it will be the resposibility of the buyer.
Like almost every NC30 I have come across, the one has been down and the bodywork is not stock. That is not necessarily a deal killer, mind you, but this is not quite as pampered as one might hope to find. Still all the pieces are there, the mileage is reasonable (the seller notes 9K), and the bike is undeniably a rare find on this side of the Pacific.
This auction is going on right now, and there has been only light interest thus far. The current bid is only at $3,000, which is not a lot of cash for something as fun as an NC30. While we have seen cleaner models run much higher than this current figure, prices have not exactly skyrocketed on these models. For more information and to check out all of the pictures and details, click on the link and jump over to the auction. Good Luck!
MI