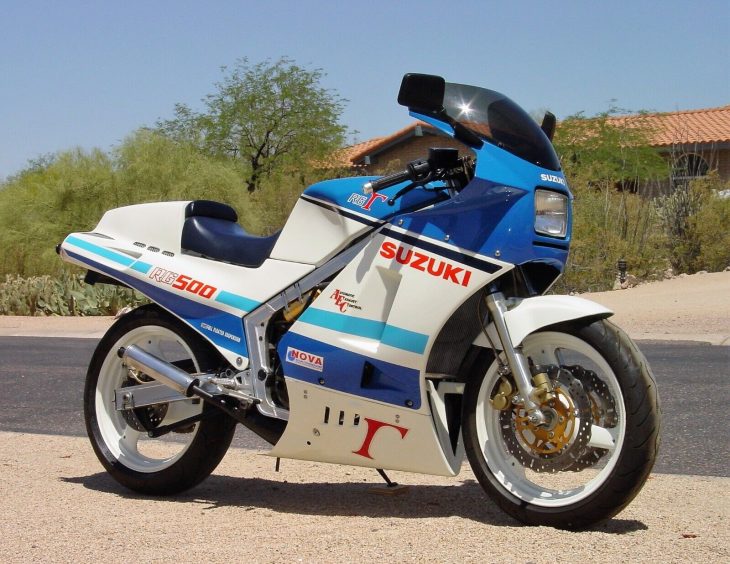 The Suzuki RG500 needs no introduction on this website, especially when Lance Gamma has been involved in the updates. Rick Lance was the Jedi Knight of RG500 tuning and upgrades. A master of his craft.
This auction listing is currently bid to $16,100 and has a buy-it-now of $42,995. Somewhere in-between a buyer is going to score a straight up legend.
dc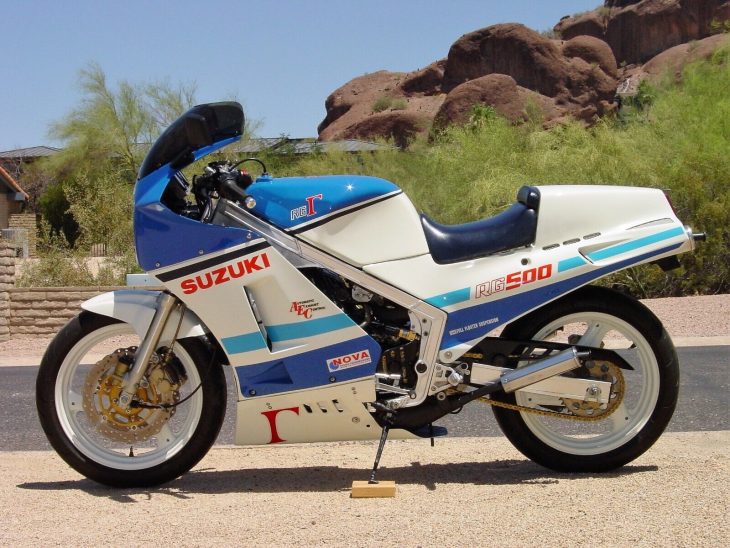 from the seller:
If you are looking for a completely stock Suzuki RG500, look elsewhere! If you are looking for an RG that was built to be all that an RG can be, read on! I found this 1986 RG500 over a decade ago through Rick Lance of Lance Gamma fame. While Rick is no longer with us, he was the "GO TO GAMMA GUY" until his passing a few years ago. He had worked with the previous owner of this bike to help him build a bike with all the best parts and technology available for an RG at the time. The project started with an original stock Canadian import bike (Km speedometer) in good condition with approximately 11,000 miles on it. The bike was disassembled as required and all aspects of it built to the highest specifications for a super fun street racer.

The engine was gone through, cranks rebuilt and new stock bore pistons and rings installed. A new Dyson NOVA close ratio transmission along with their Nova straight cut primary gear set installed to address the well-known weaknesses of the stock RG transmission. In addition, a Lance Gamma clutch kit was installed to alleviate any clutch related issues. A shifter support was added as well to alleviate another well-known RG weakness. Carbs were rebuilt with a set of Lance Gamma float valves and Tripod air filters added to maximize fuel and air flow. Last, a set of TC expansion chambers added to handle exhaust duties.

To accommodate the TC chambers, a modified Lance Gamma battery/oil tank relocation kit was added along with a super lightweight Shorai lithium battery. And to make sure there were no overheating problems, an oversize aluminum radiator was added as well.

Handling was addressed next. Per Rick's recommendation, stock wheels were exchanged for a set of freshly powder coated 17" GSX wheels front and rear with custom machined spacers. These wheels are wider than stock, convert the stock 16" front rim to 17" and allow a much larger selection of high performance tires to be used. Front brakes were upgraded with the addition of GSXR calipers, EBC discs, and Galfer steel braided brake lines. A new aluminum front fork brace was added as well. At the rear, an Ohlins shock with adjustable ride height adjuster was added along with another Galfer steel braided line.

Last, to deal with the cosmetic cracking issues that the stock plastic fairing, belly pan and seat cowl had, an Air Tech fairing and rear cowl was painted to match the paint scheme of the original paint tank. There are a few very minor touch ups on the right side of the front fairing nose where another bike from my collection fell into it, but they are minor at best (see pics). There are also a few very small stress cracks in the white paint on the rear cowl that even Air Tech wasn't able to avoid with expansion chambers in such close proximity (again, see pics).

Mod Summary:

· Dyson Nova Close Ratio Transmission
· Dyson Nova Straight Cut Primary Gears
· Lance Gamma Clutch Kit
· Lance Gamma Float Valves
· Lance Gamma TriPod Air Filters
· TC Expansion Chambers
· Oversize Aluminum Radiator
· Lance Gamma Oil Tank/Battery Relocation Kit (modified)
· GSX 17" Powder Coated Wheels
· EBC Front Brake Discs
· GSXR Front Calipers
· Galfer Steel Braided Brake lines (F & R)
· Fork Brace
· Ohlins Adjustable Rear Shock
· Ride Height Adjuster
· Air Tech Fairing Painted in Original Paint Scheme w/Sticker Kit
· Zero Gravity Windscreen

The previous owner enjoyed the bike for a 1000 or so miles after it was built and then passed it on to me. I GREATLY enjoyed it for a several hundred more miles and promptly ruptured two discs in my lower back and haven't ridden it in anger since! I finally "pickled" the bike about eight years ago, and it has been sitting in my indoor collection since. I have finally come to the realization that my age and health will prevent me from enjoying it as intended again so it is time to pass it on to the next caretaker. It is the third RG500 I have owned and by far the best and most fun one of the three!

I have just changed the transmission oil, refreshed the brake fluid in both front and rear brake systems and put in new coolant. I've included some pics of the bike with the body work off so you can see just how clean this bike is. I also included a pic of the plugs as they came out of the bike from the last time it was run and put into storage (1-2-3-4 R to L, jetting is spot on!).

I've since started and run the bike using a 30:1 premix to be sure all is well (I have not fully checked the automatic oiling system but it appeared to working correctly after start). Started on the fifth kick after eight years! Everything works as best I can tell, but I would suggest a thorough recommissioning to be sure all is in order. Oh, and new tires if you intend to ride it in anger as it is intended. The Metzler ME3's that are on it are over a decade old now! The bike also comes with two original Suzuki keys, the original owner's manual, an original Suzuki shop manual, a variety of mods information and documentation, and both an original parts micro-fiche and a hard copy print out of it. Last, I DO NOT have any of the original stock parts. What you see in the pics is what you get.

As an ex-AMA Pro Roadracer, this bike is as close as you are likely to get to the riding experience of the TZ250 and TZ700 I raced back in the day. It is a VERY NICE survivor and one which I'm sure I will regret selling, but age and medical issues say it's got to go.

This is a very nice example, but it is a USED motorcycle that is almost 40 years old and it is NOT perfect. It is sold as is where is with NO warranty, NO guaranty or any other kind of "–ty". The motorcycle has a clear Arizona title in my name with no liens so no issues there. I am happy to arrange a pre-sale inspection if you care to see it before you bid.