Warning!
This post is in our archives. Links in this post have been updated to point to similar bikes available to bid on eBay.
Every post will be sent right to your inbox every morning when new posts are made. We will never sell our list or spam you. Plus you can click links to bid or buy right from the email and skip the site entirely. Subscribe to Rare SportBikes For Sale today!
RZ500 fans rejoice, another RZ500 surfaces in the Pacific Northwest for sale! This RZ500 is on Craigslist for $8k: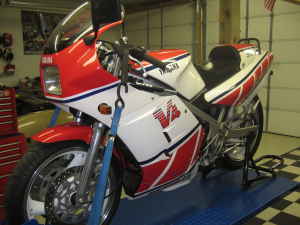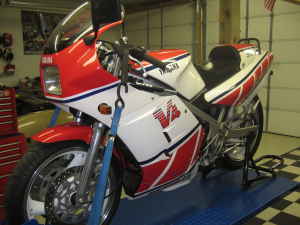 quote from seller's Craigslist post:
I wanted to keep the original "vintage" look while increasing the performance so here is what I have done.
Rebuilt top-end using stock OEM piston kits.(.25mm).
Replaced main crank brgs and all seals in engine.
Slightly modified/matched ports.
Machined cases/cylinders to accept larger RZ350 reed cages.
TDR one piece reed pedals..
Carbs have been bored to 27.5 mm.
Installed "Mad-Beaver" air filter kit(removing stock air-box).
Intalled "Jolly Motto" expansion chambers.
I have spent MANY hours re-jetting….it runs AWESOME!
Researched options first then installed '93 Yamaha FZR600 frt.end/frt wheel(17×3.25)/r wheel(18×4)with "Race Tech" emmulator kit,Metzeler radials,HH pads,stainless lines(all parts were rebuilt/polished/powder coated,to the tune of $2400 before install)I chose the FZR stuff because it is a direct "bolt on" and you dont have to modify the oil-tank and plastics to clear the forks.VERY clean swap.
FZR speedo which is the perfect twin only is MPH instead of KMs.
Digital temp gauge.
Steering dampener.
New chain/sprockets.
I have only riden the bike about 5k miles since rebuilding everything.
This one has great detail to go with the listing and appears to be owned by tech who cared for his baby. Think it's a good buy?
dc
Update: This post is pretty outdated. Check out these Yamaha RZ's on eBay right now:
[AffomaticEbay]Yamaha RZ[/AffomaticEbay]