Warning!
This post is in our archives. Links in this post have been updated to point to similar bikes available to bid on eBay.

We all know bike manufacturers can produce some truly epic pieces of road going art.  But these same manufacturers can only do this by selling lots of regular bikes that keep them in business and allow them the occasional detours into exotica.   Ducati seems to have mastered this balance, allowing it sell many thousands of regular bikes such as the Monster series while also producing  limited numbers of exotica such as the MH900e and Desmodeci.

While this market segment approach has ensured the companies financial stability, it wasn't always like this.   For a long time, motorcycle manufacturers tried to produce models that straddled the line between daily rider and exotica.  Here we have a very clean 2003 Ducati Supersport, which was one of the last series of Ducati bikes that embraced this balanced approach.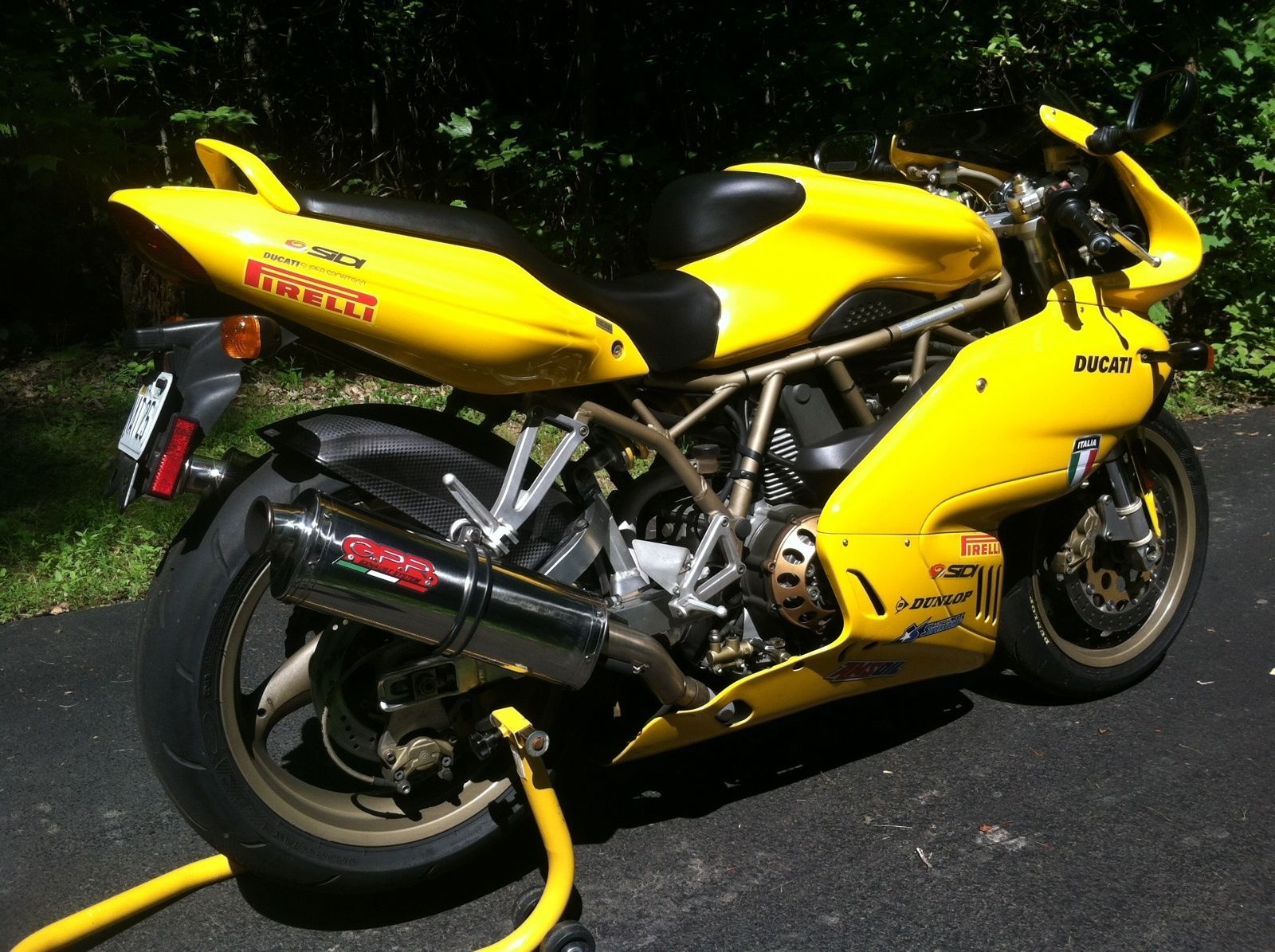 The Ducati supersport, also called the 'SS', is a sportbike with a long history.  It is in a way similar to the Ford Mustang; it can trace its origin back over 40 years and its earliest models (such as the 1974 "green frame" bike) now command top dollars from collectors. Also similar to the Mustang, the supersport name was attached to some smaller displacement bikes that are now looked on with a fair amount of scorn.  Starting in 1989 the supersports were also offered with 350, 400cc and 600cc,  which is kind of similar to the Mustang II series of the 70's.
Fortunately, in 1991 Ducati refocused on the 750cc and 900cc models but the SS market was beginning to be impacted by the desire for more specialized bikes; people didn't want an all-around sportbike, they either wanted a sporty standard (such as the Monster) or a Superbike.  Finally in 1999, a restyled model appeared with styling done by Pierre Terblanche who was also responsible for the MH900E and the restyled 749/900.  As with almost all of Terblanche's designs, the design was controversial and the 900 Supersport sold in low numbers, eventually being discontinued in 2003.
This particular Supersport looks to be very clean and has under 10k miles.  The seller indicates an excellent service record including replacement of the engine belts and new rubber   While the opening price is price is a bit over over KBB retail, the low miles and recent services would mean that the buyer is getting a very fresh, very clean, very good all-around sportbike.
MG